Jones rejects Gustafsson comparisons
September 16, 2013 - 11:11 pm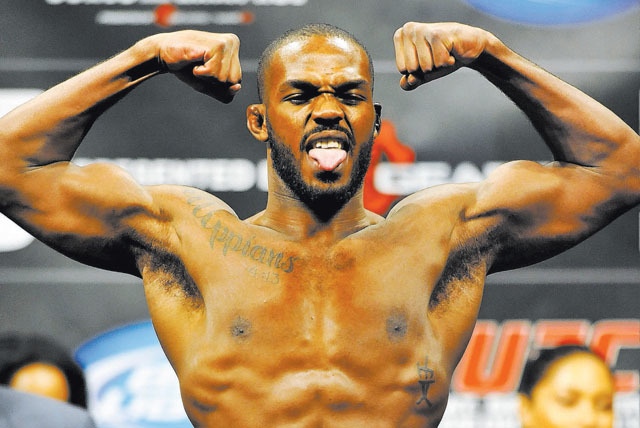 Comparisons to UFC champion Jon Jones have been made throughout Alexander Gustafsson's six-fight winning streak and his rise through the light heavyweight ranks.
Jones begs to differ.
"No, I don't really agree with any comparisons. I think the only thing me and Gustafsson have in common is that the fact that we're both 26 years old," Jones said on a conference call in advance of his title defense against Gustafsson in the main event of UFC 165 in Toronto on Saturday night.
Like Jones, Gustafsson is tall for the weight class, powerful and athletic. Jones, however, is considered the best fighter in the world. He doesn't seem concerned with whatever challenges Gustafsson might provide.
"The fact that we're both over 6-feet tall, or around 6-foot-4 (is all we have in common). Outside of that, I mean we are completely different fighters," Jones said. "I've been able to study him a lot over the last several months, and I realized there's actually nothing he does that frightened me. We're just completely different. We have the same height and age and that's absolutely it."
Gustafsson has been on a tear through the division to earn the title shot. Since a submission loss to Phil Davis in April 2010, the only setback of his career, the Swede has run through the competition.
His length and athleticism have proven too much for his opponents to overcome.
But there are rest of the light heavyweights, and then there is Jon Jones.
Jones does extensive homework on each of his opponents, and he says he hasn't seen anything too special from the film he's watched on Gustafsson.
"He's a good fighter. He has his style, he has his ways. I think every fighter has major tendencies. And me and my coaching staff in every category, the ground, kickboxing, boxing and wrestling, I think we've figured out this tendencies and his safety spots and what he likes to do when he's uncomfortable and all of his different stuff. So we're comfortable," Jones said. "I didn't think Alexander has been the most unpredictable fighter. I've studied his fights very extensively and I think I've figured out some of his favorite go-to strikes and defenses to things.
"(But) I wouldn't tell him (those things) now."
The pay-per-view card, which also features Renan Barao defending the interim bantamweight belt against Eddie Wineland, airs at 7 p.m. on Saturday night.
■ COACHES ANNOUNCED — UFC president Dana White announced the coaches for the next season of "The Ultimate Fighter" will be a pair of former lightweight champions.
BJ Penn and Frankie Edgar will coach opposing teams on the show and then fight for the third time at the end of the season.
Edgar took the lightweight belt from Penn in 2010 and then defended the belt in a rematch later that year.
Edgar has since dropped down to featherweight, and the fight against Penn will happen at 145 pounds.
Penn had been thought to be considering retirement after going 1-4-1 in his last six fights, but the 34-year-old will instead coach a team of middleweights and light heavyweights on Season 19 of the reality show and then get the third shot at Edgar that he has long desired.
White said the original plan was to have Urijah Faber coach against Edgar, but Faber didn't want to come up from bantamweight and Edgar didn't want to drop down.
Penn previously coached against Jens Pulver on Season 5 of the show.
Season 18, featuring coaches Miesha Tate and Ronda Rousey, currently airs Wednesday nights on the network.
■ DOWNTOWN EVENT — Las Vegas-based Muay Thai promotion Lion Fight will host an event at the Fremont Street Experience on Friday night.
The fights will take place at the Third Street Stage, beginning at 5 p.m.
The main card, headlined by Cosmo Alexandre taking on "Nampon," will begin at 7 and air on AXS TV. The network is available on DirecTV, but not Cox Cable.
Also featured on the card is former Strikeforce women's champion Cris "Cyborg" Justino, competing in a Muay Thai fight. Her original opponent Martina Jindrova was forced to withdraw from the bout because of injury, but Lion Fight announced unbeaten French champion Jennifer Colomb will step in to fight "Cyborg."
"It is short notice but I am ready and very excited to take this opportunity and fight for Lion Fight Muay Thai in America against one of the best female fighters in the world," Colomb said in a statement.
Tickets to the event are available through TheD.com. A press conference will be held at the Third Street Stage at 1:15 p.m. on Wednesday and is free and open to the public.
Contact reporter Adam Hill at ahill@reviewjournal.com or 702-224-5509. Follow him on Twitter: @adamhilllvrj.