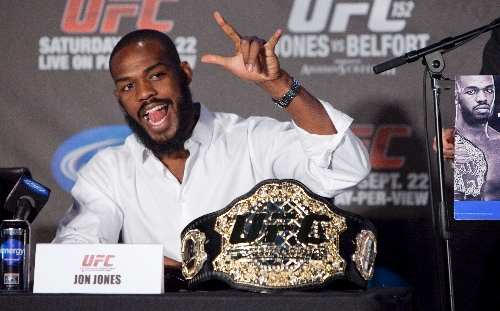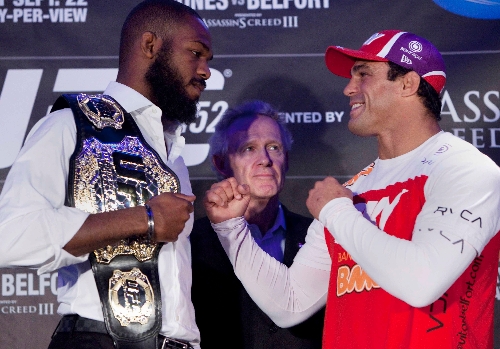 Regardless if he's uncomfortable accepting the role, Jon Jones is now officially a heel.
The dominant Ultimate Fighting Championship superstar always has had his share of detractors. Some call him cocky, others fake. No matter how unbelievably skilled the light heavyweight champion is in the cage, there always has been a segment of the fan base that would boo him.
That segment has turned into a large majority if the reaction to Jones at Friday's weigh-in for UFC 152 tonight in Toronto was any indication. Jones was loudly booed from the time he appeared on stage, through the moment he stepped on the scale and throughout his brief interview with color commentator Joe Rogan.
Jones can expect the same type of reaction tonight when he walks out to put his title on the line against Las Vegan Vitor Belfort in the main event.
Athletes, fighters in particular, do not have to be loved by fans to market themselves. In fact, being despised can be just as profitable, if not more so.
But Jones said last week he just doesn't like being viewed in such a negative light.
"I am not going to say I have embraced the role of being a villain because I am not," he said. "I am not a villain. I am not a bad person. I pride myself off of inspiring others.
"As a person, I am like the nicest person ever to everyone who has ever met me. I am like the nicest person ever, and I know that for a fact. I am not ever going to embrace a villain role. That is not who I am as a person."
That is not exactly how many fans view Jones.
Since last stepping into the cage in April, Jones has been on a public relations roller coaster. While he continued to be accepted into the mainstream with appearances all over the TV dial and a global deal with Nike, the first of its kind in mixed martial arts, Jones also was arrested and pleaded guilty to a DUI charge in New York.
Then there was that little matter of UFC 151. Jones turned down a fight with replacement opponent Chael Sonnen on eight days' notice after Dan Henderson suffered a knee injury and a card was canceled for the first time in the modern era of the organization.
UFC president Dana White unleashed a verbal tirade toward Jones and his trainer, Greg Jackson.
White has said he doesn't regret a word of what he said, and Jones insists he would make the same decision again.
The young champion does admit he is still getting used to every decision and every comment becoming a major story, though.
"I make a lot of mistakes," he said. "I say a lot of things that make people upset, you know. I don't think people realize five years ago I was just an average kid. Grew up poor, went to college and dropped out. I'm just like a normal dude. I am 25 years old. I'm going to make lots of mistakes. I never got officially trained for PR and stuff. I am just a snotty-nosed dude. I say what I feel, and some people totally dig me and understand everything I say. Other people think I'm the most arrogant person in the world. Who knows? But I'm just me, and I'm growing to be more comfortable in my skin."
Jones always has been comfortable inside the cage. Tonight at the Air Canada Centre, he has a chance to begin putting all the drama behind him, entering as a nearly 10-1 favorite over Belfort, a 35-year-old former champion who has been competing mostly at middleweight for the past several years.
The fight is one of two title bouts on the pay-per-view card, which airs at 7 p.m.
Demetrious Johnson and Joseph Benavidez will compete to determine the first flyweight champion in UFC history. Each lost title shots at 135 pounds to Dominic Cruz, but jumped at the chance to drop to their more natural 125-pound division.
A pivotal middleweight bout between Michael Bisping and Brian Stann also is scheduled. At least four preliminary card fights will air live on FX (Cable 24) at 5 p.m. The rest of the undercard will stream live on the UFC's Facebook page.
Contact reporter Adam Hill at ahill@reviewjournal.com or 702-224-5509. Follow him on Twitter: @adamhilllvrj.