Lesnar watched Rousey win, set rumor mill turning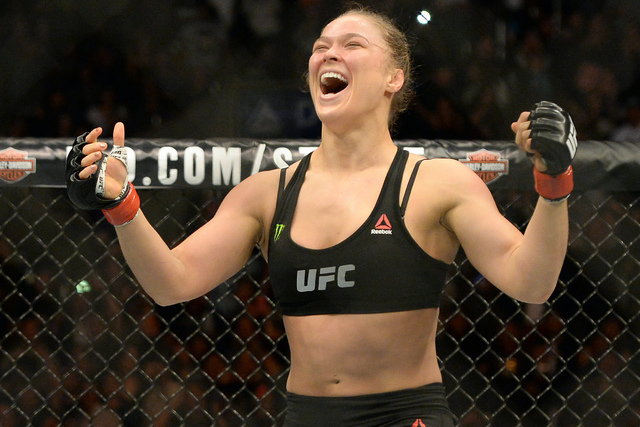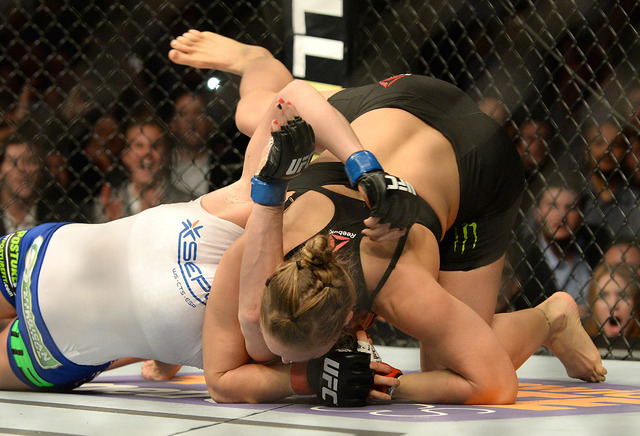 While one of the Ultimate Fighting Championship's biggest stars was putting on a show in the main event of UFC 184 at Staples Center on Saturday night, the organization's biggest potential pay-per-view draw was taking in the action from the second row.
Former heavyweight champion Brock Lesnar was in Los Angeles and seated just behind UFC executives Dana White and Lorenzo Fertitta to watch Ronda Rousey defeat Cat Zingano in 14 seconds.
Lesnar's appearance set off a social media firestorm about whether he would return to mixed martial arts when his WWE contract expires later this month.
Many observers viewed his presence as the clearest sign yet that Lesnar is interested in a return to the UFC, an organization he left to return to professional wrestling after losing two consecutive fights in December 2011.
It could also have been nothing more than Lesnar trying to improve his leverage with the WWE as he negotiates a new deal.
White had an even simpler explanation.
"Apparently Brock Lesnar is a UFC fan, and he was in town and wanted to come see the fight tonight," White said at the post-fight news conference. "He's under contract with the WWE, and when his contract is up, I'm sure he'll call me."
Las Vegan Frank Mir, who split a pair of fights against the 37-year-old Lesnar, has expressed interest in fighting him for a third time should he decide to return to the cage.
ROUSEY GETS GOLDEN TICKET — Rousey joked before her fight that one of the reasons she needed to beat Zingano on Saturday night was so that she could win a bonus in order to afford tickets to the May 2 boxing match between Floyd Mayweather and Manny Pacquiao at MGM Grand.
That's no longer a concern.
TMZ cameras caught up with promoter Bob Arum this weekend. Arum has talked several times about how difficult tickets are going to be to come by for the fight, even for high rollers and celebrities.
But when Arum was informed of Rousey's predicament, he told the TMZ cameraman that Rousey just needs to call him and he will make sure she gets in to see the megafight.
Not a bad weekend for the women's bantamweight champion.
UFC LANDS DEAL IN CHINA — The UFC announced Monday it has agreed to a deal with digital sports platform PPTV that will enable all live events to be accessed in China and in local language for the first time.
"This landmark deal displays the rapid growth and demand for premium MMA content in China. There is a real upward trend of MMA taking hold in the region with increased engagement amongst fans and more and more athletes dedicating their lives to becoming the best they can be," Ken Berger, the general manager of UFC Asia said in a release. "The UFC recognizes that it really is only a matter of time before we start seeing champions emerge from China. PPTV have always been a valued supporter of the UFC, we couldn't be happier to grow our partnership with them this year."
BELLATOR SUES RAMPAGE — Bellator MMA announced Monday it has filed suit in New Jersey to prevent Quinton "Rampage" Jackson from returning to the UFC.
Jackson announced in December he had left Bellator and would return to the UFC to fight Fabio Maldonado on April 25. Bellator's suit alleges Jackson fulfilled only three fights on an exclusive six-fight contract with the organization and is not allowed to sign elsewhere.
Jackson said at the time he signed with UFC that Bellator failed to meet certain contractual obligations, which made his deal void.
"Our lawsuit for an injunction and related relief — filed in the Chancery Division of the Superior Court in Burlington County, New Jersey — will compel Jackson to honor his contractual agreement," a statement from Bellator reads. "We look forward to having one of our MMA stars fighting for Bellator again."
SHAMROCK-SLICE BOUT SET — Bellator announced aging stars Kimbo Slice and Ken Shamrock will headline an event on June 20 in St. Louis.
Shamrock, 51, and Slice, a 41-year-old former street fighter who rose to prominence on YouTube, will fight at heavyweight.
Slice, whose real name is Kevin Ferguson, left mixed martial arts to compete as a professional boxer in 2010. He has won all seven fights, including six by knockout.
Slice was a contestant on Season 10 of "The Ultimate Fighter," where he was eliminated in the second round by Las Vegan Roy Nelson. He went 1-1 in two official UFC fights.
Shamrock has also not competed in MMA since 2010.
"I am back," Shamrock said in a release. "It's good to be performing again for my fans. I feel great and my health is great. Age should never be a factor if an athlete is healthy, in great shape and has the drive to continue their sport. I will quit fighting when I want to.
"Kimbo Slice and I have some unfinished business. I am a fighter. That's who I am."
Shamrock and Slice were scheduled to fight on an EliteXC card in 2008, but Shamrock suffered a cut during warm-ups and had to withdraw.
Contact reporter Adam Hill at ahill@reviewjournal.com or 702-224-5509. Follow him on Twitter: @adamhilllvrj.