Little guys pack big punch in UFC Fight Night 96 main event
September 30, 2016 - 1:32 am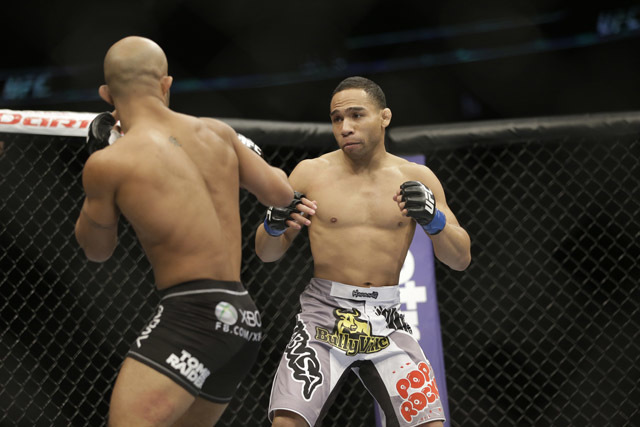 On paper, the main event of Saturday night's UFC Fight Night 95 card in Portland, Oregon, appears to be a simple fight to analyze.
John Dodson is one of the fastest fighters in the organization. His opponent, John Lineker, boasts the heaviest hands in the bantamweight division.
While Lineker has recorded 13 knockouts, including two first-round stoppages in his last three fights, Dodson refuses to concede a power disadvantage.
"Everyone wants to sit there and consider this a speed versus power match, but we already know how it's going to go," he said at Thursday's media day. "I have the speed and power so I guess they're just saying (it's the fastest guy against the most powerful are saying) it's John Dodson against himself."
There is good reason for his confidence.
Dodson's only two losses over the past seven years came in flyweight title fights against long-reigning champ Demetrious Johnson. He made the decision to move up to 135 pounds in April and needed just 37 seconds to knock out Manny Gamburyan.
Though so much attention is placed on his speed and athleticism, the Albuquerque, New Mexico, native has nine knockouts on his resume.
Dodson, who trains under famed coach Greg Jackson, said the finishes are no accident.
"Speed generates power and I have both," the 32-year-old said. "I've got that speed and I can go ahead and end it with the collision of a freight train. If it's not a train, I can be a shuttle or a rocket or whatever. I'll be a nuclear bomb ready to go off."
He might need all those weapons to derail Lineker, a 26-year-old Brazilian who has won five straight and nine of his last 10.
Lineker spent several years as a contender at flyweight, but missed weight on several occasions to prompt a move up to 135 pounds.
The change has served him well as he has won all three fights at the bigger weight, including a spectacular first-round knockout of Michael McDonald in July.
Lineker's success, combined with a crowd-pleasing style largely devoid of defense, has him in title contention.
He believes a win over Dodson should put him in line to challenge for the belt over hot prospect Cody Garbrandt.
"Everybody wants that opportunity," Lineker said. "He wants it and I want it. But i think if I convincingly beat John Dodson, I'll be more deserving than (Garbrandt) is."
First things first. Lineker knows a win over Dodson is far from a sure thing.
"Dodson being a striker will make for a very interesting fight," he said. "I have worked on increasing my speed and preparing for a southpaw like him. I've trained hard to counter his game."
He also gained experience as a headliner when his fight against McDonald was on the marquee for UFC Fight Night 91.
Lineker said he could get used to being in the spotlight, particularly if he becomes champion.
"I'm really happy to be in another main event. It's fun," he said. "The UFC keeps giving me great opportunities and I plan to keep doing this."
Lightweight Will Brooks also continues to gain attention. The former Bellator champion successfully debuted in the UFC with a decision victory over Ross Pearson in July.
The win was his ninth consecutive, a streak he will look to extend when he faces Alex Oliveira on Saturday.
Brooks not only wants to show he belongs among the elite lightweights in the world, but that his game has continued to evolve.
"I think I'm going to surprise a lot of people," he said. "My MMA game is becoming much more well-rounded. People have recognized that. Of course, the label of being a grappler and a wrestler is always going to stick with you, that's just how the sport is, but I think I can beat him anywhere.
"I'm just going to go out there and be Will Brooks and come out with a dominating victory. I'm getting pretty good at this winning thing, so I think I'm just going to keep that going."
The bouts are part of a main card that will air live on Fox Sports 1 at 8 p.m. Four fights from the preliminary card will air on Fox Sports 2 at 6 p.m., with the remaining four fights streaming online on UFC Fight Pass at 4:15.
Contact reporter Adam Hill at ahill@reviewjournal.com or 702-224-5509. Follow on Twitter: @adamhilllvrj