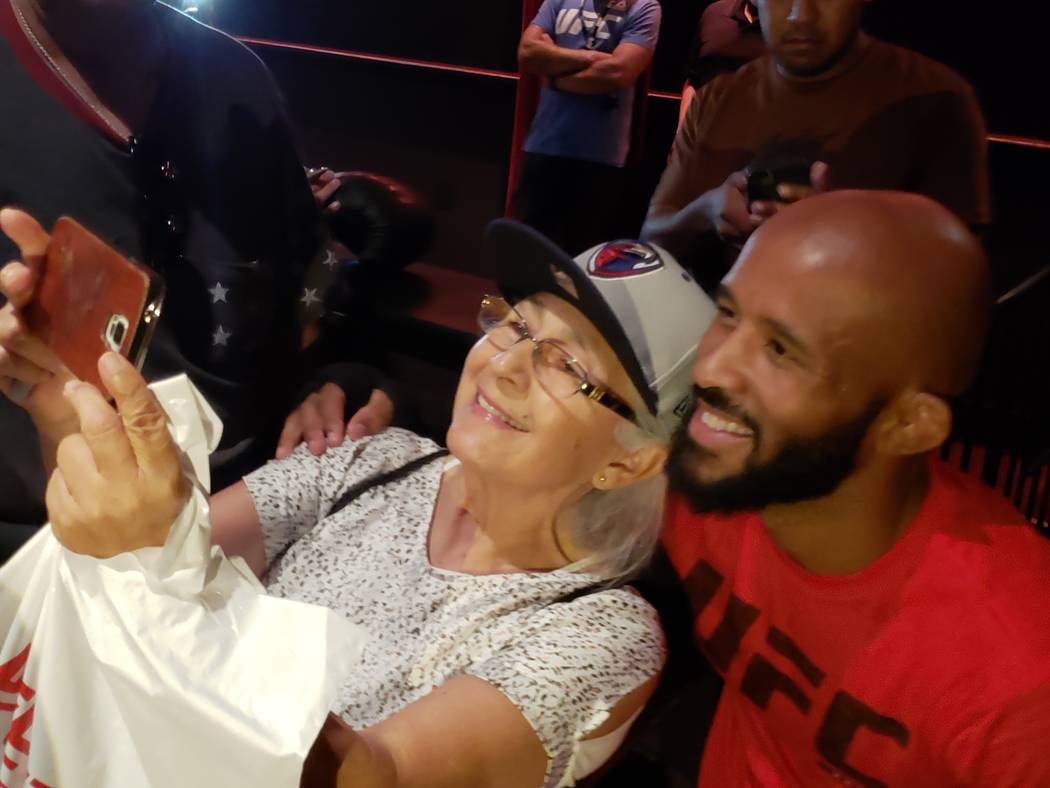 LOS ANGELES — A worker on a service call recently asked Demetrious Johnson what he did for a living after complimenting his house.
Johnson accepted the sentiment and gave a stock answer about creating content before going about his day.
It's not that Johnson isn't proud of his accomplishments as the longest-reigning champion in UFC history or ashamed of making a living beating people up, it's just not his identity.
"I don't go home and think about fights or spend 24 hours a day analyzing fights," the 31-year-old Washington native said after a workout in front of media and several hundred fans at Novo Theater on Wednesday night. "I don't even talk about fights at home. You won't see one picture of me fighting on the walls at my house. You won't even see my belts. For me, this is a job. I love to do it. I love to come out here and put on great performances, but once it's done, I don't sit around and think about it over and over. I would say MMA is like 20 percent of my life. The rest is just about my family, video games and just hanging out."
Johnson has successfully defended the UFC flyweight title 11 times, breaking Anderson Silva's record of 10 with his submission of Ray Borg in October. One of those defenses came against Olympic wrestling gold medalist Henry Cejudo in 2016.
Cejudo will get another shot to dethrone Johnson on Saturday night on the main card of UFC 227 at Staples Center.
Johnson insists he still gets excited for his fights even if he doesn't always show it. The challengers or the records just aren't what drives him every day.
"His motivation has never depended on the opponent he's facing," longtime coach Matt Hume said. "His motivation is improving as a martial artist and he's got bigger challenges than what he faces in the cage. He's more excited to get home and get back on the mat at practice to build his game."
It's paying off. Johnson just keeps getting better and better even as new challengers rise and the division continues to evolve.
He finished the win over Borg by seemingly tossing his opponent in the air and securing an armbar as he fell. It was an innovative maneuver that came as a result of countess repetitions and experiments in the gym, yet it once again wasn't enough for some of Johnson's critics.
Perhaps because he has made the ridiculous look almost routine, the flyweight champ constantly faces questions about when he will move up to face bantamweight champ T.J. Dillashaw, who puts his belt on the line Saturday against Cody Garbrandt.
It would seem to be the perfect opportunity for Johnson to challenge the winner should he once again emerge victorious, but it's not something Johnson is terribly interested in at the moment.
"I just don't put a whole lot of stock in that talk," Johnson said of those who insist he needs to conquer another weight class. "If I did that, then they'll say something else. People are always going to be upset about something."
"Defending my belt over and over, for some reason people have a negative stigma on that. They say all I do is just keep on beating everyone in my division, but I'm enjoying it. I'm enjoying being the hunted that everybody's shooting for. That's a task in itself."
Johnson has flirted with the idea of moving up for a superfight, but neither the timing nor finances have quite been right. He's still somewhat open to it, but sick of discussing it.
He's certainly not going to let instigators on social media or the internet push him into it.
"I'm just in there trying to make this money and take care of my family," he said. "When I started out and I was excited to show who I was and what I could do and then all of a sudden it was like, 'Oh, he's so (expletive) short or he's so (expletive) boring.' And you'll never win. Someone will always have something to say. I just don't care."
The bout is part of a pay-per-view card airing at 7 p.m.
More MMA: Follow all of our MMA and UFC coverage online at CoveringTheCage.com and @CoveringTheCage on Twitter.
Contact Adam Hill at ahill@reviewjournal.com or 702-277-8028. Follow @AdamHillLVRJ on Twitter.
UFC 227
Saturday's main card bouts for the 7 p.m. pay-per-view event at Staples Center in Los Angeles
— T.J. Dillashaw vs. Cody Garbrandt, for Dillashaw's bantamweight title
— Demetrious Johnson vs. Henry Cejudo, for Johnson's flyweight title
— Thiago Santos vs. Kevin Holland, middleweights
— Polyana Viana vs. J.J. Aldrich, women's strawweights
— Cub Swanson vs. Renato Moicano, featherweights