McGregor fueled by rapid success
September 22, 2014 - 6:26 pm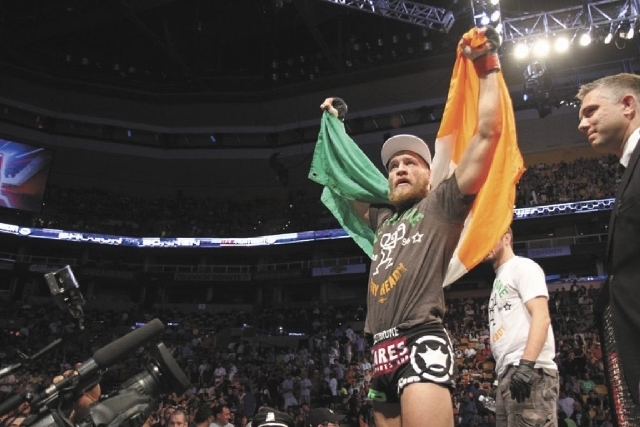 Less than two years ago, Conor McGregor collected his final social welfare check in his native Ireland just days before making his Ultimate Fighting Championship debut.
That same guy was more than an hour late getting from his Presidential Suite at the Red Rock Resort to a meeting with reporters at the UFC offices on Sahara Avenue on Friday because he was with a tailor who was designing custom suits for him, complete with his initials monogrammed on the sleeves.
McGregor has become one of the biggest stars in the organization after dispatching three opponents in a span of 16 months, including an 11-month layoff because of a torn ACL.
The next step in his rapid ascent through the featherweight division comes Saturday when McGregor makes his pay-per-view debut against Dustin Poirier on the UFC 178 card at the MGM Grand.
The bout is not the main event, but it would be impossible to tell based on the way McGregor is being promoted leading up to the fight. The UFC is clearly banking on McGregor to carry the event and he's just fine with that.
"Pay per view is where it's at. You want them big, big paychecks, you have to bring in the big numbers. This is my start on that," he said. "I feel like this is the beginning of the takeover. I'm going to take over the pay-per-view game. This whole game is mine."
McGregor is just as comfortable boasting about his talent as he is his popularity.
"I'm only scratching the surface skill-wise and I already feel like I'm better than everyone," he said.
McGregor has a camera crew following him around at all times. A network in his native Ireland did a one-hour special on him last year and McGregor said the numbers were "through the roof." When TV executives requested six more episodes, McGregor demanded an executive producer title.
"People are fascinated by this story. Nobody has ever seen anyone like me," he said. "Nobody from the nation of Ireland has ever come out of the gate throwing shots like I throw, speaking how I speak, dressing the way I dress. I could go on."
He insists his meteoric rise to wealth and stardom has only made him work harder.
"You walk into that Presidential Suite (at the Red Rock) and the marble floors are warm. Have you ever walked on a marble floor in your bare feet? It feels phenomenal," he said. "These are the types of things that drive me to the gym. That fires me up. I want that every single second of my life.
"It does nothing but push me on further."
McGregor will put his 11-fight winning streak on the line against Poirier on Saturday night. The card is headlined by a flyweight title bout between Chris Cariaso and champion Demetrious Johnson.
WEIDMAN HURT — UFC middleweight champion Chris Weidman sustained a hand injury during training and has been forced to withdraw from a scheduled Dec. 6 title defense against Vitor Belfort.
Belfort broke the news on social media, stating he believes the fight will now take place in February. UFC president Dana White later confirmed that timeline. He said Weidman suffered a hairline fracture that will require a cast for four weeks.
Welterweight champion Johny Hendricks will now defend the belt against top contender Robbie Lawler in the main event of UFC 181 at Mandalay Bay on Dec. 6.
UFC 181 also features Gilbert Melendez challenging lightweight champion Anthony Pettis.
All four title participants in the two UFC 181 title bouts will appear at a press conference on Friday at the Premier Ballroom at MGM Grand. It is free and open to the public, beginning at 2 p.m.
JONES, CORMIER TO FACE COMMISSION — UFC light heavyweight champion Jon Jones and top contender Daniel Cormier will face the Nevada Athletic Commission Tuesday to answer for their roles in a brawl between the two fighters during a press conference in the lobby of the MGM Grand last month.
Disciplinary action against the fighters is possible.
The two were promoting a fight that was supposed to take place Saturday night, but was cancelled just days after the skirmish in Las Vegas due to an injury suffered by Jones in training.
Both fighters are expected to attend today's meeting, which is scheduled for 8:30 a.m. at the Grant Sawyer Building.
HUNT HEADLINES WITH KO WIN — Heavyweight Mark Hunt knocked out Las Vegan Roy Nelson in the second round of UFC Fight Night 52 in Saitama, Japan on Saturday.
Lightweight prospect Myles Jury improved to 15-0 with a first-round knockout of Japanese star Takanori Gomi.
Also, top women's bantamweight contender Miesha Tate won a unanimous decision over Rin Nakai and Yoshihiro Akiyama won all three rounds of a welterweight bout against Amir Sadollah.
Contact reporter Adam Hill at ahill@reviewjournal.com or 702-224-5509. Follow him on Twitter: @adamhilllvrj.