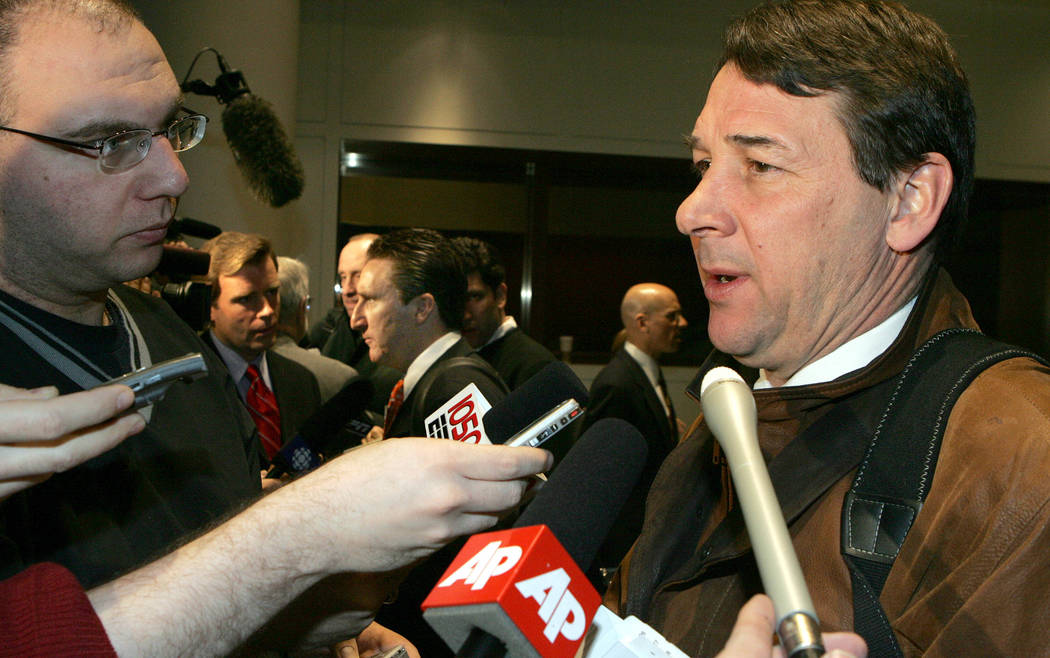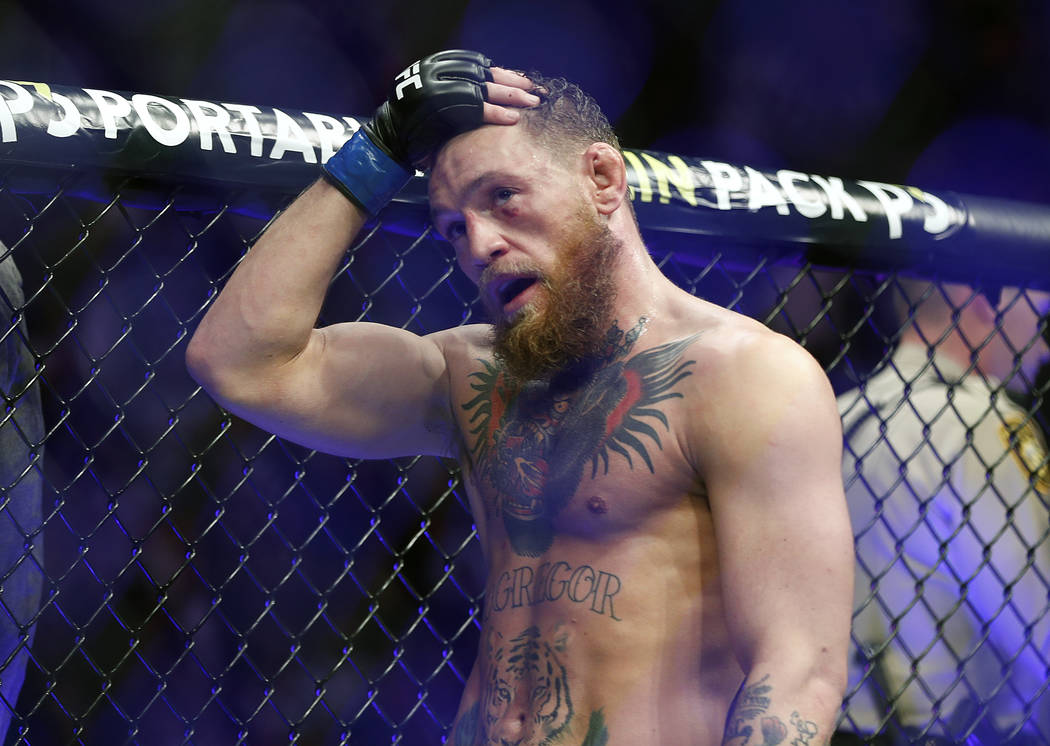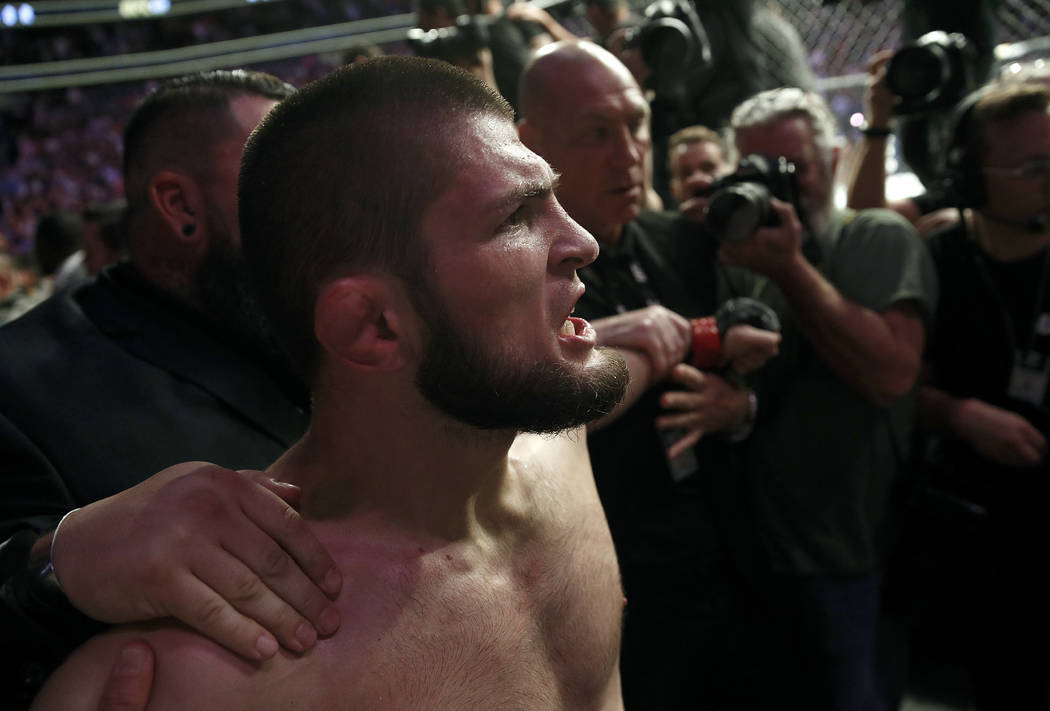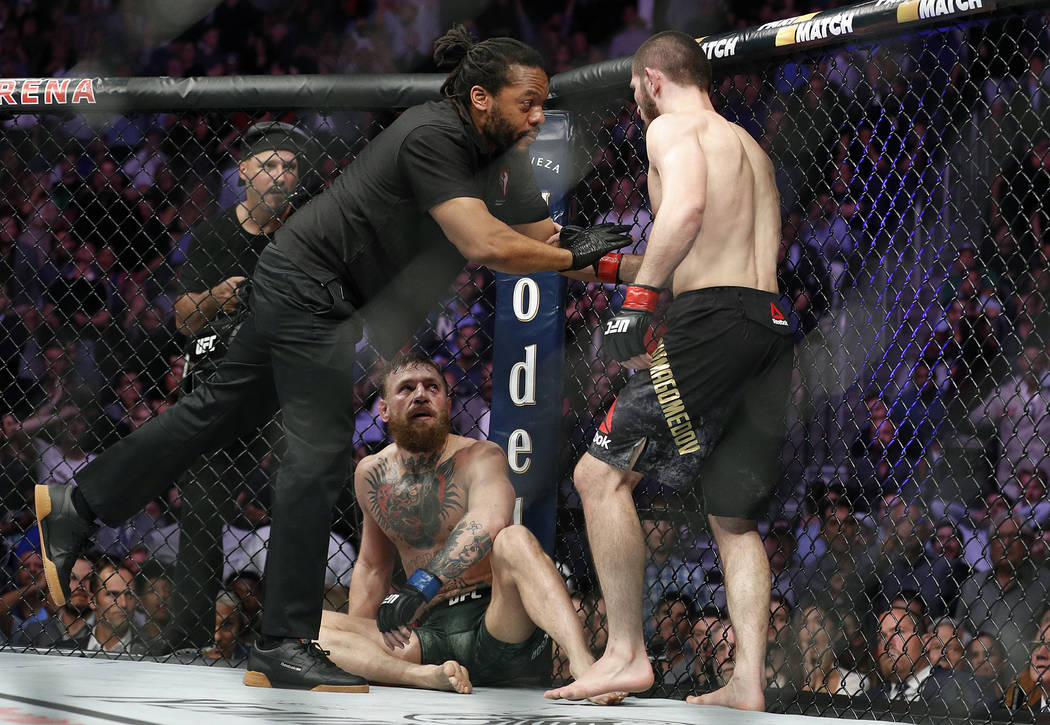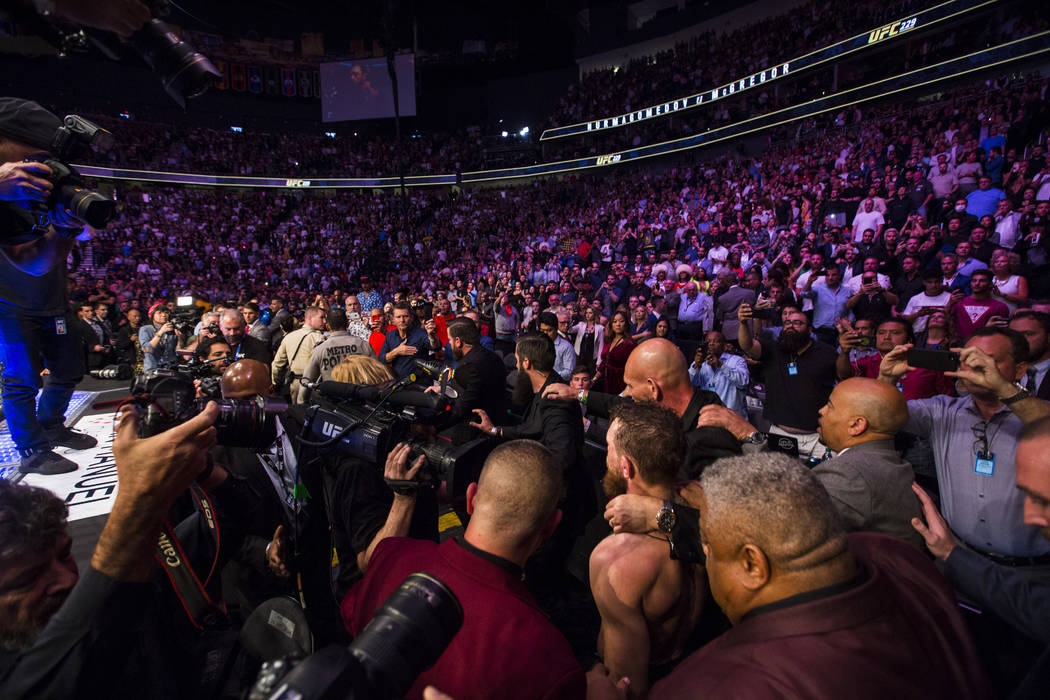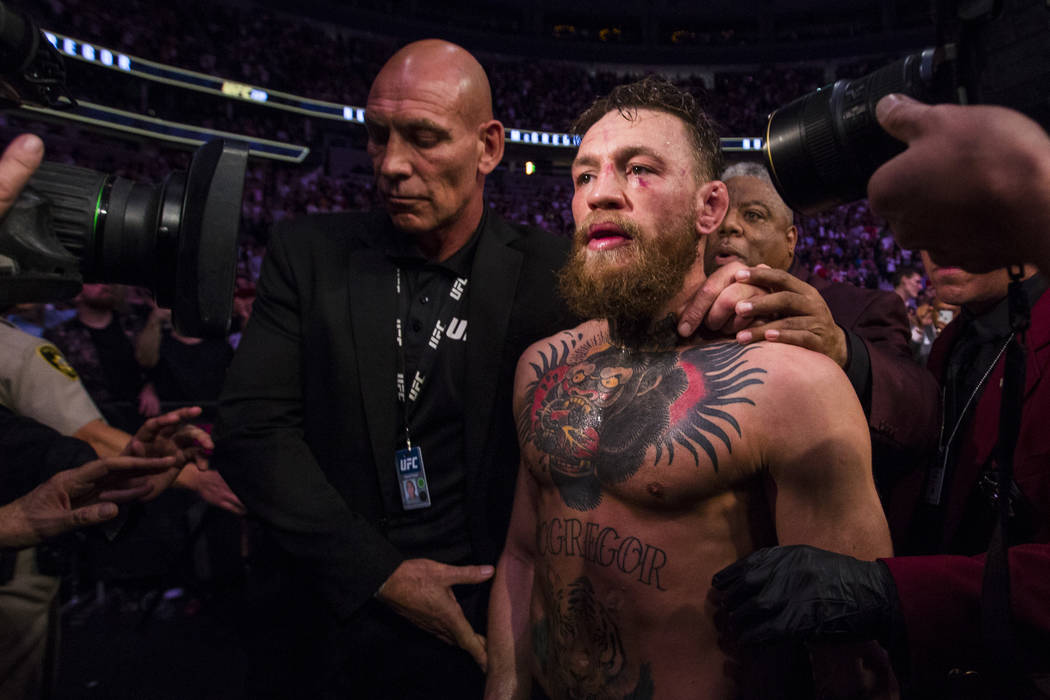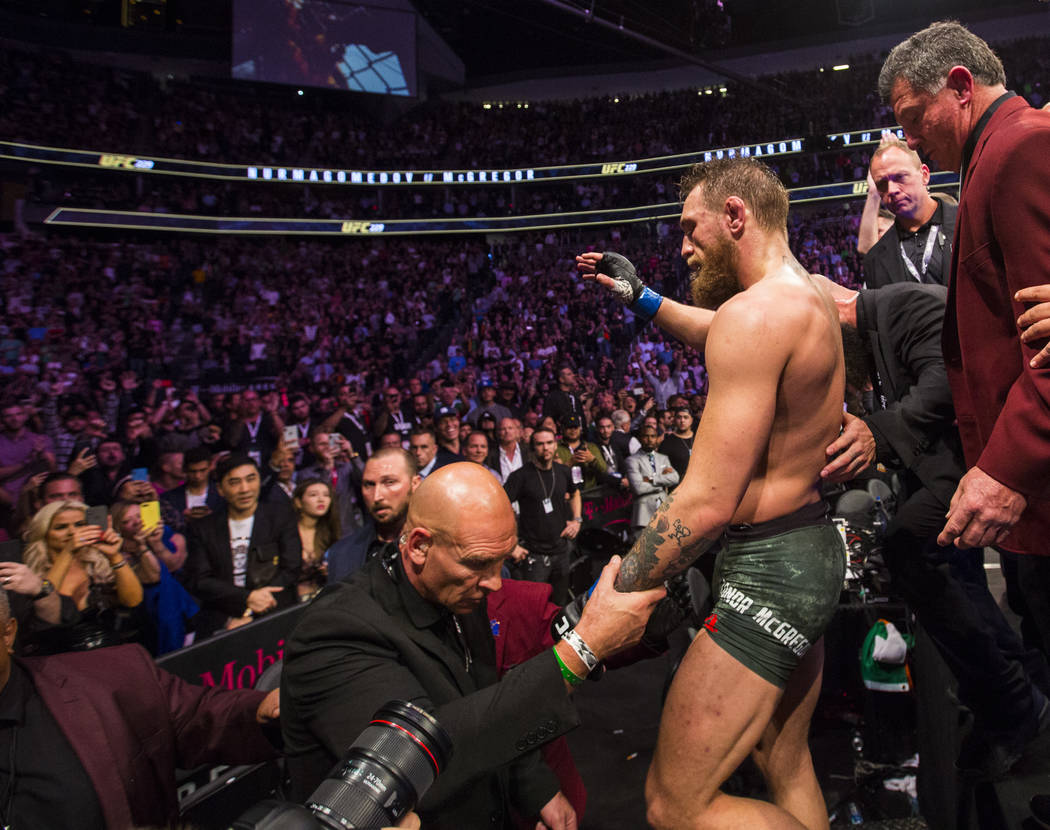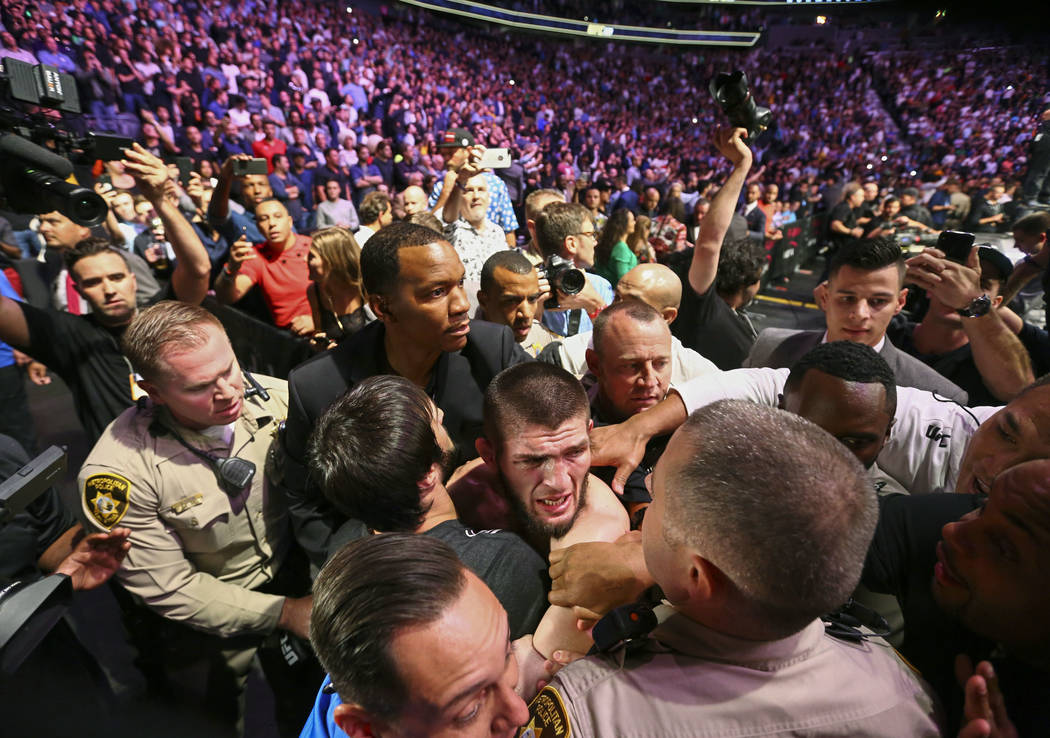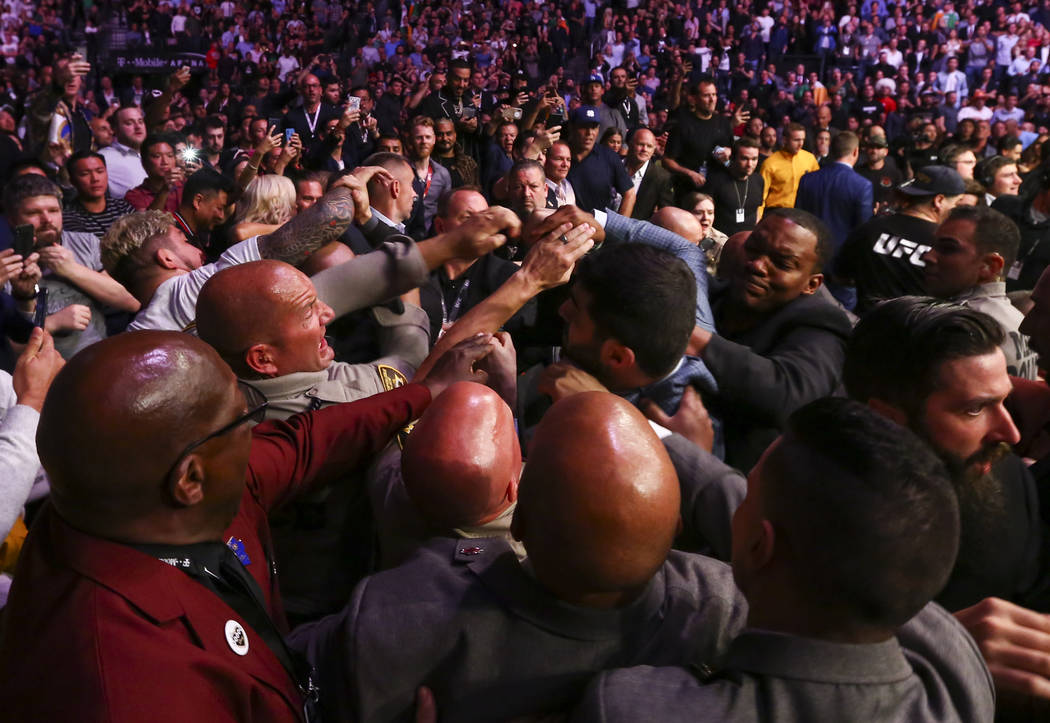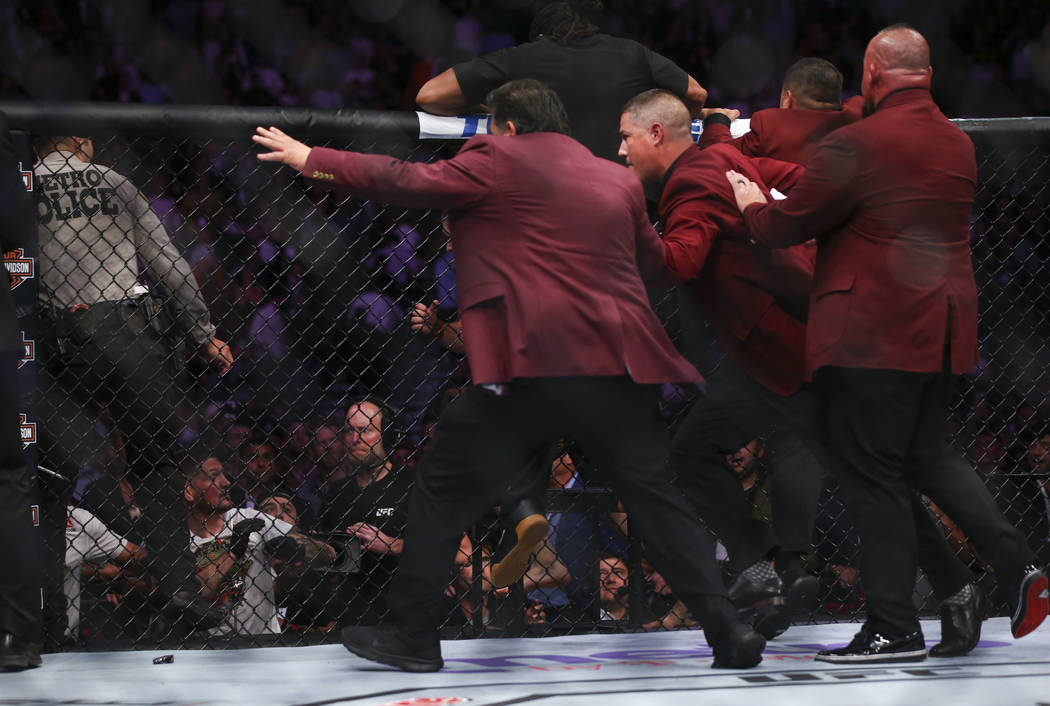 Sporting events are a time where people get together to share a common interest.
Sometimes those interests aren't so common.
Take, for instance, Saturday night at T-Mobile Arena, where Conor McGregor lost to Khabib Nurmagomedov by fourth-round submission. What will be remembered more is the brawl that ensued immediately after the fight.
Nurmagomedov pointed in the direction of Dillon Danis, McGregor's jiu-jitsu coach, mouthed some words and then jumped out of the octagon and charged toward McGregor's camp. He began to throw punches, and things escalated quickly.
A member of Nurmagomedov's crew went after McGregor, who was still inside the octagon, seemingly trying to fight back while also recovering from the rear-naked choke that caused him to tap out.
This would not be the first time that athletes have taken their issues outside the sidelines. Yet sometimes these emotions spilling into the stands have stood above the rest. Here are five notable North American examples:
Have a drink
Who: Seattle Seahawks vs. Jacksonville Jaguars.
When: 2017.
Where: Jacksonville's TIAA Bank Field.
What happened: While the Jaguars were kneeling to close out a 30-24 win, Seahawks defensive lineman Michael Bennett unnecessarily rolled into the legs of an offensive linemen, igniting a series of events. On the next play, teammate Quinton Jefferson was ejected. As Jefferson was leaving the field and heading to the locker room, fans were yelling at him and a drink was thrown from the stands. Jefferson attempted to climb the stands but was met with force by security. The following players were fined: Jefferson, $9,115 (unnecessary roughness); Seattle's Sheldon Richardson, $9,115 (unnecessary roughness); Seattle's Germain Ifedi, $24,309 (verbal abuse of a ref); and Jacksonville's Leonard Fournette, $12,154 (unsportsmanlike conduct).
Malice at the Palace
Who: Indiana Pacers vs. Detroit Pistons.
When: 2004.
Where: The Palace at Auburn Hills.
What happened: On Nov. 19, two of the better and more talented NBA teams in the East were playing. Pacers forward Ron Artest (now Metta World Pace) fouled Pistons center Ben Wallace as he went for a layup. Out of anger from the play, Wallace pushed Artest. A fight ensued on the court among players but was broken up. One fan did not take it well and threw a drink at Artest while he was laying on the scorer's table. Artest and teammates Stephen Jackson and Jermaine O'Neal went after the fan, causing a brawl among players and fans, as well as fans fighting one another. Nine players were suspended for a total of 146 games.
Y'all come back
Who: Oakland Athletics and Texas Rangers.
When: 2004.
Where: Oakland Coliseum.
What happened: Nothing is better than an energetic, almost rowdy atmosphere created by fans at a game. Fans engaging in trash talking the opponents is a given, but sometimes it becomes too much. Craig Bueno, an Athletics' season-ticket holder who sat near the bullpen, was known for taunting opposing pitchers. He might have said something to set off Rangers pitcher Frank Francisco, who tossed a chair into the stands, breaking the nose of Jennifer Bueno, Craig Bueno's wife. Several Texas pitchers tried to climb over a wall into the stands. In the end, a lawsuit was filed against Francisco; teammates Doug Brocail and Carlos Almanzar also were named. Francisco was suspended for the rest of the season and later sentenced to 30 days in jail in Texas in 2005.
Lightning and Thunder
Who: San Diego Gulls vs. Las Vegas Thunder.
When: 1994.
Where: Thomas & Mack Center.
What happened: Thunder captain Jim Kyte intentionally kneed the Gulls' Hubie McDonough with 54 seconds left in an International Hockey League playoff game. What started out as an intense match on the ice resulted in nine misconducts and 151 minutes in penalties. The commotion spilled out into the crowd after the Thunder's Marc Rodgers threw his stick, breaking the nose of a female fan.
Milbury got sole
Who: Boston Bruins at New York Rangers.
When: 1979.
Where: Madison Square Garden.
What happened: A game between the Bruins and Rangers turned violent when 18 Bruins fought with several Rangers fans. It began after the game when Rangers fan John Kaptain reached over the glass and hit Bruins enforcer Stan Johnathan. The Bruins' Mike Milbury, now a broadcaster for the NHL on NBC, left the locker room to help his teammates. Milbury grabbed Kaptain's shoe and hit him with it. He grabbed a man's shoe and hit him with it. After security got involved, Kaptain, his father, brother and friend were charged with disorderly conduct.
Priscilla Rogers can be reached at progers@reviewjournal.com.