Middleweight Leben happily fills in against Akiyama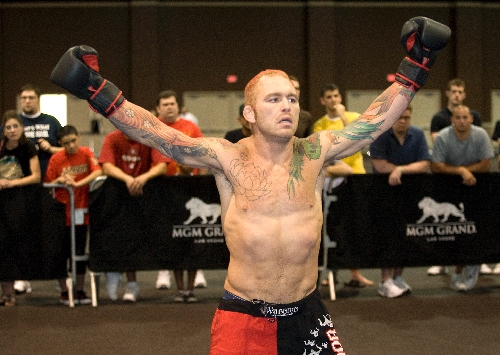 After knocking out Aaron Simpson in the second round June 19 at the Palms, Chris Leben wasted no time plotting his next career move: six months off.
He caught the red-eye home to Hawaii and spent the following day enjoying pizza and a movie with his girlfriend. Yes sir, a guy could get used to this.
The next morning Leben was awakened by a phone call from Ultimate Fighting Championship matchmaker Joe Silva, asking if would be willing to replace injured Wanderlei Silva against Yoshihiro Akiyama a mere 12 days later.
"At first I said no," Leben said. "The more I thought about it, it became clear — I'm a fighter. This is what I do. I feel like I've got a limited window of time in this sport. Right now, it's kind of two birds with one stone. Two fights, one training camp. It's a huge-profile fight. It's great for my career."
So Leben will meet Akiyama in a middleweight fight at UFC 116 tonight at the MGM Grand just before Brock Lesnar and Shane Carwin fight to unify the heavyweight title.
The opportunity to compete on UFC's likely biggest card of the year proved too much for Leben to turn down.
"It's going to catapult my career," he said. "After Saturday night, hindsight will be 20/20, but right now I know I wouldn't want to live with that hanging over my head, knowing that as a fighter I turned down a wonderful opportunity for my career."
Leben said the lack of time to prepare specifically for Akiyama won't be much of a factor.
"My game plan for pretty much all my fights stays the same: punch him in the face," Leben said.
If he can execute the plan, Leben knows he will complete the most important two-week span in his career.
"It was just a few weeks ago I was thinking being among the top elite ranked guys in the 185-pound division was a long ways away. Now all of a sudden, it's a few days away," he said. "I win this fight, I'll have three wins in a row, hopefully all in devastating fashion. It's going to put me right up there in the mix again. This is a huge, huge fight for me."
The main event between Lesnar and Carwin is not only big for the fighters but the UFC as well. UFC president Dana White lamented a lack of quality heavyweights in the organization's formative years, but said that is finally changing.
"This is the biggest heavyweight fight in UFC history," he said. "I've been the first one to say our heavyweight division used to suck. Now it's stacked with these two guys and then others lined up behind them."
White said he expects the event to do well over 1 million pay-per-view buys.
"I think there's a lot of interest in this fight. People always like to see the heavyweights go at it," he said. "This is a great fight between two real heavyweights."
Lesnar is the champion but is fighting for the first time in a year after suffering through diverticulitis.
"I didn't even know if I was going to fight again. Everything was kind of up in the air," he said. "So this is kind of my second coming. It's brought a lot of life into me and into my training camp, and I'm just excited to be a part of this once again."
In Lesnar's absence, Carwin won the interim title by knocking out Frank Mir in the first round. Carwin has stopped all 12 opponents in the first round.
Lesnar said he has no plans to prove his ability to withstand Carwin's knockout power.
"It will only get tested if he hits my chin. We're trying to avoid all that," Lesnar said.
Carwin said the fight has the potential to be a classic.
"When two great, big heavyweights that are athletic and believe in themselves get in there and they each know they're going to win, these are the great fights — the ones you remember," Carwin said. "I'm excited for this. I can't wait."
Krzystof Soszynski and Stephan Bonnar will meet in a rematch of a February fight Soszynski won controversially after a headbutt caused a cut. Also, Matt Brown takes on Chris Lytle.
A lightweight bout between Kurt Pellegrino and George Sotiropoulos rounds out the main card.
At least two fights on the preliminary card will air live on Spike (Channel 29) at 6 p.m., including a heavyweight bout between Brendan Schaub and Chris Tuchscherer. Seth Petruzelli will make his UFC return against Ricardo Romero.
The 11-fight card gets under way at 4:30 p.m., with the pay per view airing live at 7.
Contact reporter Adam Hill at ahill@reviewjournal.com or 702-224-5509.
FIGHT NIGHT
UFC 116
MAIN EVENT: Brock Lesnar vs. Shane Carwin, heavyweights
WHEN: Card begins at 4:30 p.m.
WHERE: MGM Grand Garden
TV: Spike (29), 6 p.m.; Cox PPV (501), 7 p.m.
LINE: Lesnar -135