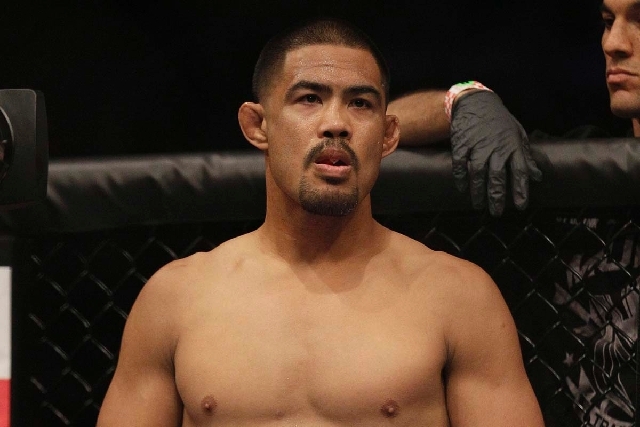 Mark Munoz stepped on the scale one day in early January and realized he needed to make a change.
Munoz had been suffering from depression following a devastating knockout loss to Chris Weidman last July, and the evidence of the Ultimate Fighting Championship middleweight's six-month eating binge was staring back at his bloated face.
Two hundred sixty-one pounds.
"That was the light-bulb moment, like, 'I got to do something,' '' Munoz said. "That's when I called my trainer, Todd Norman, and I was like, 'Hey, I need help.' I came in, broke down in his office and that started a process right there."
Nearly six months later and 75 pounds lighter, Munoz will show off his new physique Saturday when he faces Tim Boetsch on the UFC 162 card at the MGM Grand Garden.
"This is a very important fight to get me back one step closer to a title shot," Munoz said. "I've been there to the pinnacle twice and wasn't able to cash in, and I want to be able to cash in this time.
"It's a must win."
Munoz suffered through a tumultuous 2012 that started with him pulling out of a January bout against Chael Sonnen due to an elbow injury. After having surgery, he blew up to almost 250 pounds over the next few months but signed to meet the undefeated Weidman in the main event of the UFC on Fuel TV 4 card.
"I wasn't checked in at all," Munoz said. "I was concentrating on cutting weight instead of preparing for the fight, and it was just not good."
In the second round, Munoz walked into a vicious right elbow that dropped him to the canvas. He then took several more punches to the face before the referee stepped in and stopped the fight. The highlight-reel knockout propelled Weidman into his title shot against champion Anderson Silva and sent Munoz, who had been riding a four-fight winning streak, into a downward spiral.
After the fight, Munoz learned he suffered a broken foot during training, an injury that kept him inactive for the next six months. Coupled with his gym's financial struggles, difficulties in his personal life and the nature of the loss, Munoz fell into a funk that didn't end until he was the size of a heavyweight.
"I'm not a guy that parties or does drugs or alcohol or anything like that, but I went to food for comfort," Munoz said. "I just ate because I was sad, and I was sad because I ate."
Munoz weighed 252 pounds when he began working with Norman on Jan. 15, but the former national champion wrestler at Oklahoma State changed his diet and was able to transform his body in only a handful of months. When Munoz reached 199 pounds, he went on Twitter and posted before-and-after photos that were fit to appear in any weight-loss infomercial.
Munoz weighed 194 pounds during Wednesday's media session and is at 7 percent body fat, compared to 15 percent against Weidman. He expected to have no problem getting down to the 185-pound limit for today's 4 p.m. weigh-ins at Mandalay Bay Events Center.
"It was just hard work and dedication, man," Munoz said. "This is all natural, grass fed, free range, no GMO."
The Munoz-Boetsch bout originally was slated to be part of the preliminary card but was moved to the pay-per-view portion when Chan Sung Jung pulled out of his bout with Ricardo Lamas to take a fight against featherweight champion Jose Aldo at UFC 163. Munoz said he hopes to take advantage of the increased exposure now that his gym is thriving and his family life is in order.
"This fight, I'm totally prepared physically, mentally, spiritually, emotionally, all of the above," Munoz said. "After going through what I went through, I feel so confident going into this fight."
Contact reporter David Schoen at dschoen@reviewjournal.com or 702-387-5203. Follow him on Twitter: @DavidSchoenLVRJ.