More than meets the eye with 'Cro Cop' retirement
November 12, 2015 - 9:29 am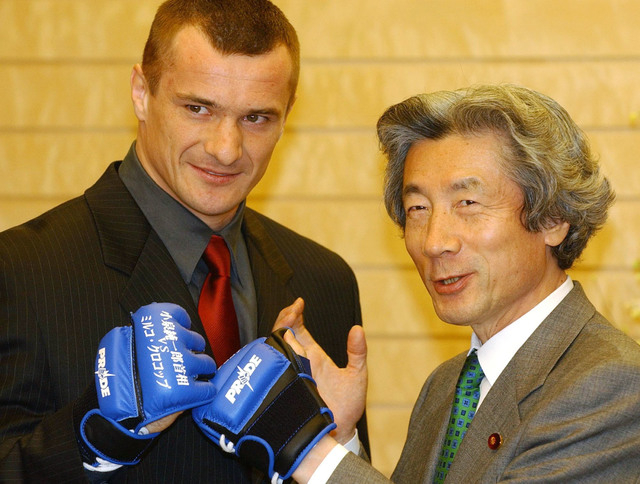 Heavyweight star Mirko "Cro Cop" Filipovic's latest retirement announcement may not have been completely his decision.
Ultimate Fighting Championship officials announced Wednesday that Filipovic is the first fighter to test positive under the organization's comprehensive drug testing system, which is handled by the United States Anti-Doping Agency.
Filipovic, 41, had previously retired from both kickboxing and mixed martial arts. He made his latest return to the UFC in April with a third-round knockout of Gabriel Gonzaga.
He was then booked for a bout against Anthony Hamilton on a Nov. 28 card in Seoul.
Filipovic announced on his website earlier this week he would be forced to pull out of that fight due to an injured shoulder.
That now appears to be a cover story.
Filipovic apparently failed a drug test issued by USADA, which implemented its program in July.
"(USADA) has notified both Mirko Cro Cop and UFC that he has been provisionally suspended at this time due to a potential Anti-Doping Policy violation," the statement read. "USADA, the independent administrator of the UFC Anti-Doping Policy, will handle the results management and appropriate adjudication of this case involving Cro Cop. Additional information will be provided at the appropriate time in the process."
The substance responsible for the failed test was not revealed. Under the policy, Filipovic is likely facing a two-year suspension, making him a longshot to fight again.
A replacement opponent will not be named for Hamilton, who will be rescheduled for a later date.
Contact reporter Adam Hill at ahill@reviewjournal.com or 702-224-5509. Follow him on Twitter: @adamhilllvrj
RJ's new MMA site: CoveringTheCage.com
Las Vegas Review-Journal MMA reporter Adam Hill will bring online readers the following, with fresh content daily:
* Fighter profiles.
* Rankings of all UFC classes.
* Previews and coverage of bouts.
* Videos of fighters on and off the mat.