Nate Diaz ready for vacation now that McGregor fight is off UFC 200 card
April 27, 2016 - 11:38 am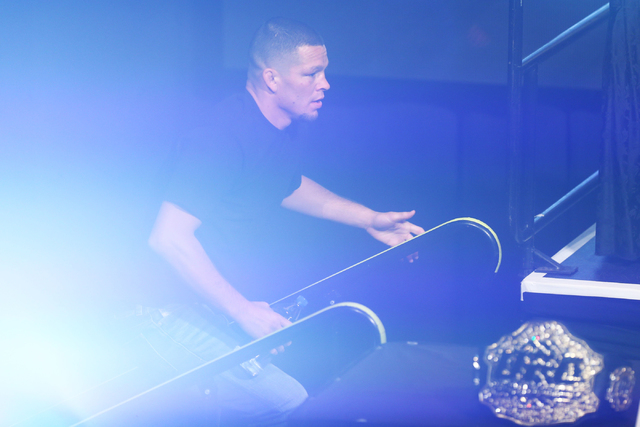 It appears Nate Diaz is finally convinced he won't be fighting Conor McGregor at UFC 200.
Diaz participated in a bizarre news conference at the MGM Grand on Friday where Ultimate Fighting Championship president Dana White reiterated his position that McGregor had been pulled from the historic event and a replacement opponent would be found for Diaz.
But when it was his turn to talk, Diaz was having none of it.
He said he was only willing to fight McGregor and if the fight didn't happen he was just going to take a trip instead.
Diaz was given the OK to book that vacation when Wednesday when Dana White announced the new main event for UFC 200 would be a Jon Jones-Daniel Cormier bout.
Diaz and McGregor were set to rematch in a welterweight bout after Diaz handed McGregor the first loss of his UFC career by submission in the second round of a March 5 bout.
White pulled McGregor out of the bout when the Irish superstar, who still holds the featherweight belt, made it clear he would not come to Las Vegas to start a promotional tour to hype the fight.
After days of wrangling both in the press and on social media, White has stood firm that McGregor will not compete on the July 9 card at T-Mobile Arena.
Diaz appeared to come to terms with that fact on Tuesday night.
"Happy to announce that I'm going on vacation #gone #100," Diaz posted on Twitter, followed by a "peace sign" emoji.
A light heavyweight title unification bout between champion Daniel Cormier and interim champ Jon Jones is expected to be named as the card's new main event.
Contact reporter Adam Hill at ahill@reviewjournal.com or 702-224-5509. Follow him on Twitter: @adamhilllvrj
RELATED
Conor McGregor tweets he's back on UFC 200 card; Dana White issues denial
Conor McGregor, Nate Diaz still train to meet in UFC 200 despite Dana White's edict