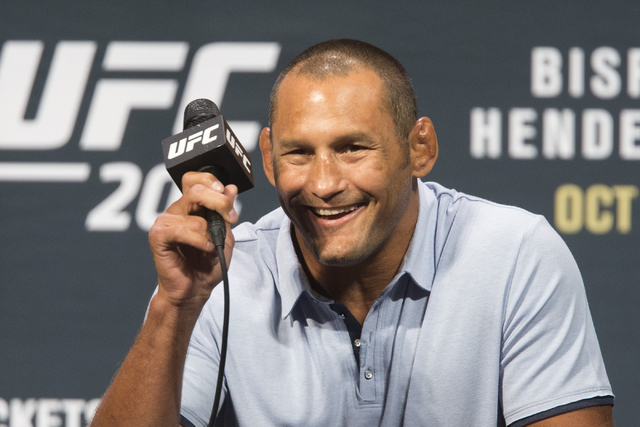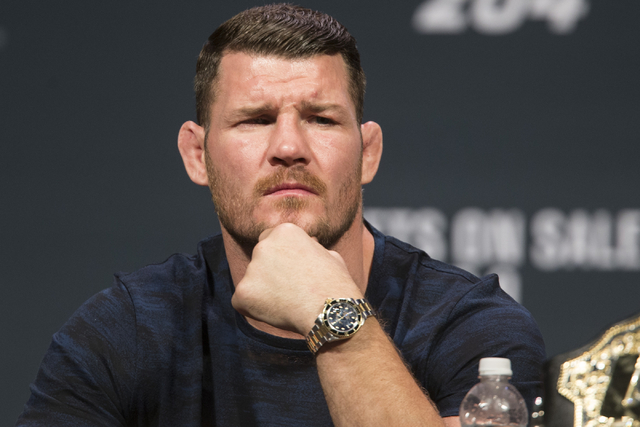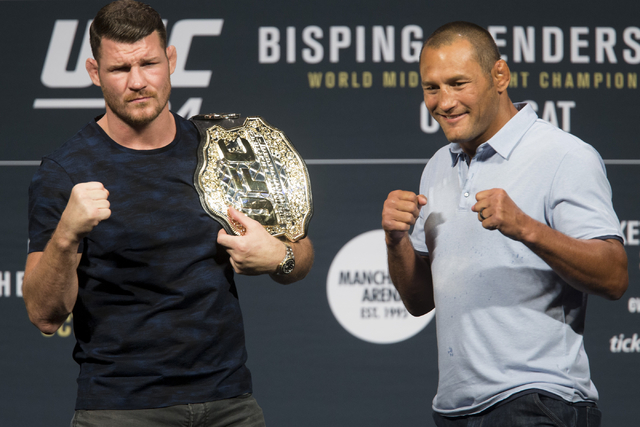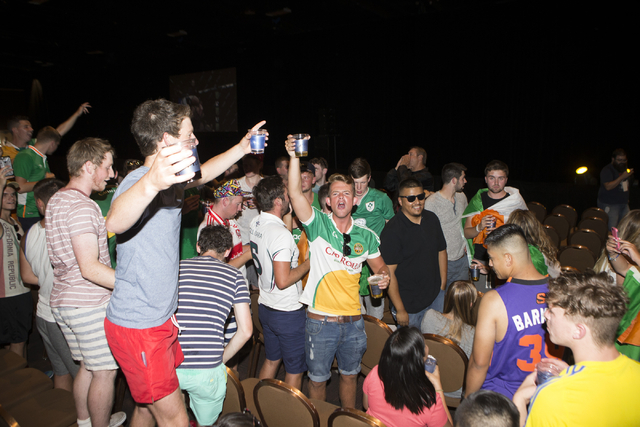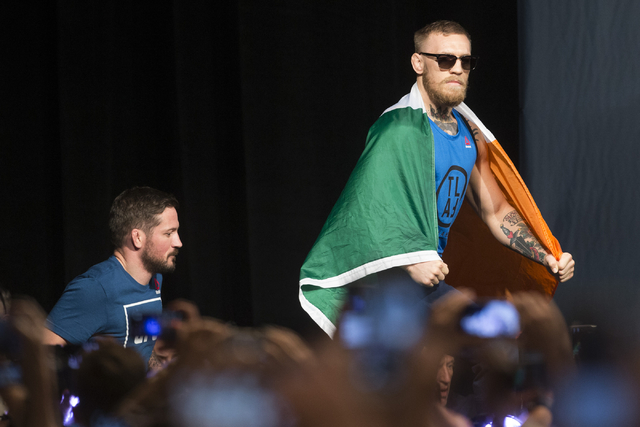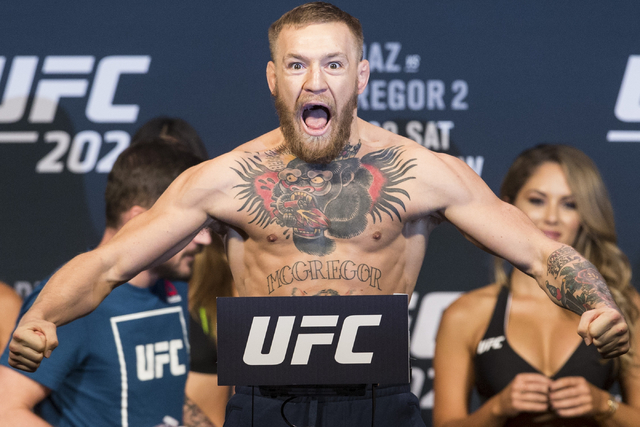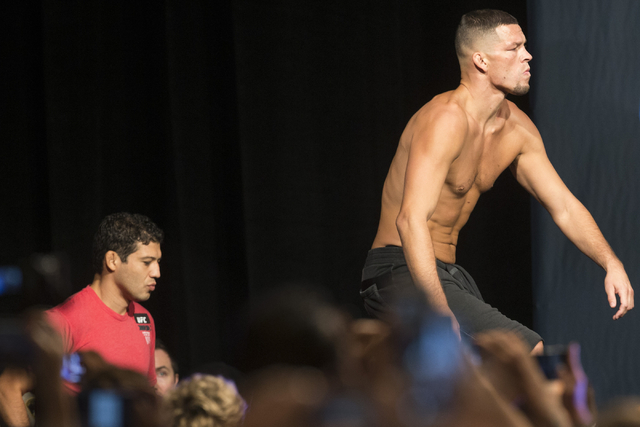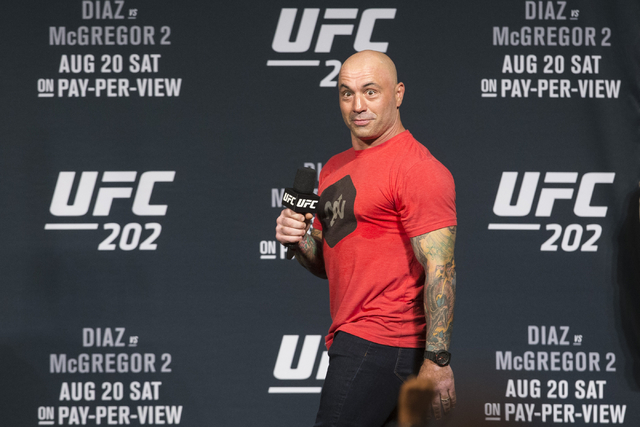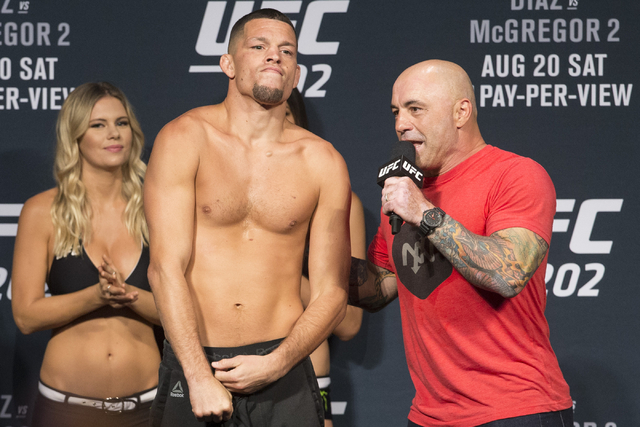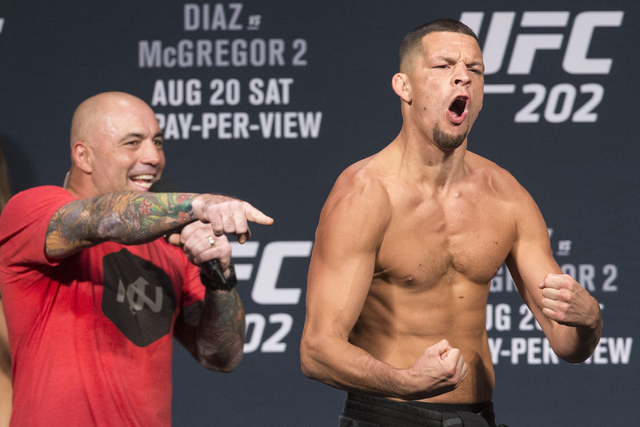 To hear Conor McGregor tell it, Nate Diaz was handed a lottery ticket and woke up one day in March a jackpot winner.
Diaz insists there was very little luck involved in the story of a veteran fighter finally becoming a UFC superstar.
He did need McGregor to make his plan come together, however, and now after nearly a decade as a popular character with a crowd-pleasing attitude and fight style, Diaz is a star with a bank account to match.
"It is not thanks to Conor that I got all of it, but I'm going to say that he was a shortcut," Diaz said in advance of his rematch with McGregor in the main event of UFC 202 on Saturday night at T-Mobile Arena. "I wasn't following the leader. I was going to get my money regardless, and I was going to get where I'm at regardless, but obviously he was a shortcut to get there."
The pay-per-view broadcast begins at 7 p.m., with four fights from the preliminary card airing on Fox Sports 1 at 5. The first fight inside T-Mobile Arena begins at 3:30 p.m.
Diaz took note of a major UFC news conference last September when McGregor, the sport's biggest and highest-paid star, verbally destroyed several fighters who didn't seem to have an answer to the tirades. The Stockton, California, native realized there was an opening for a foil and decided to try to take advantage.
Before his next fight in December against Michael Johnson, Diaz started pushing himself as a potential McGregor opponent despite the fact he fought in the weight class above the featherweight champion.
Diaz delivered one of his best performances in a win over Johnson and again called out McGregor, referring to himself as "the real money fight."
It worked. Less than two weeks before McGregor was scheduled to fight Rafael dos Anjos in a lightweight title bout in March, dos Anjos was injured. The squeaky wheel got the grease; Diaz accepted an offer to step in on short notice. He then shocked the world by handing McGregor the first loss of his UFC career via a rear-naked choke in the second round.
There was no turning back after that. Diaz was soon appearing on late-night talk shows and engaging in social-media feuds with Justin Bieber.
"If I was stupid, I wouldn't be where I'm at," the 31-year-old said. "I plotted this out."
A rematch was booked for UFC 200 in July, which was expected to be the biggest event in the organization's history. That bout fell apart when McGregor and the UFC engaged in a very public battle over media obligations and other issues and the rematch was pulled from the card.
Everything finally was worked out and the rematch was ready to be booked again.
Except that Diaz now had power, too, and he was ready to use it. He had UFC officials fly to Stockton to meet with him. Despite reports of contentious negotiations, he got a new deal and agreed to the rematch.
"I just knew that they wanted it to happen and they needed it to happen," he said of his negotiating strength. "So I didn't have thoughts that it wasn't going to happen. It is part of what I wanted and it worked out."
McGregor cut him off and took credit for showing Diaz the way in terms of flexing his muscle at the bargaining table.
"I taught the kid well. I taught him well. Get that money," McGregor said. "You were at ($20,000 to show and $20,000 to win). Now you're talking the big money. Have respect for that."
Diaz scoffed.
He was similarly dismissive of the storyline the size differential had a dramatic impact on the outcome of the first fight. Diaz believes it's just a convenient excuse.
"He's fought at 145 and 155 pounds throughout his career. I fought 155 and just a couple times at 170," Diaz said. "I don't know how all of a sudden I became this monstrous heavyweight against Conor McGregor just because I won the fight."
He came in at 170.5 pounds on Friday, a half-pound under the welterweight limit in a nontitle fight. McGregor hit the scales at 168.
"I feel I have grown as a fighter," McGregor said. "I've gained some valuable experience. Usually when I go in, I hit them and they go down. That's it. My division, I kill them. Check my records. When I hit them, they fall.
"It was nice to go in there and face a man that, although he was close to crumbling, he stuck it out and showed his experience and durability."
Diaz believes the outcome of the first fight is still weighing on McGregor and could impact the rematch, particularly after seeing pictures McGregor hung in his Las Vegas gym of left hands landing on Diaz's face in the first meeting and hearing McGregor once again predict an early knockout win.
"That's what he said last time, too," Diaz said. "He's either lying to himself or trying to build his confidence and trying to make himself believe it. But he remembers what happened the last time. I think it's a little silly. He's got pictures of himself punching me up in his garage. What the (expletive)? Who does that?
"When he goes to sleep at night, he remembers what happened the last time."
So does Diaz, and with good reason. It changed his life. It hasn't removed the chip from his shoulder, however.
Diaz believes the UFC will be rooting against him in the rematch in hopes they can once again push him to the background, but he insists he won't let it happen.
"I got too big not to be heard," he said.
Imagine how loud he'll get if he can do it again.
Contact reporter Adam Hill at ahill@reviewjournal.com or 702-224-5509. Follow on Twitter: @adamhilllvrj
RELATED
UFC 202 news conference ends abruptly after water bottles, energy drinks get thrown
Conor McGregor continues oral assault on Nate Diaz — VIDEO
Conor McGregor says he won't punch himself out in rematch against Nate Diaz
UFC 202: McGregor sticks with prediction to KO Diaz in the 2nd round — VIDEO