Nelson KOs Mitrione to cap The Ultimate Fighter 16 finale card
December 15, 2012 - 8:42 pm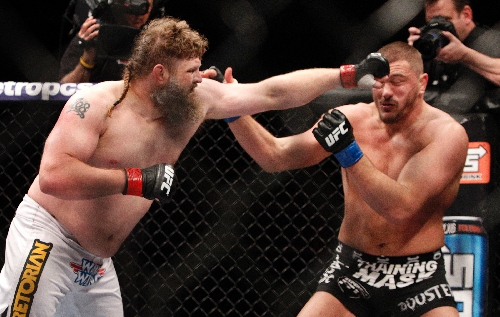 Roy Nelson was putting together a pretty good career in the Ultimate Fighting Championship when he was just throwing one punch at a time.
The Las Vegan could reach new heights now that he has learned how to put those punches together.
"I've just been practicing combinations instead of just one punch," he said. "I'm just trying to better myself and become a more complete martial artist."
Nelson used his new skill to knock out Matt Mitrione 2:58 into the first round of the main event of "The Ultimate Fighter" Season 16 finale card at the Hard Rock Hotel on Saturday night.
After clipping Mitrione with a right uppercut, Nelson followed up with a left hook and an overhand right before pouncing on Mitrione with straight rights on the ground until the heavyweight bout was stopped.
Also, Colton Smith won "The Ultimate Fighter" Season 16 title, beating Mike Ricci by unanimous decision.
Mitrione lamented his failure to execute his strategy against Nelson.
"I think I wasted a great opportunity," he said. "Roy hit me with a great punch. I got too cocky sitting in front of him, which I said before the fight was not the right game plan against him. I stepped in front of him when I should have been getting out of the way of that train. It was just stupid on my part."
Nelson was disappointed he didn't get to fight Shane Carwin, his rival coach on the reality show. That frustration disappeared when Mitrione called him out and was selected to replace Carwin.
Nelson said that reignited his passion for the fight.
The victory was the second straight first-round knockout for Nelson and his third win in four fights.
"A win always puts you one step closer," Nelson said. "You beat anyone in the UFC and it always puts you one step closer to your dream of becoming a champion."
Smith reached his goal of winning the 'TUF' season title by keeping constant pressure on Ricci for all three rounds.
The underdog, an active duty Army Ranger, was relentless in grabbing hold of Ricci and never letting him mount any sort of offense.
"Mike Ricci's an extremely tough opponent," Smith said. "You can't make a mistake with him or he'll knock you out. I knew my pressure and my wrestling would definitely play a factor. I couldn't allow any separation the entire fight."
A scheduled lightweight fight between Melvin Guillard and Jamie Varner was postponed shortly before the main card began because Varner became ill and was vomiting in the locker room.
The bout has been rescheduled for UFC 155 on Dec. 29 at the MGM Grand.
Guillard said he wouldn't be surprised if Varner backs out of that fight as well.
"I think what he (did) tonight was very cowardly." Guillard said in an interview on the broadcast. "I saw the look in his eyes at weigh-ins. He didn't want to fight me. I'll just leave it at that. I'm not going to sit here and bash the guy. I have a level of respect for him as a person, but as a fighter I lost all respect for him."
Pat Barry wobbled Shane del Rosario with a left hand and followed up with a brutal right as he staggered backward to end their heayvweight bout early in the second round.
A tearful Barry then took the microphone and expressed how deeply the tragedy in Connecticut affected him in the final hours before his fight, pleading with everyone to hug their loved ones every day.
Dustin Poirier submitted 'TUF' Season 12 winner Jonathan Brookins with a D'Arce choke late in the first round after a back-and-forth opening few minutes.
Newcomer Ruslam Khabilov highlighted the undercard by knocking out Vinc Pichel with a suplex in a lightweight bout. Johnny Bedford, Hugo Viana and Las Vegan Mike Pyle all recorded knockout wins.
In addition, Mike Rio and TJ Waldburger earned submission wins and Tim Elliott won a unanimous decision over Jared Papazian in a flyweight contest.
Contact reporter Adam Hill at ahill@reviewjournal.com or 702-224-5509. Follow him on Twitter: @adamhilllvrj.