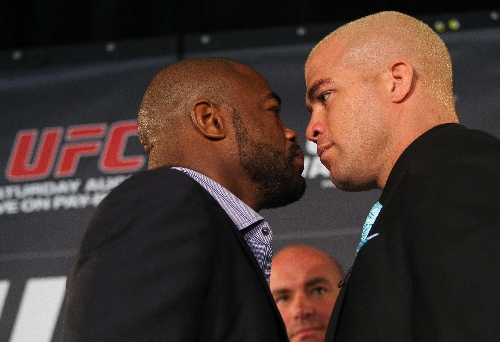 PHILADELPHIA — After his first win in more than four years, Tito Ortiz believes he one day can reclaim the Ultimate Fighting Championship light heavyweight title.
Ortiz, one of the pioneers of mixed martial arts and one of the sport's earliest superstars, never has shied away from self-promotion and bravado.
It's just that the confident talk became more and more hollow in the midst of an 0-4-1 stretch that saw the 36-year-old on the verge of being released from the organization he helped build.
"I was reading too much of the negativity. Negativity from (UFC president) Dana (White), the fans, everyone. And I started believing them," he said. "Why? I don't need to believe that. I started switching things around. I got a new camp, and they're just so damn positive. I had filled myself with so much negativity. Let's do positive now."
That mentality extends beyond the cage. He is viewing the entire fighting experience in a positive way. Nothing wrong with the flight. The hotel is great. Meals have been delicious. All part of the sunny approach the people around him have fostered.
That new team, headed by longtime friend and former professional boxer Jason Parillo, helped Ortiz shock rising prospect Ryan Bader on July 2 at the MGM Grand Garden.
A week later and after some initial hesitation, Ortiz found himself agreeing to step in for an injured Phil Davis to fight another former champion, Rashad Evans, in the main event of UFC 133 on Saturday at the Wells Fargo Center.
Ortiz has gone from on the way out to possible title contention in the UFC in about a month, thanks largely to his new attitude.
"I don't think I've said a negative thing from two months before the Bader fight," he said. "I've been so damn positive in my outlook in everything I do and in my outlook on life. You have to be positive to get the most out of life."
Parillo had worked with Ortiz in the past, but the training camp for the Bader fight was the first he had been involved with from beginning to end. He said the pressure of the mounting losses and an often turbulent personal life had taken an obvious toll on Ortiz when the camp began two months before the fight.
"I'll tell you this: The first day in camp for the Bader fight, (Ortiz) basically looked at me like, 'I don't really feel like being here,' " Parillo said. "I talked to him, and we had a lot of really good conversations about where he was at in his career and his personal life. We talked about a handful of things that were going on and got our minds around it and focused on the most important thing, and that was to beat Ryan Bader."
The win has breathed new life into Ortiz. Parillo said the confidence was evident as soon as Ortiz returned to the gym to prepare for Evans on short notice three weeks ago.
"His whole presence changed," Parillo said. "He was going right at sparring partners and just hurting them. He was beating these guys before the Bader fight, but all of a sudden, he was steamrolling them. He was just in that winning mindset."
With a win, Evans has been assured a title shot against the winner of September's fight between Jon Jones and Quinton "Rampage" Jackson, but Ortiz is not in the same position. White has said Ortiz would be under consideration to fight for the belt but is far from a lock.
For Ortiz, it is more about maintaining the momentum he gained from the first-round submission of Bader. The rest will take care of itself, as long as he believes in it.
"Forget what people say about what you should be or who you're not. I know who I am now. Former world champion. Nobody's ever defended their title longer than I have or the amount of times I have," Ortiz said. "In my mind, I know I'm one of the greatest. I have some great things to achieve in this world, and I'm not done yet."
His first task is to defeat Evans, whom he fought to a draw after being deducted a point for grabbing the cage in 2007. The bout was the second in his five-fight winless stretch.
Contact reporter Adam Hill at ahill@reviewjournal.com or 702-224-5509.