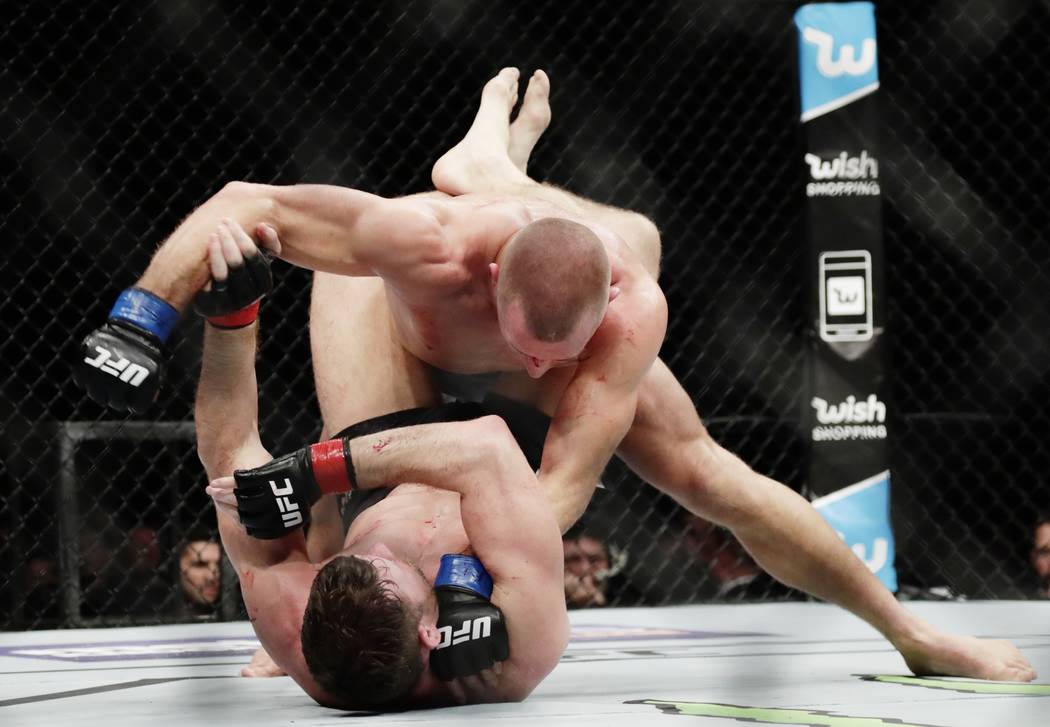 UFC star Georges St. Pierre's return to the cage proved to be a real pain in the neck.
The former welterweight champion's comeback bid resulted in a win over Michael Bisping to capture the middleweight belt at UFC 217 in New York earlier this month after a four-year hiatus from the sport.
It also resulted in a visit to the hospital.
St. Pierre says he took an elbow to the back of the head early in the fight that proved problematic.
"When I got hit, I got kind of a flash-knockdown a little bit," he said on a Thursday conference call. "I got a very bad inflammation in my neck and I couldn't really move my head much. Especially at the end when I cooled down after the fight, it was terrible. I couldn't even tie up my shoes. It was very bad. I didn't know what it was. Now it's still sore but it got a lot better. I got treatment on it. I'll be back 100 percent pretty soon."
St. Pierre, 36, held the conference call because he was unable to attend the post-fight news conference after his victory because of the hospital visit.
Now that the fight is behind him, St. Pierre can turn his attention to his next challenge.
But not until he's back from a planned vacation.
St. Pierre says he will allow his agent to discuss the options with UFC president Dana White while he takes some time off. It's possible he will unify the middleweight belt against interim champ Robert Whittaker. In fact, his contract stipulates he accept the matchup.
"If I want to fight again, it has to be against (Robert Whittaker at 185 pounds)," St. Pierre said. "But a lot of things can happen in MMA. You see things change all the time."
St. Pierre said he doesn't want to hold up the division waiting on him to fight again, so he hopes to have a decision on his next opponent soon.
He is happy to be back, however.
"When I left the sport more than four years ago, I was in a bad place mentally," he said. "I was not having fun. I was having fun (at UFC 217). I mean having fun to a certain extent because you get hit in the head.
"I did this because I wanted to, not because I had to."
Bellator field set
Bellator MMA officially announced plans Monday to host a heavyweight grand prix in 2018 to crown a champion in the organization's star-studded division.
Two local fighters, Bonanza grad Frank Mir and Cimarron-Memorial's Roy Nelson, will be included in the field. The Bellator MMA World Grand Prix bracket has not yet been finalized.
Several fighters will move up in weight to compete in the event, including former UFC middleweight and light heavyweight title challenger Chael Sonnen.
Former UFC light heavyweight champion Quinton "Rampage" Jackson and former Strikeforce light heavyweight champion Muhammed "King Mo" Lawal also will compete. Lawal and Nelson are friends and training partners.
Fedor Emelianenko, often cited as the greatest heavyweight in MMA history, is entered in the field despite losing his last four fights in the United States.
Bellator light heavyweight champion and McQueen High School graduate Ryan Bader will also be entered. Former UFC heavyweight contender Matt Mitrione rounds out the field.
The Bellator heavyweight title has been vacant since 2016. Tournament bouts will be conducted throughout 2018, though sites and matchups have not been announced.
Hager heads to Bellator
Jake Hager, a former Oklahoma wrestler and football player, has signed a contract with Bellator MMA and will make his mixed martial arts debut in the organization.
Hager competed in WWE under the name "Jack Swagger."
"This is something I've wanted to do for a long time. It's something that's a part of me, so it makes sense. I'm very happy with the deal. I've felt a lot of love from Bellator," said Hager. "I think there are certain types of guys who need to be punched in the face and taste blood. I've always been a fan of MMA and I've been wrestling since I was 5-years-old."
No date has been set for his debut.
More MMA: Follow all of our MMA and UFC coverage online at CoveringTheCage.com and @CoveringTheCage on Twitter.
Contact Adam Hill at ahill@reviewjournal.com or 702-277-8028. Follow @adamhilllvrj on Twitter.
Schedule
— Thursday: Bellator 188 (Spike TV), Tel Aviv, Israel
— Saturday: UFC Fight Night 121 (FS1), Sydney
— Nov. 25: UFC Fight Night 122 (Fight Pass), Shanghai, China
— Dec. 1: "The Ultimate Fighter" Season 26 Finale (FS1), The Chelsea at The Cosmopolitan
— Dec. 1: Bellator 189 (Spike TV), Thackerville, Oklahoma
— Dec. 2: UFC 218 (FS1/PPV), Detroit