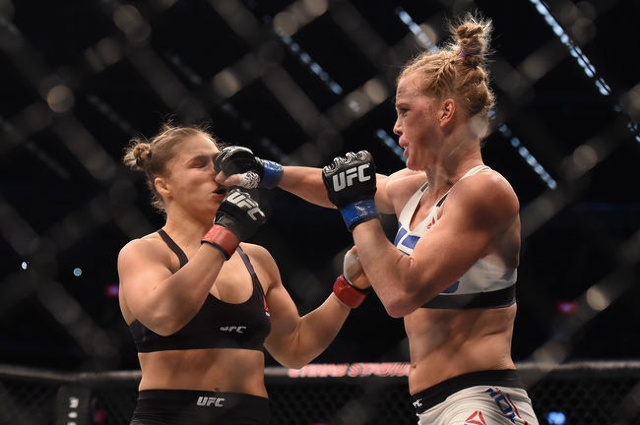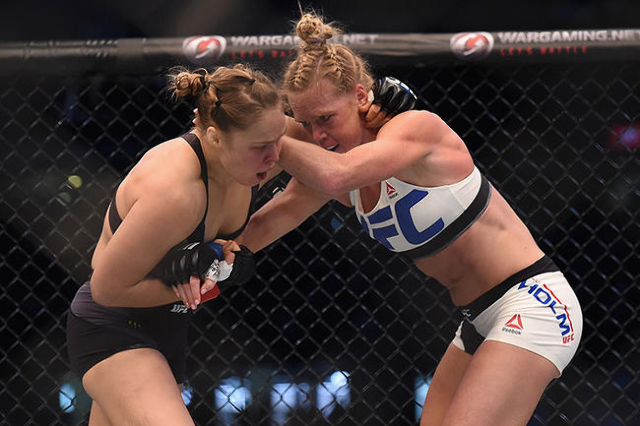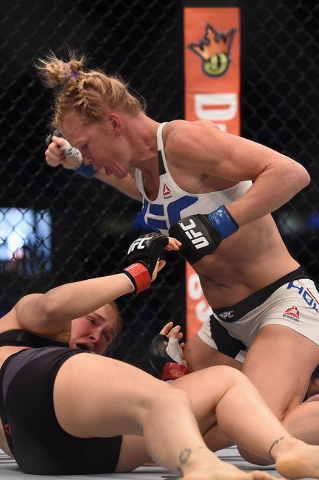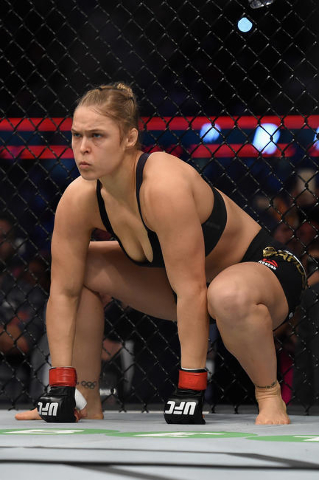 MELBOURNE, Australia — Holly Holm's calm, calculated approach to fighting Ronda Rousey helped her shock the world and take the belt with a second-round knockout on Sunday afternoon in the main event of UFC 193 in front of an Ultimate Fighting Championship-record crowd at Etihad Stadium.
Holm wasn't always able to hold it together as she prepared for the biggest fight of her life, though.
"This fight was a lot for me mentally," Holm said. "I can't tell you how many times I cried in the gym leading up to this fight. It's a lot to take in. But these are the kinds of fights where a loss is that devastating, but a win is that sweet."
A stunning victory and a shiny new belt proved to be the reward for all the hard work the 34-year-old former world champion boxer put in during training camp at Jackson-Winkeljohn MMA in her native Albuquerque, N.M.
Despite all of her striking experience and an unblemished professional mixed martial arts, Holm entered camp unsure she was ready to challenge the world's most dominant female athlete.
"It's hard to put yourself out there sometimes. A lot of people thought it was too early (for me to get the fight). I didn't expect the phone call to come this early, but I always look at it as if you don't take the opportunities that are in front of you, how are you going to expect to get anywhere?" she said. "As soon as the call came, I just said, 'Let's do it.'"
It's a good thing she did.
Holm put a beating on Rousey that culminated with a head kick knockout just 59 seconds into the second round.
She immediately looked to Greg Jackson and Mike Winkeljohn, her long time coaches, celebrating just outside the cage.
"I just looked over and they said, 'We did it. We knew you could do this and you did it.' That was the moment right there," she said. "To look over and see their pride. They put so much hard work and time and belief in me. I know it sounds crazy, but I wanted it as bad for them as I did for me because they truly, truly want the best for me."
His genius was on full display on Sunday. Holm let Rousey come forward and made her pay each time she overextended. Holm picked Rousey apart with left hands and frustrated Rousey into getting even more reckless.
Jackson said it was all part of the plan.
"She comes out pretty much the same way every time so the whole staff worked together and we had a good game plan. It went just about the way we thought it would," Jackson said. "(Holly's) one of the most mentally tough individuals I've ever met. We put her through hell and she's always smiling. She's a soldier straight up."
Not every day went great in the gym for Holm. She knew what she was up against and that she would have to be at her best to beat the Olympic judo bronze medalist who had cruised through each of her 12 professional MMA opponents.
"There were days I got to the gym and didn't perform well. I sat in my car upset and cried. I thought, 'If I perform like that, it's not going to get me the win. So I have to come back tonight and perfect those things I need to get better,'" Holm said. "Yeah, there's moments in your mind where you doubt yourself and you know things can go wrong. There's days everything flows and there's days they don't. You just pray that doesn't happen the night of the fight."
Everything went right on Sunday. Holm dominated on the feet, held her own in the clinch and even survived a spell on the ground.
She was sensational.
Now she might have to do it all over again.
UFC president Dana White indicated a rematch with Rousey is likely Holm's next fight, though Rousey was taken to the hospital and not available to comment.
Holm is fine with the idea.
"I think a rematch makes sense for sure. I've been on the losing side of a fight like this and I wanted the chance to avenge my loss," she said. "With a champion like Ronda, who has gone out of her way to do great things, absolutely she deserves a rematch. It's kind of just common sense to me.
"I don't look at this belt and think I've made it. I think I still have things I need to do."
Holm might be even more dangerous the second time around now that she knows exactly what it takes to beat Rousey.
On Sunday, it was a notion she had to constantly stay focused on.
"I was worked up, but definitely relaxed. I kept telling myself to stay like that and not get too relaxed. 'Be confident in your training and be confident in yourself. Now is the time to perform.' I just kept running that through my head," Holm said. "I didn't want to look out and see all the people here and get too overwhelmed. I didn't want to look across. I didn't want to look across and think, 'I'm fighting Ronda Rousey.' I just wanted to look across and fight Ronda. I made it here for a reason through a lot of hard work. I think you can put yourself in a place to get mentally beat by getting worked up too much. I just wanted to stay really level-headed and know what I was up against, but believe in my training and my ability."
It worked and now Holm is the first UFC women's bantamweight champion not named Ronda Rousey.
She'll get plenty of time to let that sink in. Then, she'll go back to work with Jackson and Winkeljohn to figure out how to do it again.
Contact reporter Adam Hill at ahill@reviewjournal.com or 702-224-5509. Follow him on Twitter: @adamhilllvrj.