New UFC champ Rose Namajunas draws success from love, not hate
November 5, 2017 - 12:57 pm
Updated November 5, 2017 - 4:18 pm
NEW YORK — While three belts changed hands Saturday night at UFC 217, only one of the new titleholders is a first-time champion.
Rose Namajunas has big plans on how to use her new platform as women's strawweight champion after taking the title from Joanna Jedrzejczyk at Madison Square Garden.
"There's a lot of negativity out there," she said after a first-round knockout of the long-reigning champion. "Everywhere you look it's just negative all the time. I'm trying to just be that positive light as much as possible. I'm not perfect either, but maybe we'll figure out a way to make this world a better place."
The words seemed a bit out of place coming from a woman who had savagely punched Jedrzejczyk until the referee stepped in to end the bout.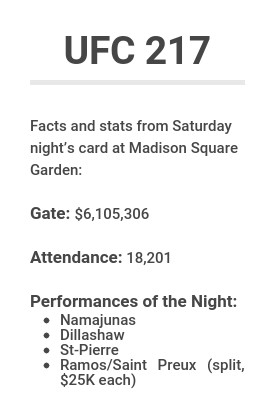 Namajunas, however, doesn't thrive on the violent and vitriolic aspects of mixed martial arts.
"I said leading up to this fight that I feel it's time for a new era in our sport," she said. "I think we have a great opportunity as athletes to be role models. I'm by no means perfect, but I think we can try. I used to fight with hate. I've had a lot of aggression in my past, but that's just because I was hurt myself. I learned that love is such a more sustainable energy to draw from than hate."
Namajunas came to that conclusion through a journey of self-discovery. She emerged from a violent and sexually abusive childhood that included her schizophrenic father being separated from the family to flourish as a mixed martial artist.
She has been very open about her struggles with mental health and hopes the boost her profile receives from winning the belt can help reach those who may not know where to turn for help.
Namajunas, 25, also hopes to improve the culture among UFC fighters.
The three champions who lost on Saturday night — Jedrzejczyk, Cody Garbrandt and Michael Bisping — all ratcheted up the rhetoric against their opponents leading up to the event.
Namajunas doesn't think that part of the game is necessary.
"There's been a lot of trash-talking and things like that and people that aren't being true to themselves or being honest," Namajunas said. "I don't know, maybe that's just what they feel they need to do to entertain people, but I'm just sick of it. I'm sick of all the hate and anger and stuff like that going on. I feel like we have a duty to try to be a better example.
"Martial arts is about honor and respect. It takes a lot of courage in that cage no matter who you are. I just want to try and send an example in that way and the rest of the world, too."
There certainly was no love lost between Garbrandt and T.J. Dillashaw, former friends and teammates who met in the cage on Saturday night.
Dillashaw's win earned him the belt for the second time, but did little to settle his differences with Garbrandt, which extend to their families and coaching staffs.
"I still feel like he's a piece of (expletive) teammate," Garbrandt said after losing the belt by virtue of a second-round knockout. "I stand beside my facts. He lies still. Yeah, he won. Good for him. I'll be back. I'm going to come with a vengeance and that belt is going to be mine. I don't respect him as a person but as a fighter I give him respect in there."
The two briefly exchanged words after the stoppage, with Dillashaw screaming in Garbrandt's face. Dillashaw's brother, who was working his corner, was escorted out of the arena by security after he appeared to confront Garbrandt in the cage following the fight.
"He's been very offended by some of the things and accusations and the way that some of my really good friends that I thought were (still my friends) have treated me," Dillashaw said of his brother. "He's an emotional guy. He loves me more than anybody I know."
Garbrandt insists he's still a better fighter and just got caught. He wants a rematch, though Dillashaw doesn't think he has earned it.
Namajunas believes Jedrzejczyk will probably get another shot, though she thinks they may both need some time off first.
Georges St. Pierre also captured a belt Saturday, becoming the fourth UFC fighter to win belts in two different weight classes, by choking out Michael Bisping in the third round of his comeback fight after a four-year hiatus.
St. Pierre seemed to indicate he would not defend the title at 185 pounds and instead return to 170. UFC president Dana White insists St. Pierre will take on interim middleweight champion Robert Whittaker before leaving the weight class, but St. Pierre was transported to the hospital after the fight and did not attend the news conference.
More MMA: Follow all of our MMA and UFC coverage online at CoveringTheCage.com and @CoveringTheCage on Twitter.
Contact Adam Hill at ahill@reviewjournal.com or 702-277-8028. Follow @adamhilllvrj on Twitter.