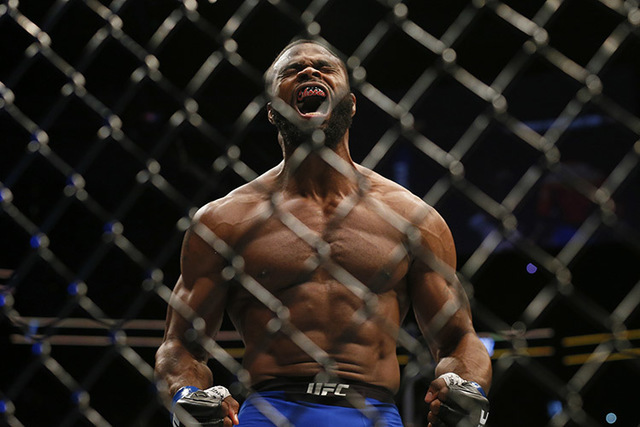 The UFC's newest champion isn't backing off a bit from the big challenges he issued after winning the belt.
Tyron Woodley reiterated his desire for his first title defense to come against either fan-favorite Nick Diaz or Georges St. Pierre, who is widely considered the best welterweight of all-time.
"I don't have to worry about it," Woodley said of the criticism he has faced for calling out the big names of the division instead of the top contender Stephen Thompson during an appearance on UFC Tonight on Wednesday. "I'm going to get one of those fights. Don't be surprised if it's Georges St. Pierre."
That would be big news. St. Pierre retired on a 12-fight winning streak in 2013 and has not competed since despite hinting at a comeback on several occasions.
Diaz is also an interesting case. He came off an 18-month suspension for marijuana on Monday and remains one of the most popular fighters in the division despite not recording a victory since 2011.
Yet those were the names Woodley mentioned for his first title defense almost immediately after knocking out Robbie Lawler to take the title in the main event of UFC 201 on Saturday in Atlanta.
A matchup against St. Pierre would almost certainly be big enough to headline the UFC's first card in New York on Nov. 12. UFC 205 will take place at Madison Square Garden and the organization has promised a massive lineup.
According to several published reports, St. Pierre is interested. That would be Woodley's first choice.
"I'd take Georges," Woodley said. "He's a tougher fight. He has the best wrestling in MMA. To say I'm the best welterweight, if I haven't fought GSP, I couldn't say it. Just the same way he wanted to fight (Hall of Famer) Matt Hughes to prove himself.
"And it's the most money. So I kill two birds with one stone."
None of this is likely to sit well with Stephen Thompson, who believes he is the clear No. 1 contender in the division. His credentials would suggest the same as he has recorded seven straight wins, including a first-round knockout of former champ Johny Hendricks.
Woodley rightly points out Thompson's name doesn't have the same drawing power as Diaz or St. Pierre.
He also appears to be holding on to a grudge after Thompson picked Lawler to beat Woodley and said he was looking forward to challenging Lawler for the belt.
"He said he wanted the Robbie fight," Woodley said. "He said that's the better fight and he thought Robbie was going to win. If I'm talking to Georges St-Pierre and he's interested in fighting me, that's the fight I want.
"I'm not going to fight Stephen."
If St. Pierre doesn't come back, he may not have a choice.
Contact reporter Adam Hill at ahill@reviewjournal.com or 702-224-5509. Follow @adamhilllvrj on Twitter.