Nick Newell falls short of UFC dream on Contender Series
Updated July 24, 2018 - 10:05 pm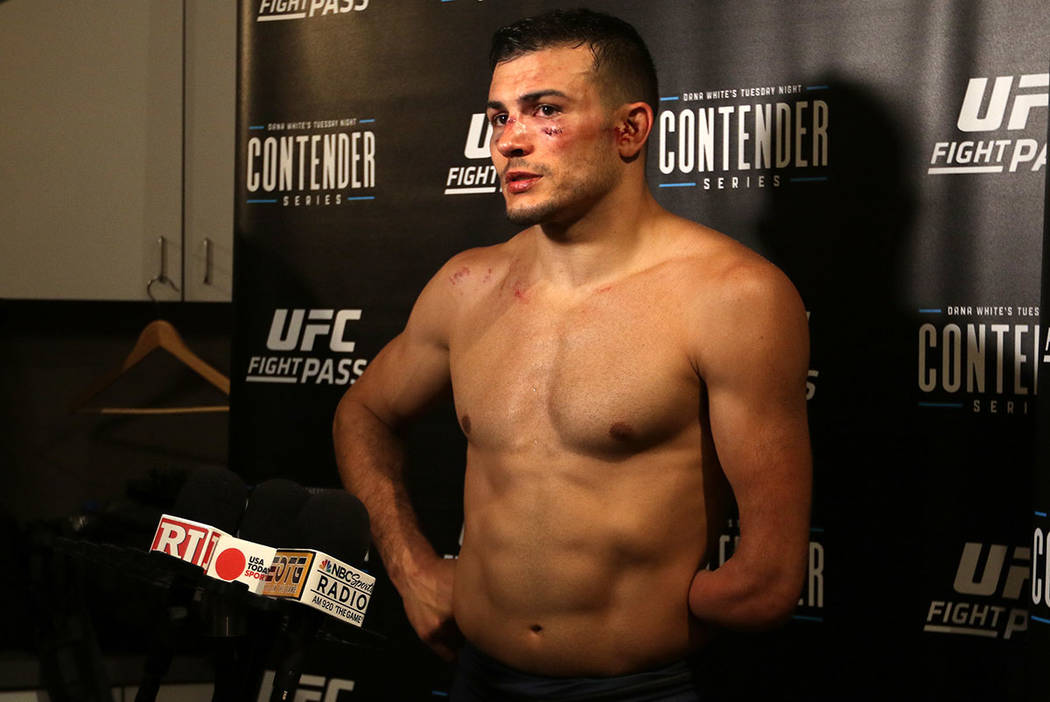 Lightweight fighter Nick Newell spent the better part of the last two decades working toward the opportunity he finally received on Tuesday night in Las Vegas.
He's not about to abandon his dream just because he fell short of his ultimate goal as he failed to earn a UFC contract following his unanimous decision loss to Alex Munoz on Dana White's Tuesday Night Contender Series.
"Physically, I'm fine," Newell said through tears. "Emotionally, it hurts. I've lost before and it's made me better. There's lessons to be learned from this and I'm just going to keep moving forward.
Newell, who was born with a congenital amputation of his left arm just below the elbow, has aspired to compete in the UFC ever since he started watching "The Ultimate Fighter" during his days as a college wrestler.
He racked up a 14-1 professional record in MMA with the only loss coming against current UFC star Justin Gaethje on a World Series of Fighting card in 2014, but UFC officials were never quite ready to give him a contract.
They decided to give him a chance on the fight series on which they award contracts to the most impressive performers on a five-fight card.
Neither Newell nor Munoz made the cut, though the four other victorious fighters did earn the approval of White and his matchmakers.
Jimmy Crute, Sodiq Yusuff and Jeff Hughes were all awarded UFC deals. Chase Hooper, 18, was granted a developmental deal where he will continue to hone his craft on the regional circuit under the watchful eye of the UFC.
Newell still hopes to join them someday.
"I've worked 17 years for this," he said. "I am who I am because I'm never content. Nothing's ever good enough for me. I was that guy that lost his first 17 wrestling matches in high school and went on to be all-state. I won a world title in MMA. I'm 14-1, now 14-2. It sucks, but this is the game we play. There's winners and there's losers. Today wasn't my day. Alex deserved it. He earned it."
One thing he didn't want was pity, a desire he made clear when he was asked if he thought he may still get a contract despite the loss.
"Everyone always looks at my hand," the 32-year-old New Englander said. "What I do in here is an indication of what people facing an obstacle like mine can do. I'm better than what I showed. I just have to work and get better and prove it. I just want to fight in the UFC, but everything is earned. I've taken the hard road my whole life so I'm used to it. I don't want anything given to me. I want to earn everything I have. All I ever asked was for a chance. I got my chance and I didn't make the most of it. There's first place and there's second place and today I was number two. I got a chance. I have it in me. I know I do. I just have to show it."
More MMA: Follow MMA and UFC coverage at CoveringTheCage.com and @CoveringTheCage on Twitter.
Contact Adam Hill at ahill@reviewjournal.com or 702-277-8028. Follow @AdamHillLVRJ on Twitter.