No rematch for Gustaffson; Jones will fight Teixeira
September 30, 2013 - 11:47 pm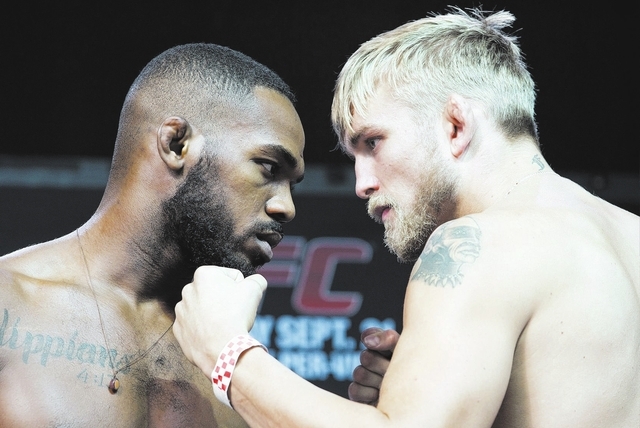 There will be no immediate rematch for top UFC light heavyweight contender Alexander Gustafsson.
In the immediate aftermath of Gustafsson's thrilling unanimous decision loss to champion Jon Jones at UFC 165 on Sept. 21, all of the momentum seemed to be in the direction of doing the fight one more time in early 2014.
A few days later, Jones indicated he felt after viewing the fight several times that his win was more clear cut than he originally believed and perhaps he should move on to a new opponent.
While he wasn't completely opposed to fighting Gustafsson again if UFC officials deemed it necessary, Jones found it preferable to move on.
UFC president Dana White apparently agreed and told ESPN.com on Wednesday that Jones would fight Glover Teixeira on Super Bowl weekend in New Jersey. No site or official event have been announced, but the bout will likely headline a pay-per-view event in conjunction with broadcast partner Fox's Super Bowl festivities in the New York area.
Professional mixed martial arts events are not allowed in the state of New York due to an ongoing political battle between the Culinary Union and Station Casinos, which has held up the process of regulation in the state.
Teixeira has won 20 straight fights, including five consecutive victories since signing with the UFC. He is coming off a first-round knockout of Ryan Bader in August.
Gustafsson is expected to headline an event in his native Sweden around the time of the Jones-Teixeira fight and could fight the winner of the title bout.
Of course, all of the plans depend on all parties staying healthy. The first hurdle was cleared last week when Jones announced on Twitter that there were no broken bones in his injured foot.
■ BISPING OUT WITH EYE INJURY — UFC middleweight contender Michael Bisping suffered an eye injury and has been forced out of his scheduled bout with Mark Munoz on the UFC Fight Night 30 card Oct. 26 in Manchester, England.
Former light heavyweight champion Lyoto Machida will drop down and make his middleweight debut as a replacement to take on Munoz in the main event of the card that will air on Fox Sports 1.
Machida had been set to face Tim Kennedy on the Fight for the Troops card Nov. 6. Kennedy, left without an opponent, has been sending humorous messages on Twitter to nearly every available 185-pound fighter in the UFC in hopes of finding a replacement for Machida.
The Telegraph in London reported Bisping could be out six months after a recurrence of a detached retina he suffered in April, which required surgery.
"I am devastated for everyone who bought tickets to see me fight Munoz. I am so sorry to the fans, I really am," he told the paper.
■ OKAMI, COUTURE RELEASED — The UFC announced last week it had released middleweight Yushin Okami and lightweight Ryan Couture.
Couture, a Las Vegan and the son of UFC Hall of Famer Randy Couture, lost both of his fights in the organization after compiling a 6-1 record in Strikeforce.
His entrance to the UFC was overshadowed by a dramatic falling out between his father and White. Randy Couture was subsequently barred from working his son's corner for UFC events.
Ryan, 31, lost his debut to Ross Pearson in April and then dropped a decision to Al Iaquinta in August.
Okami's ouster was more surprising. The former middleweight title challenger was knocked out by Ronaldo "Jacare" Souza on Sept. 4, but the defeat snapped a three-fight winning streak.
Okami, 32, was a top-10 ranked fighter in the UFC by most sources.
■ BRAZILIAN FIGHTER DIES — Leandro Souza, 26, died of an apparent stroke Thursday just minutes after exiting a sauna as he tried to make weight for a fight with Brazilian organization Shooto in Rio de Janeiro.
MMAFighting.com reported Saturday that Souza had used the diuretic Lasix in hopes of making weight for the flyweight bout. The report said Souza took three pills Wednesday and four more Thursday as he attempted to cut 33 pounds in one week for the short-notice fight.
The event was canceled.
Contact reporter Adam Hill at ahill@reviewjournal.com or 702-224-5509. Follow him on Twitter: @adamhilllvrj.