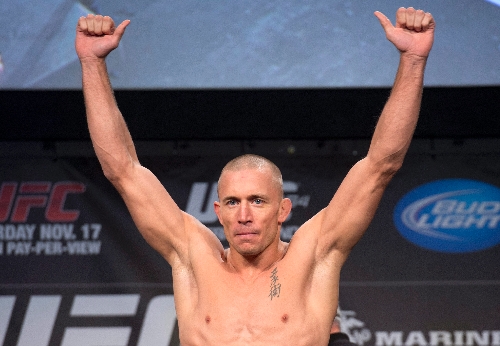 If UFC welterweight champion Georges St. Pierre doesn't want to move up to face middleweight champ Anderson Silva in what likely would be the biggest MMA event ever, the most logical challenger to the 170-pound belt is Johny Hendricks.
Instead, St. Pierre will get the opponent that makes the most sense at the box office in the more marketable Nick Diaz, in a fight that will headline UFC 158 in Montreal on March 16.
St. Pierre says he has unfinished business with Diaz and wanted to fight him next.
"It's kind of an awkward situation, I know, but I want to fight Diaz," St. Pierre said while attending the UFC event at the Hard Rock Hotel. "This fight has been waiting to happen for a long time. It's the big fight. That's what people want to see.
Diaz had been scheduled to fight St. Pierre in October 2011, but was removed from the fight nearly two months out for failing to meet press obligations. He then was given the fight again in February, but St. Pierre was injured and had to pull out. The fighters' rivalry intensified during the buildup to the fights that never happened.
UFC president Dana White said it was St. Pierre who wanted Diaz to be his next challenger.
"Georges St. Pierre said, 'I really feel like I have unfinished business with Diaz, and I'd like to fight him,' " White said. "The guy's never asked us for anything. He's an awesome champion. He does anything we ask of him. He asked us for a favor. So, he wants to fight Diaz? It's not like people don't want to see it."
There are critics who feel like Hendricks is getting the short end of the stick.
While Diaz is coming off a loss to Carlos Condit last February and a one-year suspension for a positive marijuana test after the fight, Hendricks has won five straight, three by first-round knockouts. Last month, he knocked out Las Vegan Martin Kampmann in 46 seconds in a supposed No. 1 contender bout.
"I do feel bad for Johny Hendricks, but put yourself in my shoes," St. Pierre said. "(Diaz) is a big fight. For me, right now, it's the fight that makes the most sense. If I fight Anderson Silva, I have to go up in weight. It will take me time. I cannot fight Anderson in March. So right now, I take the fight that is the most logical.
"Everybody wants to fight me now. It's crazy. … What do you want me to do? I cannot split myself in different pieces and fight guys all at the same time."
Hendricks will also be on the UFC 158 card, taking on Jake Ellenberger. Condit will fight Rory MacDonald in another clash of welterweight contenders at the event.
All of those elite fighters from one weight class on one card provides a bit of insurance in case anything happens where Diaz can't fight for any reason.
"There's no guarantees with Nick Diaz," White said. "But I've got nine welterweights in the top five (on this card). If he falls out, we'll still have a GSP fight."
■ HOMINICK RETIRES – Former UFC featherweight title challenger Mark Hominick announced his retirement from the sport at age 30.
His last fight was a decision loss to Pablo Garza at UFC 154 in his native Canada on Nov. 17.
Hominick's career ended with a four-fight losing streak that began with a unanimous decision loss to champion Jose Aldo in a title fight in front of a record crowd of 55,724 at UFC 129 in Toronto in April 2011. He said he hopes to spend more time with his daughter and wife, who is expecting the couple's second child.
"I've sacrificed a lot and I've achieved a lot of my goals, and I've set out what I wanted to do in mixed martial arts," he said on UFC Tonight last week. "Now it's time for my family and what the next phase brings me."
Hominick formerly lived in Las Vegas and trained under the late Shawn Tompkins.
Contact reporter Adam Hill at ahill@reviewjournal.com or 702-224-5509. Follow him on Twitter: @adamhilllvrj.