'Non-violent, peaceful' Greg Hardy set for professional MMA debut
Greg Hardy would rather be preparing for an NFL training camp than getting ready to make his professional MMA debut Tuesday in Las Vegas.
"I would love another chance at football," the former star pass rusher for the Carolina Panthers and Dallas Cowboys said Monday at the Palms. "That's like taking your heartbeat out. I lived and breathed it since I was 8 years old, man. It took a lot out of me and if they gave me the call I'd love to go back and do what I was born to do.
"I have no choice but to feel disappointment and all kinds of sadness about (how it ended) because my overall goal was to get a (Hall of Fame) jacket. My overall goal was to be the best in the world. I didn't get that opportunity and in my opinion, I don't think I'll ever get that opportunity again and that's something that will haunt me forever. But now that I have this new opportunity, I can actually put some of that to rest and move forward to try to become the best at this."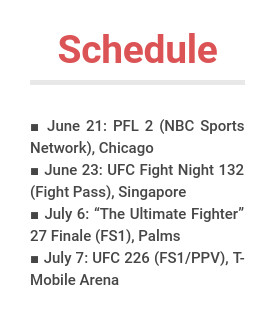 The show, which takes place at The Ultimate Fighter gym but is closed to the public, streams live on Fight Pass at 5 p.m.
Hardy, 29, was essentially blackballed from the league after the Cowboys declined to re-sign him following a 2015 season reportedly marred by spats within the organization and frequent tardiness. His was not the desired locker-room presence as he tried to rehabilitate his image following a nasty public trial for domestic abuse which involved allegations he had thrown his ex-girlfriend against a wall and onto a pile of assault rifles before choking her and threatening her life.
Hardy was originally found guilty, but the conviction was overturned when the victim failed to appear at a subsequent hearing. The photos and testimony was more than enough for a life sentence in the court of public opinion.
"Honestly, that's just the burden that comes with it," Hardy said. "Who am I to question fans? These are the people that pay my salary. They have the right to have opinions and be who they are. Me being biased towards those people would make me exactly who they think I am.
"I'm very much (misunderstood). In every way. You'll find 99.9 percent of the time, people talking bad about me have never met me, have never been anywhere near me in any instance where I was on the field signing autographs or doing any of the millions of things I do for people that are my fans or even people that aren't my fans. If you give me a chance, you'll find out. If not, I accept your opinion."
Hardy stepped up his mixed martial arts training as he looked for other opportunities in football and starched his three amateur opponents in the first round.
Now he will get a chance to earn a shot in the UFC when he takes on another former NFL player, Austen Lane, on Dana White's Tuesday Night Contender Series. Lane was picked ahead of Hardy in the 2010 NFL Draft.
The show, which is beginning Season 2, features five fights with the UFC president selecting the best performers of the night to receive UFC contracts.
"First of all, he went through everything the whole legal process," White said Saturday after UFC 225 in Chicago. "I guess he had a real bad drug and alcohol problem, started getting into MMA and cleaned himself up. If you talk to anybody that he trains with, male or female, they say that he's a very good guy. He's very humble. Everybody deserves a second chance. The guy was never charged for anything. He was never sentenced or anything like that. So I'm gonna give him a shot."
Hardy appeared to take dead aim at his reputation when describing how he had never been in a fight until he walked into American Top Team to start training.
"I've been a pretty non-violent, peaceful guy my whole life," he deadpanned. "Real quiet, soft-spoken and just a hanging-out kind of guy."
Rousey to be enshrined
Former UFC women's bantamweight champion Ronda Rousey will be the first female fighter inducted to the organization's Hall of Fame.
"This is an immense honor, to not only take part in bringing women to the forefront of this sport, but now the UFC Hall of Fame," Rousey said in a statement. "May I be the first of many."
The first of many.

Congratulations, @RondaRousey! #UFCHoF pic.twitter.com/bu59b8UOgh

— UFC (@ufc) June 10, 2018
The 31-year-old has not officially retired, but signed a deal with the WWE this year and hasn't fought since suffering the second loss of her career in December 2016.
This year's induction ceremony is scheduled for July 5 in Las Vegas.
Morning weigh-ins may be abolished
The UFC's morning weigh-in window may be a thing of the past, White announced after Saturday night's event in Chicago.
"Believe me, we've studied it," White said at the news conference. "The numbers don't lie. We've talked to fighters. A ton of fighters want to go back to 4 (p.m.)
"I know a lot of fighters and most of them are not morning people. They sleep all day and are usually up late at night. And this whole morning thing, they gotta cut weight that night. God knows how late they gotta stay up cutting weight and then they gotta go to bed and they can't sleep much. It just isn't working."
The UFC moved official weigh-ins to the morning of the day before fight cards in order to allow fighters more time to rehydrate in a healthy manner, but there have been several high-profile weight-cutting gaffes in recent months.
More MMA: Follow all of our MMA and UFC coverage online at CoveringTheCage.com and @CoveringTheCage on Twitter.
Contact Adam Hill at ahill@reviewjournal.com or 702-277-8028. Follow @AdamHillLVRJ on Twitter.