Paige VanZant confirms Miesha Tate's story of confrontation with angry Ronda Rousey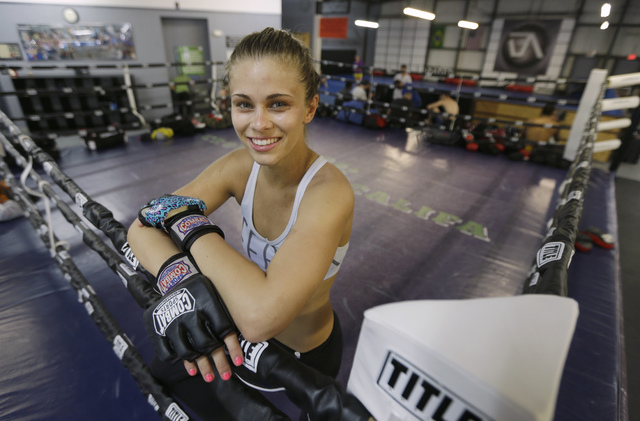 When Las Vegan Miesha Tate relayed a story on Joe Rogan's podcast on Thursday about Ronda Rousey unleashing a tirade at rising star Paige VanZant, it was easily dismissed as another chapter in the long-running bitter rivalry between Tate and Rousey.
Then VanZant changed the narrative by confirming Tate's version of the incident on Friday.
Tate, who has lost to Rousey twice but holds the Ultimate Fighting Championship women's bantamweight title, told Rogan that Rousey was infuriated by VanZant sending out a congratulatory tweet to Holly Holm in November after she knocked out Rousey to win the belt.
It seemed innocuous at the time.
"@_HOLLYHOLM THE NEW!!!!!!! @ufc," VanZant posted on Twitter immediately after the fight.
According to Tate's story, Rousey did not take kindly to the message.
Tate said VanZant approached her at a party and relayed the story of Rousey flipping out on her. VanZant had explained to Tate that she was hoping to get a picture with Rousey at a Reebok event, but was told to steer clear of the former champion.
"I guess Ronda came later that day and seeked her out and like cussed her out," Tate told Rogan. "Like, they've never really had a conversation, either. She's like, 'I don't know Ronda other than "Hi, bye," that's it.' I guess Ronda came up and was like '(expletive) you, you fair-weather (expletive), how dare you cross me?' She's like, 'Cross you? What are you talking about?' And she's like, 'You congratulated Holly Holm for beating me so (expletive) you, you (expletive) fair-weather 115-(pounder).'
"She just went off on Paige. And Paige came and told me, and I was like, 'Honey, welcome to my world.' She was like, 'I'm glad I saw this side of her so I know.' "
VanZant, who is competing on ABC's "Dancing With The Stars," confirmed Tate's account to TMZ.
"It appears that I offended Ronda by congratulating Holly after her victory," VanZant said in a statement. "The incident was very shocking and totally unnecessary."
According to TMZ, Rousey declined comment.
Tate will defend the title against Amanda Nunes at UFC 200 on July 9 at T-Mobile Arena. VanZant said this week she hopes to book a fight soon after the conclusion of the reality show.
Rousey has not fought since losing to Holm in November.
Contact reporter Adam Hill at ahill@reviewjournal.com or 702-224-5509. Follow @adamhilllvrj on Twitter.
RELATED
VanZant trying to shed Rousey comparisons
Sad VanZant eager to get back to work after first UFC loss