Paige VanZant signs new contract with UFC, will fight Dec. 10 in Las Vegas
September 18, 2015 - 7:54 am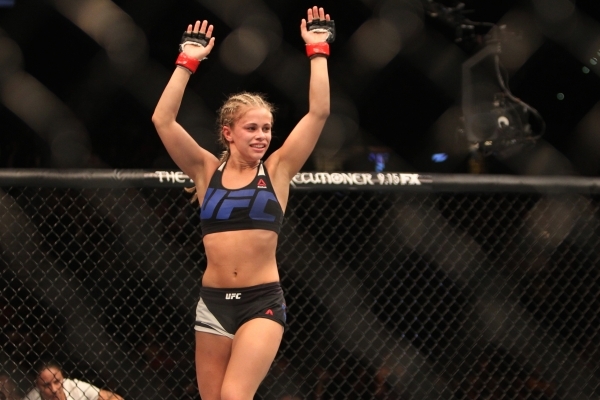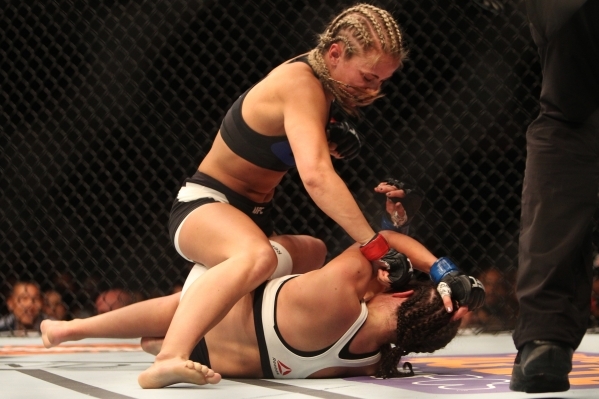 Rising Ultimate Fighting Championship star Paige VanZant was in Las Vegas signing a new contract with the organization on Thursday.
She also learned she'd be back in town for her next fight.
UFC officials confirmed VanZant will fight Joanne Calderwood in the main event of a card at The Chelsea at The Cosmopolitan on Dec. 10 that will kickoff what is expected to be the biggest weekend in UFC history.
The UFC will host events in Las Vegas on three consecutive nights, culminating with UFC 194 at MGM Grand on Dec. 12. That card will feature two title bouts with Chris Weidman defending the middleweight belt against Luke Rockhold and interim featherweight champion Conor McGregor taking on champ Jose Aldo in a title unification bout.
VanZant is thrilled to be a part of it.
"It feels amazing. I'm so blessed that the UFC thought of me to be the main event to start that weekend. It's huge for me and I'm so, so excited," the strawweight contender said.
VanZant, already one of the most marketable and popular fighters in the organization at just 21 years old, feels she is ready for the opportunity.
"It feels right for me. Every single time I've fought I've had to face a new challenge," said VanZant, who grew up in Reno. "I had my first fight in the UFC, then the second time I fought it was my first time on Fox. The last fight was my first on pay per view. Now I get to headline a card. I'm so ready for it."
VanZant has been called out by many of the top contenders in the 115-pound division, most of whom are seeking to capitalize on her popularity.
She wanted a fight against Calderwood, a striker who will likely look to engage VanZant in a standup battle.
"I think it's a great matchup for me stylistically,"VanZant said. "It's the one I asked for."
She said she would fight tomorrow if possible. VanZant submitted Alex Chambers on Sept. 5 at MGM Grand on the main card of UFC 191.
It was another dominant performance for VanZant, who is rapidly improving through her training at Team Alpha Male in Sacramento, Calif.
"I'm really happy I came out of my last fight unscathed and I'm ready to just get back in there," she said. "I just love fighting and I love being in the cage. I was ready for the fight three weeks before it happened. I was just ready to go and I want to go back in there.
VanZant said the fact two of her teammates are already slated to be part of the historic weekend for the UFC in Las Vegas adds to her enthusiasm. Chad Mendes will headline "The Ultimate Fighter Finale" card against featherweight Frankie Edgar, also at The Chelsea.
Urijah Faber will compete on the UFC 194 card in a bantamweight bout against Frankie Saenz.
Details of her new contract were not revealed. Her surging popularity no doubt put her in a strong negotiating position, but she says she's just enjoying getting paid to do what she loves.
"(The new contract) was great news. I get to fight for the UFC again and that's what I'm passionate about," she said. "No matter what, just getting another contract is what I live for. I would've been happy with whatever they gave me."
The Dec. 10 card, which will stream live on the UFC's online platform Fight Pass, also features a lightweight bout between Jim Miller and Michael Chiesa.