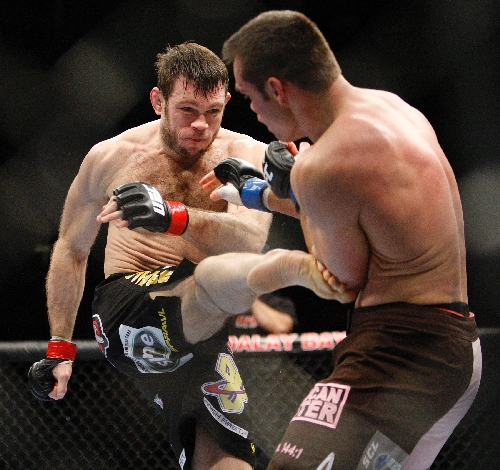 A very different Forrest Griffin will step in the cage Saturday when the former Ultimate Fighting Championship light heavyweight titleholder faces retiring Hall of Famer Tito Ortiz for the third time.
Griffin will be in action for the first time since his daughter was born nine months ago.
"They say that being a parent changes you, and it does. And by changes you, they mean 'makes you more of a (expletive),' " Griffin said. "Now when I watch those movies where in the beginning the wife and child die and I used to think, 'How cliche,' I'm sniffling and going, 'This is horrible. Damn it.'
"I don't cry at TV too much yet, but another girl and I probably will."
Griffin's wife Jaime was going into labor as he stepped into the cage a world away in Brazil last August against Mauricio "Shogun" Rua. Griffin was knocked out in less than two minutes, but refused to blame the distraction back home.
"The problem with that fight wasn't anything other than Shogun hitting me in the head. That was more the problem than my wife being pregnant," he said. "It really wasn't that distracting. (My wife) did a real good job of censoring what she was telling me while I was down there."
Griffin's honest assessments aren't limited to what went wrong in that fight. He seems to have a firm grasp on exactly where he stands as a 33-year-old former champion whose name might be bigger than his ability at this point.
"There's a lot of guys I can beat, but I don't know if those guys I can beat are in the top 10," he said. "I'd say I'm still in the top 25 in the world at 205 pounds. Problem is, I keep fighting the top five or 10 guys."
In fact, Saturday's UFC 148 fight against Ortiz at the MGM Grand will mark Griffin's eighth straight matchup against a future or past UFC champion.
The successful author doesn't have any grand plans to make a big late-career push toward being a dominant champion. He said a training session with young prospect Alexander Gustafsson showed him the direction the light heavyweight division is headed.
In fact, retirement seems more on his mind than pursuing a title.
"It's not going to be a long time," he said of quitting the sport. "I don't foresee the huge comeback. I'm old now."
■ PRESSER ADDED – The UFC has added a second news conference to the week's loaded schedule of events.
Griffin and Ortiz will be the featured attraction Thursday inside XS at Encore, beginning at 11 a.m. Cung Le and Patrick Cote also will be involved in the public festivities.
Today's public news conference, at 11 a.m. at Lagasse's Stadium at Palazzo, features only Chael Sonnen and middleweight champion Anderson Silva.
■ NO CHARGES FOR CELESTE – The Clark County District Attorney's Office has elected not to file charges against UFC octagon girl Arianny Celeste.
Celeste, whose real name is Arianny Lopez, was arrested along with her reported boyfriend Praveen Chandra in the early morning hours of May 26. The couple had been engaged in a loud altercation at Wynn Las Vegas and both were cited for domestic violence.
Celeste was released from the Clark County Detention Center later that day.
Contact reporter Adam Hill at ahill@reviewjournal.com or 702-224-5509. Follow him on Twitter: @adamhilllvrj.