Parisyan's patience put to test during his quest for UFC title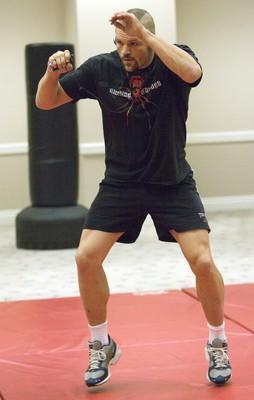 Karo Parisyan's long road back into contention for a shot at the Ultimate Fighting Championship's welterweight title has left him fighting with a chip on his shoulder.
It also has left him with a nasty scar below his right eye.
Parisyan will continue his quest toward the top of the 170-pound division when he takes on Josh Burkman tonight on the undercard of UFC 71 at the MGM Grand Garden.
Parisyan, a rare judo specialist in the world of mixed martial arts, has beaten several of the world's top contenders. He also competed in the 2004 U.S. Olympic Judo Trials.
The 24-year-old was scheduled to get his first chance at UFC gold in November 2005 against then-champion Matt Hughes, but Parisyan injured his hamstring days before the fight and missed his opportunity.
"In certain ways, I feel like I am" being ignored, Parisyan said. "I got injured before my title fight, and I feel like I've had to work my way all the way back up."
The title has changed hands twice since then and now belongs to Matt Serra, whom Parisyan defeated by decision in June 2005.
Parisyan, in the meantime, scored victories over Nick Thompson and Drew Fickett and dropped a decision to Diego Sanchez. The loss to Sanchez in August was easily one of the best MMA fights of 2006, but it was the unanimous-decision victory over Fickett in San Diego in December that left an indelible mark on Parisyan.
An elbow by Fickett caught Parisyan and cut open a deep gash below his eye.
"I got up and touched it, and I almost felt bone, so I knew it was pretty deep," he said. "I got 10 stitches on the outside and 10 on the inside."
The scar isn't all bad, though.
"Girls love this," he said, pointing at his wound.
Parisyan's main focus is getting another chance at a belt.
"I am back now, and hopefully I can pile up the wins and get a title fight again," he said.
Chuck Liddell has the UFC's light heavyweight title, but he has more than a belt at stake against Quinton Jackson in tonight's main event.
Jackson is the last fighter to defeat Liddell, the only loss of his career that the champion has not avenged.
Liddell claims to have gone into that 2003 fight in Tokyo with a leg injury that hampered his training and punching power. In response to the loss, Liddell lengthened his pre-fight training camps and says he isn't the same fighter.
"Hopefully I've improved a lot since then," he said. "Every time I fight, I try to improve on something. The main thing I did was change my training camps, and that has really worked for me."
Since then, Liddell has won all seven of his fights by stoppage, including two wins over Randy Couture and one against Jeremy Horn, the other fighters who defeated him.
Liddell hopes to add Jackson to that list but isn't looking for it to be his crowning moment.
"It's big for me to do," he said of avenging his losses. "Right now, it's something that really motivates me, but once it's done I move on and do what's next. I'll find something else to motivate me."
One fighter who hopes to be in contention for Liddell's title in the future is Keith Jardine, who will look to take a step toward that goal when he meets relatively unknown Houston Alexander. Jardine showed incredible power in defeating Forrest Griffin by first-round technical knockout in December.
"I think I'm a top contender," Jardine said. "Forrest was a contender, and I beat him, so I feel like I'm right there."
The nine-fight card is scheduled to start at 5 p.m., with the pay-per-view portion scheduled to begin at 7.