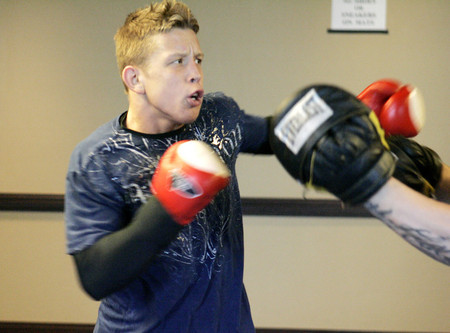 Chris Horodecki looks more like a freshman at college orientation than a 14-fight mixed martial arts veteran getting ready to make his World Extreme Cagefighting debut.
Like many his age, the baby-faced 22-year-old has struggled to find steady employment.
He rose to stardom in one MMA league that eventually collapsed, then signed with another organization that folded before his first bout.
In between, he suffered from a bulging disk in his neck that cost him about 80 percent of the strength in his right arm.
Now, he hopes he has found a stable home in an established organization.
"My coach and manager told me to just be patient and good things will happen for me, and good things have," said Horodecki, who will fight Anthony Njokuani on a WEC card Saturday at the Palms.
Horodecki made his debut in the International Fight League at age 18 and became one of the organization's few stars. When the IFL folded in 2008, he became a 19-year-old free agent with a 12-1 record.
"I tried to get him (at that time), but Affliction outbid me," WEC general manager Reed Harris said. "We were right there, and right at the end, they offered him an additional incentive and he went with them."
Horodecki never fought for Affliction. The state of California denied him a license to fight in January because of the disk problem, and soon after the company folded.
In between, Horodecki had one fight on a minor league card in Biloxi, Miss., in June, where he scored a first-round knockout. Other than that, he last fought on an IFL card in April 2008.
Horodecki insists he won't be rusty.
"This will be like my fourth fight this year," he said. "I did four camps. I trained right up until the day before the (scheduled) fight in January. I fought in June. I was supposed to fight in August, and they canceled it four days out after a full camp, so it's like my fourth fight. I'm ready, man."
His longtime trainer, Shawn Tompkins, agrees, saying rust isn't a concern and the injury troubles are in the past.
"He's 100 percent. I wouldn't let him (fight otherwise) as a coach and like a father-figure to him," said Tompkins, who has trained Horodecki since age 12.
Horodecki and Tompkins opted for natural treatment of the injury instead of surgery.
Now fully healthy, Horodecki says he is ready to prove he belongs on the big stage.
"I'm real excited," he said. "It's that feeling of being in a new home, and you just want to make your mark."
Contact reporter Adam Hill at ahill@reviewjournal.com or 702-224-5509.