Penn to come out of retirement in search of third UFC title
January 19, 2016 - 3:53 pm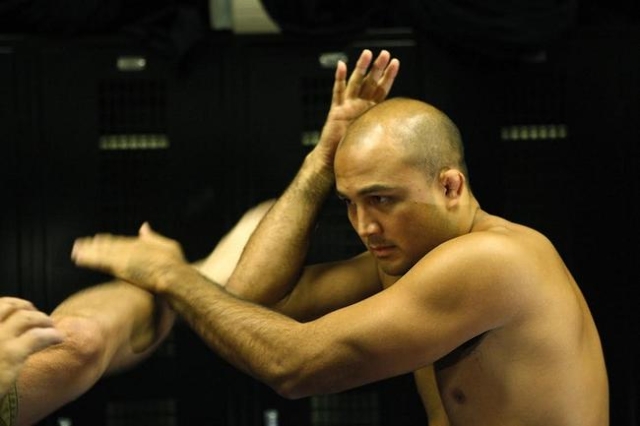 Former Ultimate Fighting Championship two-division titlist BJ Penn does not want to let go of his place in the record books without a fight.
So with the prospect of featherweight champ Conor McGregor joining Penn as a champion in two weight classes, Penn has his sights set on winning a third belt.
The former welterweight and lightweight champion announced during an appearance on "The MMA Hour" his intention to officially come out of retirement.
No date or opponent has been announced, but Penn said he has been training at famed Jackson Wink MMA gym in Albuquerque, N.M., with the intention of taking a fight.
"I want to go get that 145-pound belt. That's definitely a huge motivation for me," Penn said on the show Tuesday. "I believe with Greg Jackson's help, I can get that done. And I believe that I will be able to walk away as the only man with three titles in three weight divisions."
Penn, whose last fight was a knockout loss to Frankie Edgar in July 2014, has been hinting at the possibility of a comeback for several months.
He has repeatedly called out Nik Lentz on social media, recently challenging him to fight at UFC 197 on March 5 in Las Vegas. Penn, 37, also posted a picture with Jackson, further fueling speculation a comeback was imminent.
The Hall of Famer is still a fan favorite despite struggles toward the end of his run in the UFC. He has lost three straight fights and is 1-5-1 in his last seven. Penn's current retirement is the second of his career.
He announced his intention to walk away after a loss to Nick Diaz in 2011, only to come back a year later. He lost to Rory MacDonald and then Edgar before again retiring.
Penn held the welterweight belt in 2004 before being stripped of the title when he left the organization in a contract dispute and signed with K1. He won the vacant lightweight belt in 2008 with a submission of Joe Stevenson.
Randy Couture, who held both the heavyweight and light heavyweight titles, is the only other fighter to win a UFC belt in two different weight classes.
McGregor is seeking to be the first to do so concurrently. He currently holds the featherweight title and will fight lightweight champ Rafael dos Anjos for the lightweight belt at UFC 197.
Penn attempted to hold two belts when he was lightweight champion in 2009, only to suffer a loss to welterweight champ Georges St. Pierre.
Contact reporter Adam Hill at ahill@reviewjournal.com or 702-224-5509. Follow him on Twitter: @adamhilllvrj