Polarizing Mike Perry continues ascent in UFC's welterweight division
Updated February 23, 2018 - 4:14 pm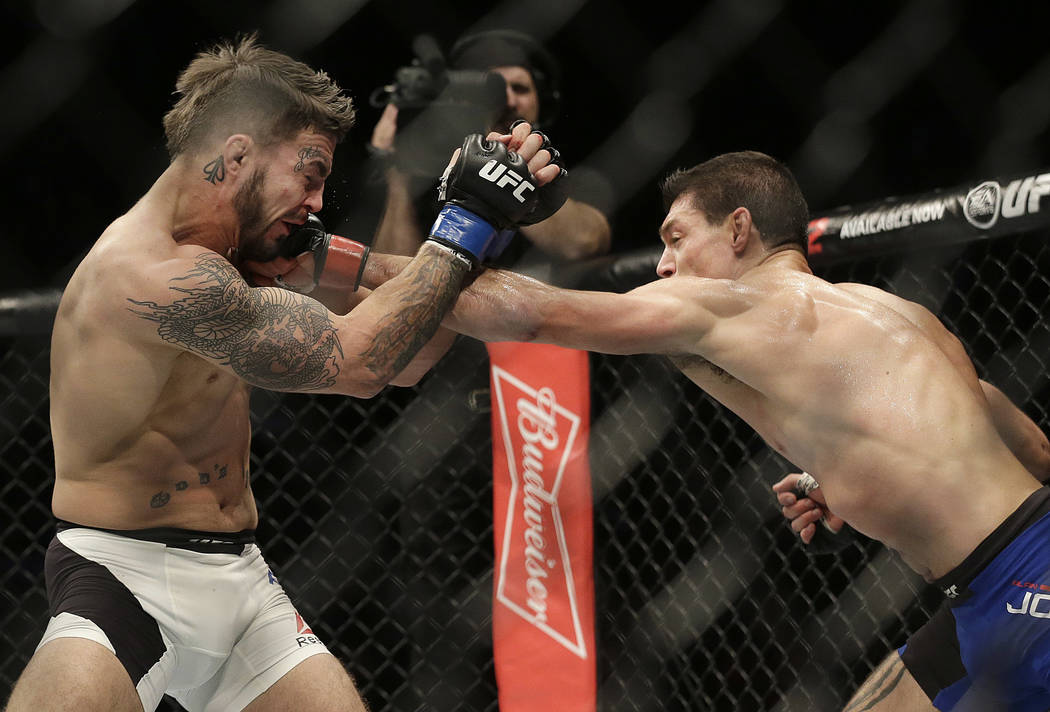 ORLANDO, Fla. — UFC welterweight standout Mike Perry has been called a lot of things since bursting onto the scene with a first-round knockout victory at UFC 202 in August 2016.
They all might be accurate.
Perry is an incredibly divisive figure in the sport. A search of social media or a mixed martial arts message board can lead one down a dark hole of strong opinions about Perry, who grew up poor splitting time between his father's home in Flint, Michigan, and his mother's outside Orlando. His attitude, vocabulary and speech patterns are heavily influenced by the hip-hop music he often cites as a major influence on his life.
He also has dynamite in his hands.
That's what has him on the verge of stardom as he prepares to fight Max Griffin on the main card of UFC on Fox 28 on Saturday at Amway Center.
"I don't care what people think about me," Perry said. "Nobody knows enough to understand me anyway. They're going to take it the way they want to and judge me how they want to. They'll feel about me however they want. It doesn't matter as long as they tune in."
Even Perry isn't entirely sure who he is just yet.
"There's a lot of different guys in this head," the 26-year-old said Thursday. "I've got 'Platinum.' Then you've got Michael. That's my mom's son. I'm just learning every day more and more about who I am. I know I'm a UFC fighter. I'm a fighter at heart, and that's the only thing I'm focused on right now."
His mother, Sabra Young, beams when speaking of how far her son has come and relieved he found a way to channel his aggression in a positive direction. She recalls a 2-year-old Perry hitting a neighbor's child over the head with a beer bottle. As he grew up, there was concern where his path would lead.
Young said she thinks a stint in jail for a home invasion helped spur a change. When Perry got out, he immediately went to work helping others get in shape at the UFC Gym in Winter Springs, Florida, and was soon taking amateur fights.
"He got into a gym and still had the anger issues, but it got less and less," Young said. "Then he met (girlfriend Danielle Nickerson), who's a beautiful person inside and out. I think she was a big part of it, too. He's taken all of that from when he was a child and all the bullying and all the crap he got from everyone in his life and turned it into this. I'm so proud of him."
While local fans overwhelmingly turned out in support of Perry and his fan base is growing by the fight, it was difficult for Young to hear the negative things about her son.
Now, it's easier to ignore.
"There's always hate, and there's always good," she said. "I know when he first came out there were a lot of things said about him, but he made a name for himself and I think people appreciate the fact that he's always honest. He'll tell you exactly how his life was and how it is now, and he doesn't lie. If you don't like it, that's your problem."
His power has been the problem for his opponents, as all four UFC wins have come by knockout. It's the start to a career that never seemed possible for Perry as a troubled adolescent.
"I'm grateful for the humble beginnings I had," he said. "I didn't live in the nicest houses or eat the nicest food. I used to eat fried bologna with salsa. I leave the past behind me because I don't care for it. The future is what I'm working toward."
Perry's fight against Griffin opens the 5 p.m. broadcast on Fox. Four fights from the preliminary card also will air on Fox at 3 p.m.
More MMA: Follow all of our MMA and UFC coverage online at CoveringTheCage.com and @CoveringTheCage on Twitter.
Contact Adam Hill at ahill@reviewjournal.com or 702-277-8028. Follow @AdamHillLVRJ on Twitter.
UFC on Fox 28
Main card bouts Saturday at Amway Center in Orlando, Fla.:
— Josh Emmett (13-1) vs. Jeremy Stephens (26-14), featherweights
— Jessica Andrade (17-6) vs. Tecia Torres (10-1), women's strawweights
— Ovince Saint Preux (22-10) vs. Ilir Latifi (14-5, 1 No Contest), light heavyweights
— Mike Perry (11-2) vs. Max Griffin (13-4), welterweights