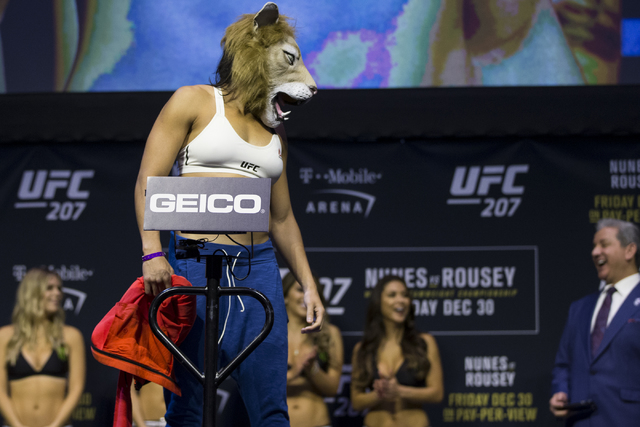 A breakdown of the fights on the main card of UFC 207 on Friday at T-Mobile Arena:
Amanda Nunes (13-4) vs. Ronda Rousey (12-1)
Class: For Nunes' women's bantamweight title
Line: Rousey minus-140
Storyline: She's back. The two-word tagline has been used to sell the event, but the question that will be answered once the bell ring is just as simple: Is she? Rousey's media blackout has prompted a great deal of discussion about her mindset entering her return more than a year after she last fought and left the octagon with her first career loss. At her best, Rousey is phenomenal. She is brutal in the clinch and lethal on the mat. Her aggressive style has left opponents dazed and damaged, but it also led to her downfall against Holm. The former world champion boxer stayed patient and picked Rousey apart, as Rousey never altered her approach and paid the price when she was knocked out and had her aura of invincibility shattered. Nunes is capable of duplicating the feat, though her aggressive striking style isn't as well suited to counteract Rousey's strengths as Holm's patient approach. Nunes should look to make Rousey chase her and see if Rousey learned from her loss. Nunes hits hard and will test Rousey's chin, but she has been known to fatigue quickly. Rousey appears to be in terrific shape and insists her solitary focus has been on this fight. She is admittedly stubborn and might want to show she's not afraid of a striking battle. That would be a massive mistake. If Rousey can close distance intelligently and pursues the path of least resistance, she should return to her winning ways. For bettors, Rousey carries great value. If this fight was booked 13 months ago, she would be laying a massive price.
Pick: Rousey by second-round submission
Dominick Cruz (22-1) vs. Cody Garbrandt (10-0)
Class: Bantamweight
Line: Cruz minus-210
Storyline: There's not much mystery to this fight. Cruz is the best in the business at using his movement to make himself difficult to hit but also to disguise his various attacks. He confounds and frustrates opponents into mistakes and rarely misses an opportunity to take advantage. Garbrandt might be the most powerful striker in the division. While Cruz has ruled the UFC's bantamweight division since its inception, he has rarely encountered a challenger with the one-punch power Garbrandt possesses. It's a much more dangerous fight for Cruz than it appears, but he seems to have won the mental game. Garbrandt has been visibly flustered by some of their verbal exchanges during a contentious buildup to the fight. Look for Cruz to force Garbrandt to overcommit to his shots early and pepper him from the outside before shooting for takedowns and wearing him down on the ground. Garbrandt has the skills to be the champion one day, but Cruz isn't ready to give up the title just yet.
Pick: Cruz by decision
T.J. Dillashaw (14-3) vs. John Lineker (29-7)
Class: Bantamweight
Line: Dillashaw minus-230
Storyline: Lineker is a brawler, pure and simple, who rarely concerns himself with defense or scorecards. Dillashaw is a much more polished fighter, a style that carried him to the bantamweight title and almost to a victory over Cruz in January. Under normal circumstances, it might be fairly easy to choose Dillashaw to ride his more refined skill set to a victory and probable title shot. But Dillashaw has been vocal about his frustration in being passed over by Garbrandt for the shot at the belt. Lineker is not the kind of fighter one can afford to lose focus on. Along with his vicious knockout power, he works the body incredibly well. Lineker is on a six-fight winning streak, four since moving back to bantamweight.
Pick: Lineker by second-round knockout
Dong Hyun Kim (21-3-1, 1 No Contest) vs. Tarec Saffiedine (16-5)
Class: Welterweight
Line: Kim minus-140
Storyline: Kim is an incredibly strong and durable veteran who hasn't fought in more than a year and always seems to be dismissed in the welterweight picture. He has won six of his past seven fights and recorded finishes in his past four victories. Saffiedine is a skilled kickboxer, but has struggled to find consistency at the highest levels of the sport. The former Strikeforce welterweight champion had won seven of eight fights when he joined the UFC, but has alternated wins and losses in his four appearances in the organization. Saffiedine is coming off a disappointing loss to Rick Story during which Story employed a similar game plan to what Kim is likely to use, forcing his way in close and not allowing Saffiedine to fight in kickboxing range.
Pick: Kim by decision
Louis Smolka (11-2) vs. Ray Borg (9-2)
Class: Flyweight
Line: Borg minus-130
Storyline: This is an intriguing matchup of young, exciting grapplers who suffered recent setbacks to derail their momentum. Smolka had won four straight before a surprising loss to late replacement Brandon Moreno in October, and Borg had his three-fight winning streak halted by veteran Justin Scoggins in February. The winner will regain momentum in a division desperate for young stars. While both fighters are skilled on the ground, Smolka has the height and reach advantage and should try to keep Borg on the outside. If Borg gets inside, Smolka might not be able to stay off his back for long. This one could feature some fun scrambles, but it also might become a standup battle as both try to avoid their opponent's strength.
Pick: Smolka by decision
RELATED
UFC 207 official weigh-in — VIDEO