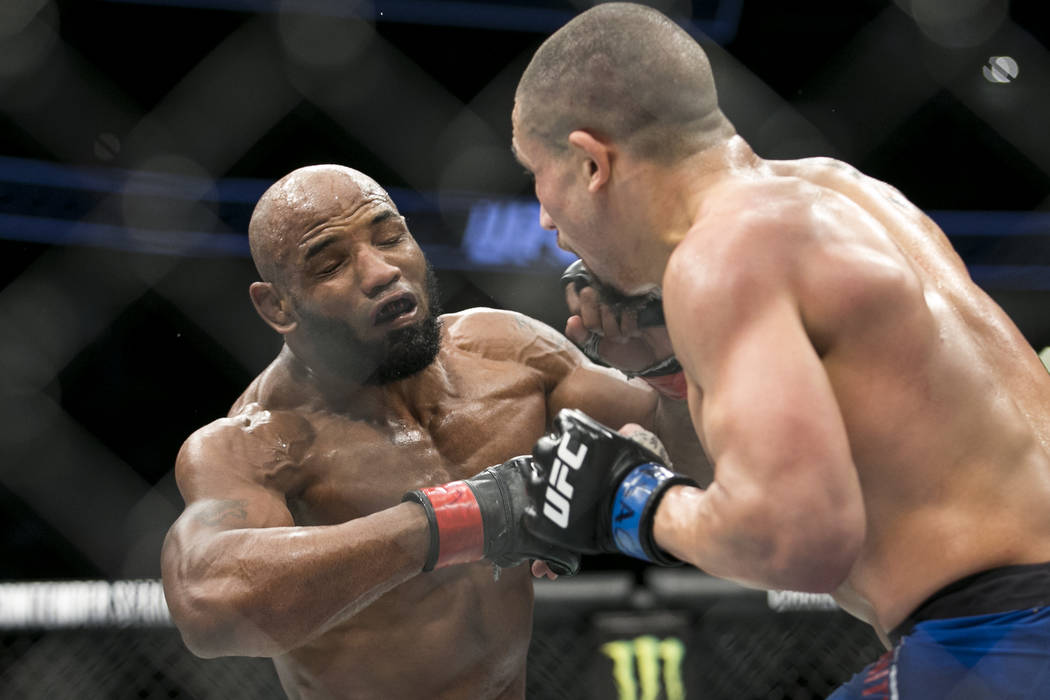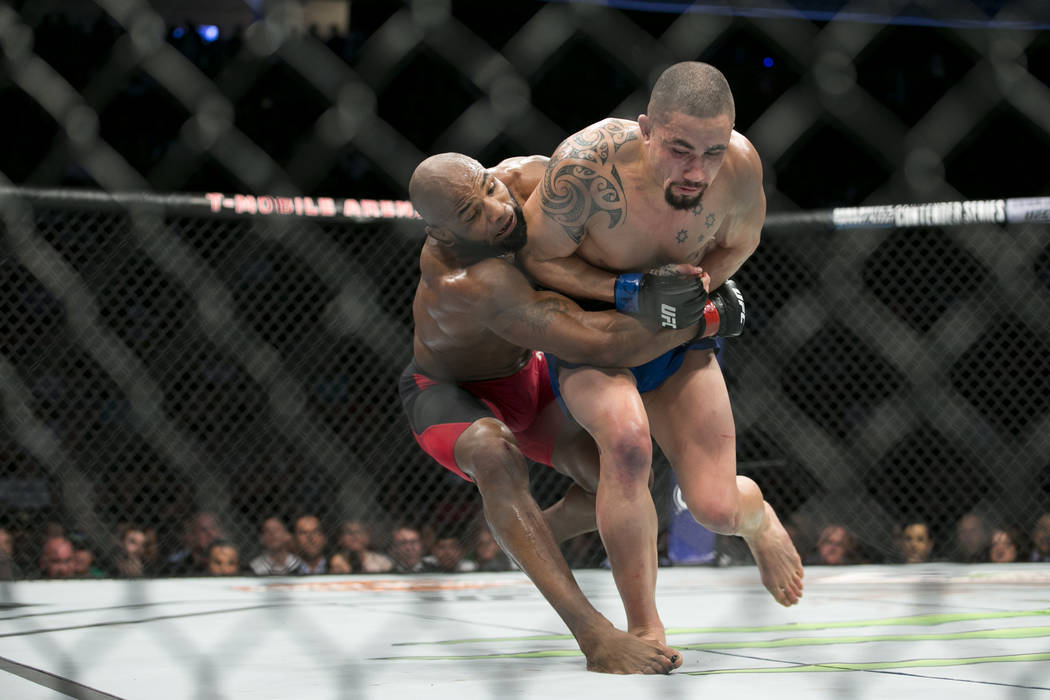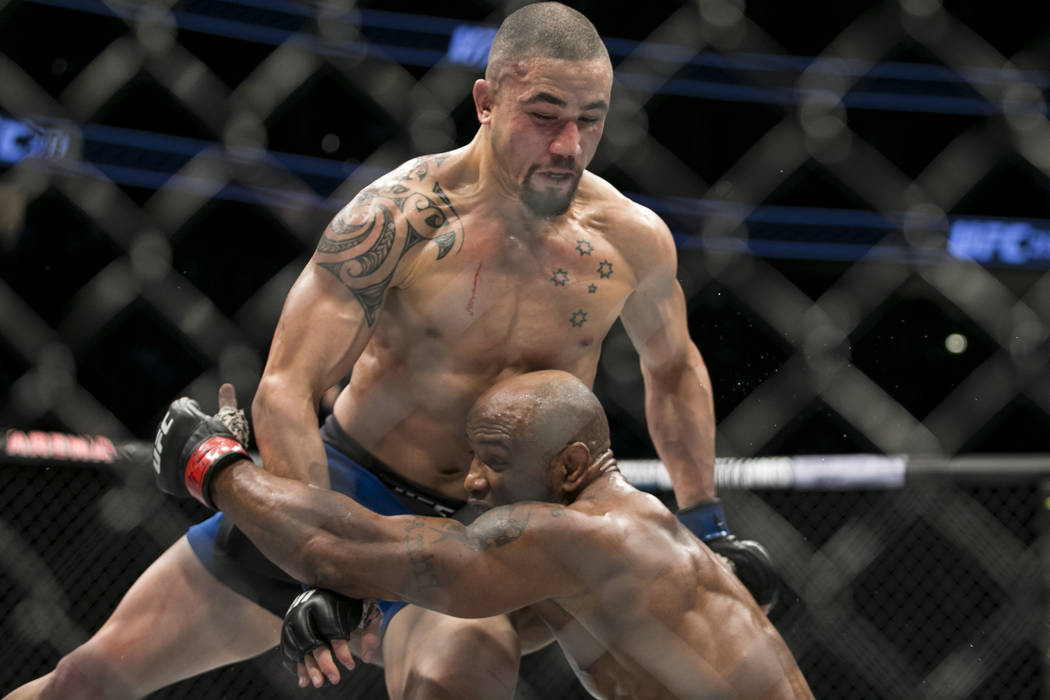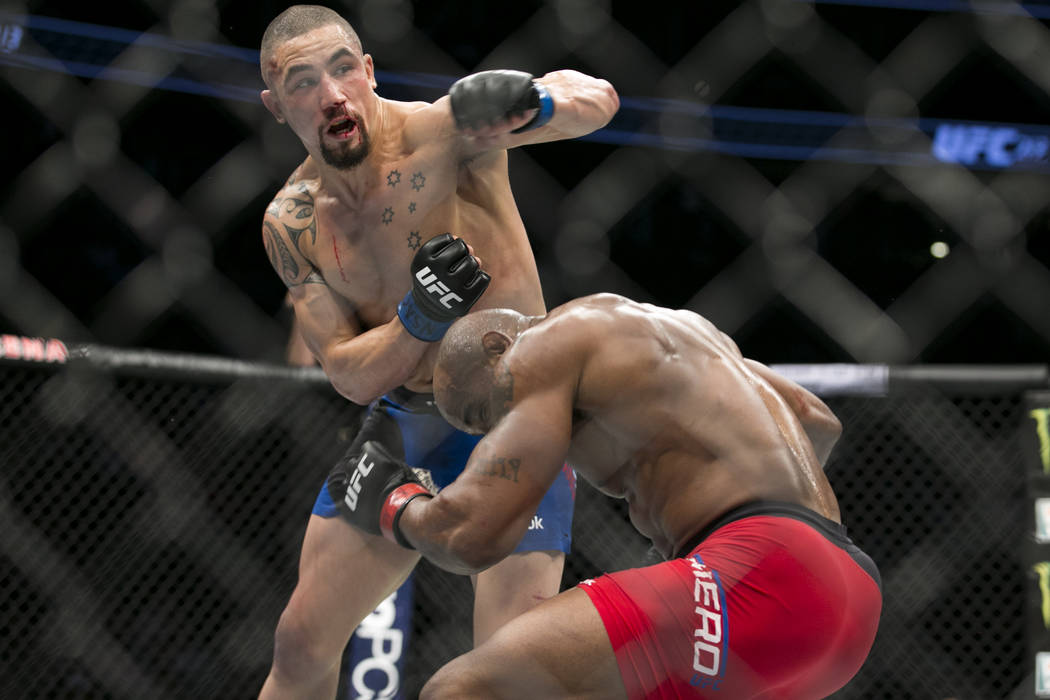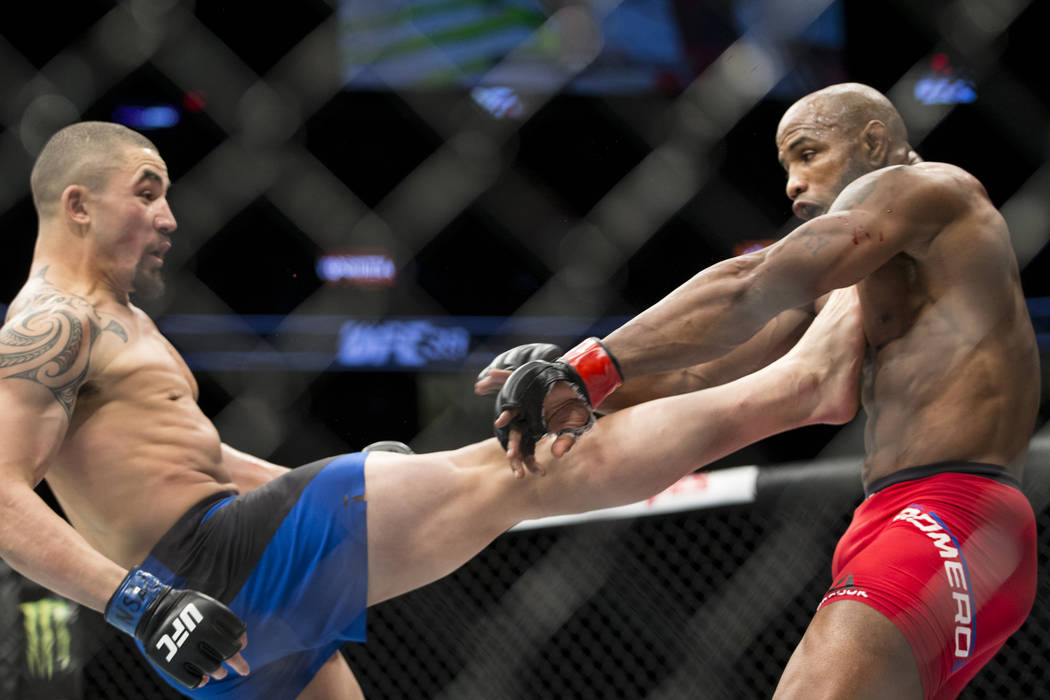 A breakdown of the fights on the main card of UFC 221 on Saturday at Perth Arena in Perth, Australia, with picks from the Review-Journal's Adam Hill and Heidi Fang:
Yoel Romero (12-2) vs. Luke Rockhold (16-3)
Class: Middleweight
Line: Rockhold -150
Storyline: Rockhold appeared headed for a lengthy run as middleweight champion when he was stunned by 10-1 underdog Michael Bisping in June 2016. Rockhold then took a year off and switched camps before returning to beat David Branch in a bout that saw Rockhold struggle more than expected in September. The win was supposed to earn him a title shot against Robert Whittaker, but Whittaker was injured and pulled out of this fight. Romero provides a completely different challenge. He is a world-class wrestler who won Olympic silver in 2000 and has a ton of power in his fists. Romero has questionable stamina, however. Rockhold is a great athlete who is one of the more gifted fighters in the division. He will look to wear down Romero and drag him into the later rounds, where fatigue will drain his power. Romero's conditioning might be even more of a question mark after he missed weight Friday by more than 2 pounds. The blunder means he is not eligible to win the interim title. Rockhold can become interim champion if he's victorious, perhaps giving him a motivational edge.
Hill's pick: Rockhold by fourth-round submission
Fang's pick: Romero by third-round knockout
Mark Hunt (13-11-1, 1 No Contest) vs. Curtis Blaydes (8-1, 1 No Contest)
Class: Heavyweight
Line: Blaydes -160
Storyline: Blaydes, one of the top prospects in the heavyweight division, can make the leap to true contender with a win over one of the hardest hitters in the organization. Blaydes was a national champion wrestler in junior college and has started to get more comfortable striking as his fundamentals catch up with his power. This is a huge test. Hunt has a granite chin and unrivaled power. He's not the kind of fighter opponents want to engage in a brawl. Blaydes would be better served changing levels and trying to keep Hunt off balance. Hunt performs far better in his homeland of Australia than when he has to travel abroad.
Hill's pick: Hunt by third-round knockout
Fang's pick: Hunt by second-round knockout
Tai Tuivasa (8-0) vs. Cyril Asker (9-3)
Class: Heavyweight
Line: Tuivasa -300
Storyline: Tuivasa, a former professional rugby player, became the first indigenous Australian to win a fight in the UFC when he knocked out Rashad Coulter with a flying knee in November. The highlight-reel knockout raised eyebrows around the organization, as the undefeated Tuivasa showed incredible athleticism for a fighter at the 265-pound heavyweight limit. Asker is 2-2 since joining the UFC. The losses came in his two fights against good competition, while his wins were against borderline UFC talent. He could be a bit overmatched in this one.
Hill's pick: Tuivasa by first-round knockout
Fang's pick: Tuivasa by third-round knockout
Jake Matthews (12-3) vs. Li Jingliang (14-4)
Class: Welterweight
Line: Jingliang -165
Storyline: Some of the luster has been taken off Matthews, a once-promising prospect. He dropped two straight fights at lightweight, prompting a move back up to 170 pounds. While Matthews did pick up a win, it was far from an encouraging performance. He didn't look confident in his striking and shot for desperation takedowns on several occasions. The positive is that he defeated a decent opponent in Bojan Velickovic. Jingliang will be a stiff test. He has won his past four fights after dropping two of three. Jingliang could make Matthews pay if he gets sloppy on his feet. Matthews can score a major victory if he can get the fight to the ground and utilize his strong top game.
Hill's pick: Matthews by decision
Fang's pick: Matthews by decision
Tyson Pedro (6-1) vs. Saparbek Safarov (8-1)
Class: Light heavyweight
Line: Pedro -275
Storyline: Pedro is an impressive prospect with speed and power to go with a strong submission game. A weakness might have been uncovered in his last fight when Ilir Latifi stayed patient and slowed the fight to make Pedro work for everything he tried to do and eventually wore him down enough to hand him his first loss. Safarov won't do that. He's aggressive and will turn up the pressure from the opening bell. That will suit Pedro just fine. Safarov's forward pressure didn't bother Gian Villante, as Safarov dropped his UFC debut last year.
Hill's pick: Pedro by second-round knockout
Fang's pick: Pedro by first-round knockout
More MMA: Follow all of our MMA and UFC coverage online at CoveringTheCage.com and @CoveringTheCage on Twitter.