Preview of UFC 222 main card bouts
Updated March 2, 2018 - 3:12 pm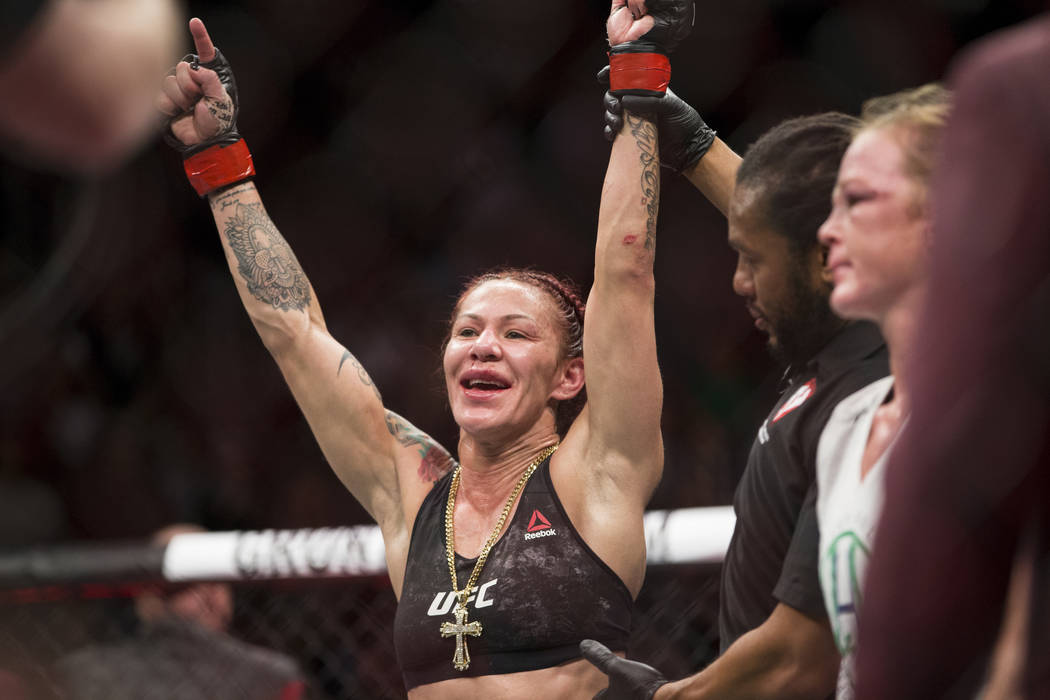 A breakdown of the fights on the main card of UFC 222 on Saturday at T-Mobile Arena, with picks from the Review-Journal's Adam Hill and Heidi Fang:
Cris "Cyborg" Justino (19-1, 1 No Contest) vs. Yana Kunitskaya (10-3, 1 No Contest)
Class: For Justino's women's featherweight title
Line: Justino minus 1,800
Storyline: There is a reason it took time to put this fight together when Justino offered to step in and help salvage the card when featherweight champ Max Holloway pulled out of his fight with Frankie Edgar a month ago. It's not easy to find an opponent to challenge Justino, particularly on short notice. Kunitskaya answered the call, though oddsmakers aren't giving her much of a chance. She is coming up from bantamweight, which isn't ideal for fighting perhaps the most intimidating physical presence ever in women's MMA. Kunitskaya will be giving up size and strength like most of Justino's challengers. She does have the benefit of training with Holly Holm, Justino's last opponent, so her camp should have a pretty good idea of how they want to approach the bout. But there's not much mystery to Justin's game. She's too big, too strong and too good in this matchup.
Hill's pick: Justino by second-round knockout
Fang's pick: Justino by first-round knockout
Frankie Edgar (21-5-1) vs. Brian Ortega (13-0, 1 No Contest)
Class: Featherweight
Line: Edgar minus 185
Storyline: This is a massive risk for Edgar, who accepted the fight against an explosive and talented emerging contender on short notice after the Holloway fight fell through. Edgar could have sat out and waited for Holloway to come back, ensuring the title shot. Instead, he asked for the UFC to find a new opponent. Ortega is a tough draw. His submission skills are eye-popping, and his technique is catching up to his power as a striker. Edgar is as gritty as they come and has seen it all in the sport. He's also never been finished in his career, with all five losses by decision. This could look a lot like his matchup against Yair Rodriguez when Edgar wiped the mat with one of the most promising prospects the division had seen in years.
Hill's pick: Ortega by second-round submission
Fang's pick: Edgar by decision
Sean O'Malley (9-0) vs. Andre Soukhamthath (12-5)
Class: Bantamweight
Line: Soukhamthath minus 140
Storyline: O'Malley delivered a star-making performance on "Dana White's Tuesday Night Contender Series" with a knockout that played for several days on ESPN and prompted Snoop Dogg to invite him for a postfight smoking session. His flashy style inside the cage is only matched by his fashion choices outside it. The UFC has thrown its promotional might behind the 23-year-old from Montana. Soukhamthath certainly doesn't want to be a part of those efforts. He has knockout power and is certainly well-rounded enough to give O'Malley a challenge. In fact, he is a slight favorite to hand O'Malley his first professional loss. While he has yet to taste defeat as a pro, O'Malley was submitted twice as an amateur. He still might have those weaknesses on the ground despite his work at the acclaimed MMA Lab in Arizona. Soukhamthath probably will try to find out.
Hill's pick: Soukhamthath by third-round submission
Fang's pick: Soukhamthath by third-round knockout
Stefan Struve (32-9) vs. Andrei Arlovski (26-15, 1 No Contest)
Class: Heavyweight
Line: Struve minus 190
Storyline: Arlovski snapped a streak of five straight losses with a win over Junior Albini in November, but it was far from impressive. The victory certainly didn't conjure up memories of when Arlovski was the UFC heavyweight champion more than a decade ago and one of the most feared fighters. The 39-year-old still is fast and has power, but age and battles catch up with everyone. Struve, 30, has plenty of mileage on his tires but is nine years younger than Arlovski. He's also the tallest fighter in the organization at 7 feet. He should be able to use his reach to keep Arlovski from getting inside, where he can be most effective. Struve also has an edge if the fight goes to the ground, as he is quite adept at utilizing his long limbs in submission attempts.
Hill's pick: Struve by second-round knockout
Fang's pick: Arlovski by second-round knockout
Cat Zingano (9-2) vs. Ketlen Vieira (9-0)
Class: Women's bantamweight
Line: Vieira minus 165
Storyline: Most of the attention has been on Zingano's comeback after more than 18 months out of action, but Vieira has quietly put together an impressive resume. She is coming off a submission win over former Olympic silver medalist Sara McMann to improve to 3-0 in the UFC. While Zingano has lost her past two fights, they have come against top competition and in the midst of injuries and personal issues. She says she is now content in her personal life and healthy. When she's right, she might be the sport's best bantamweight. Her past three wins were against the current champ, a former champ and the top contender. Zingano is powerful with her striking and grappling.
Hill's pick: Zingano by second-round knockout
Fang's pick: Zingano by decision
More MMA: Follow all of our MMA and UFC coverage online at CoveringTheCage.com and @CoveringTheCage on Twitter.