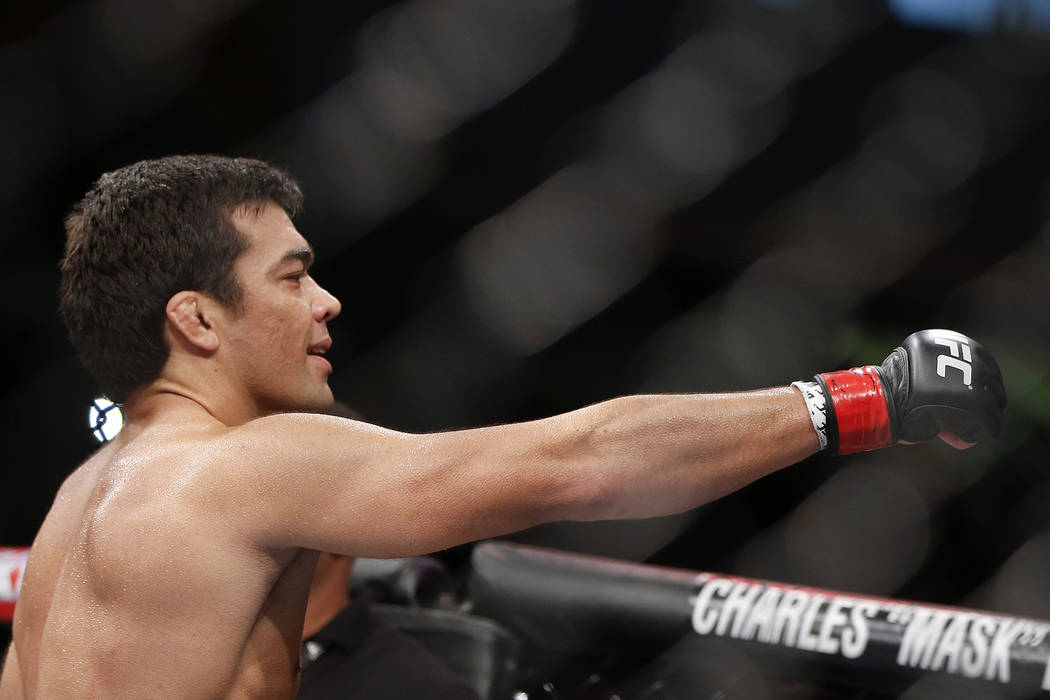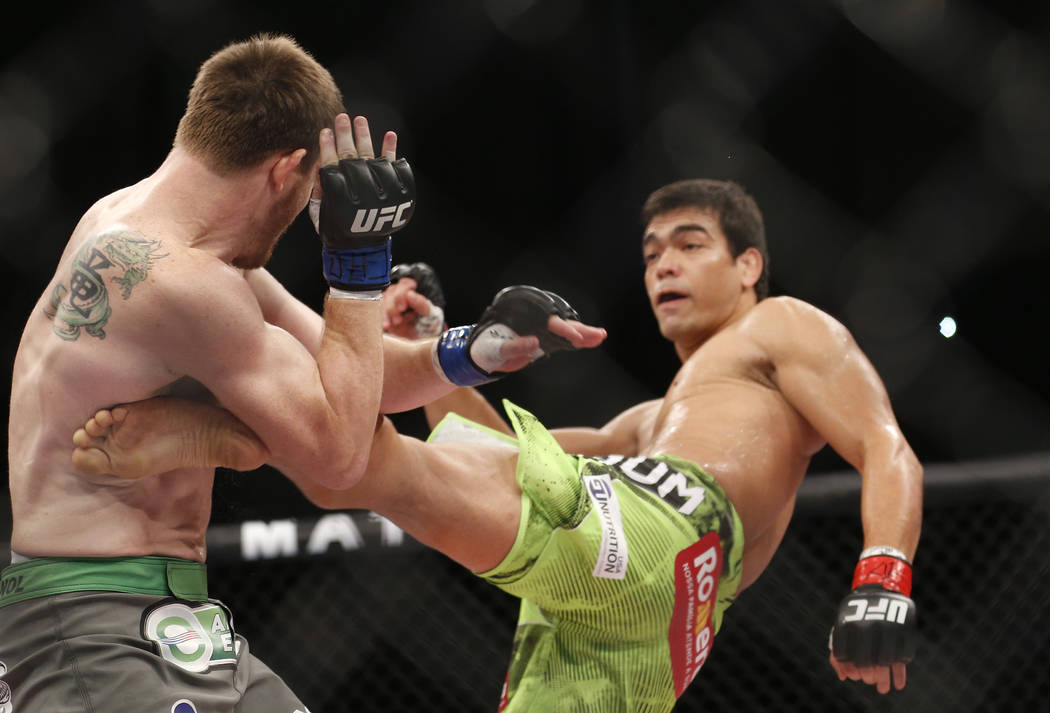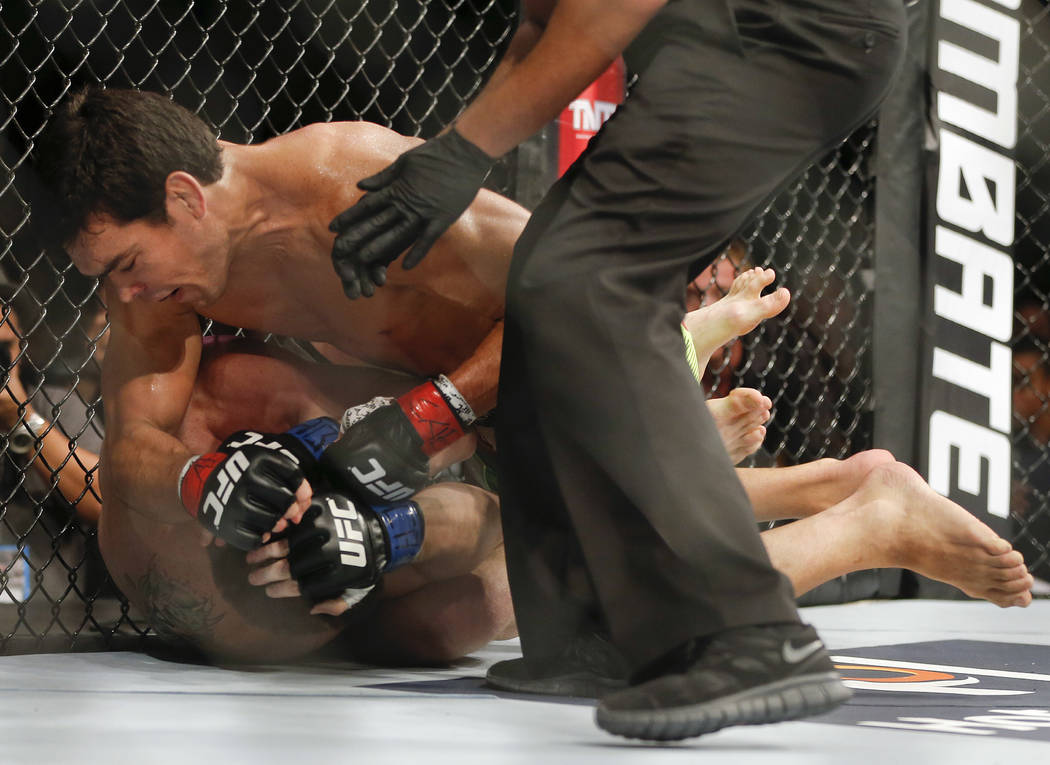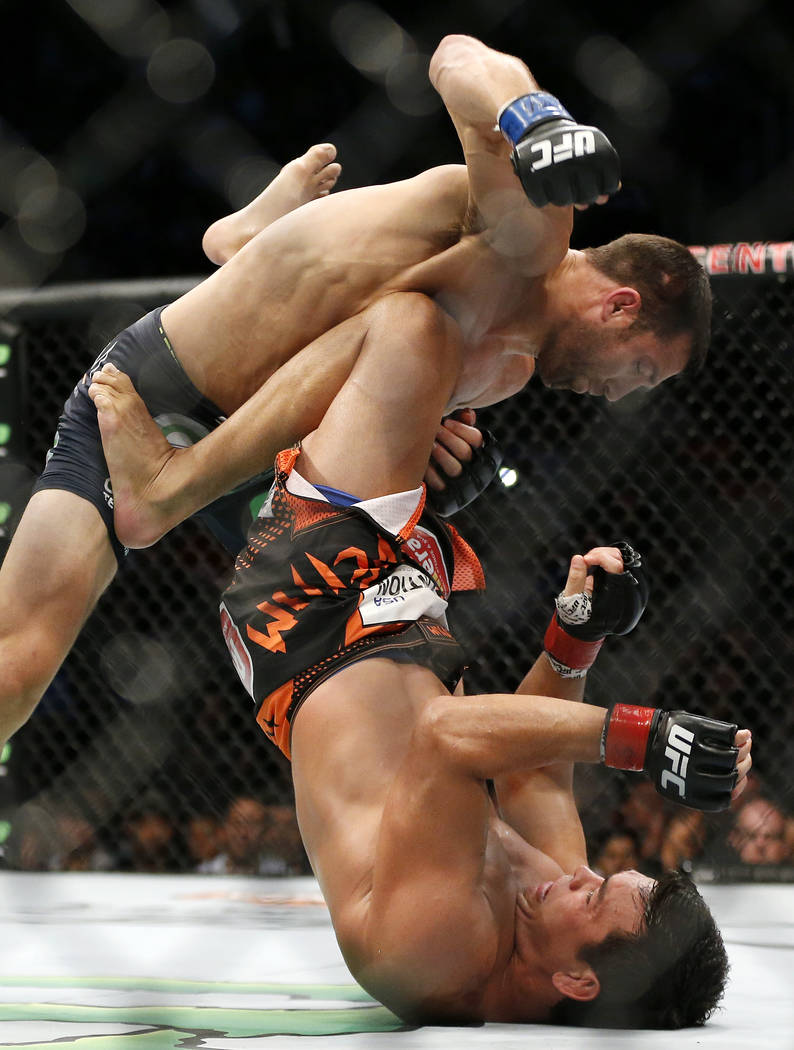 A breakdown of the fights on the main card of UFC Fight Night 125 on Saturday at Arena Guilherme Paraense in Belem, Brazil, with picks from the Review-Journal's Adam Hill and Heidi Fang:
Lyoto Machida (22-8) vs. Eryk Anders (10-0)
Class: Middleweight
Line: Anders -280
Storyline: Machida is a former light heavyweight champion who is getting the opportunity to headline the UFC's first event in his hometown. It might be his only edge in this difficult matchup. Machida has struggled through three straight losses and is a far cry from the fighter who once looked untouchable. He insists he will try to embrace his karate roots again. This is a showcase bout for Anders, who is bigger, stronger and faster than Machida. Anders is a former standout linebacker at Alabama who hopes to add a UFC title to his national championship in 2009. He hasn't faced much adversity in his 10 professional fights.
Hill's Pick: Anders by third-round knockout
Fang's Pick: Anders by second-round knockout
Valentina Shevchenko (14-3) vs. Priscilla Cachoeira (8-0)
Class: Women's flyweight
Line: Shevchenko -900
Storyline: Shevchenko was among the elite fighters at bantamweight, where she is a questionable decision against Amanda Nunes away from being the champion. Now that the flyweight division is open, Shevchenko finally gets the chance to drop down to her more natural weight. She could get a title shot with an impressive win here, and she's likely to be favored against just about anyone in the division. Cachoeira's undefeated record is a bit of a mystery because she has yet to fight anyone of note on the regional circuit.
Hill's Pick: Shevchenko by second-round submission
Fang's Pick: Shevchenko by third-round knockout
Michel Prazeres (22-2) vs. Desmond Green (20-5)
Class: Lightweight
Line: Prazeres -145
Storyline: Prazeres has won five straight fights and seven of eight, with the loss against elite lightweight Kevin Lee. But Prazeres still has had a difficult time breaking into the rankings in a stacked division. A win over Green, an accomplished collegiate wrestler with an evolving striking game, should make a statement. Green is 1-1 since signing with the UFC and is coming off a close loss to Rustam Khabilov. Prazeres is relentless in his takedowns and good at controlling position on the mat, but he stays busy with his striking. That could be the difference.
Hill's Pick: Prazeres by decision
Fang's Pick: Green by decision
Timothy Johnson (11-4) vs. Marcelo Golm (6-0)
Class: Heavyweight
Line: Golm -170
Storyline: Golm is a fast and athletic heavyweight with plenty of power in his hands. He also showed off a slick submission game in his UFC debut. He should have an edge as long as the fight takes place standing, though Johnson does pack a pretty good punch. Johnson will be better off trying to get the fight to the ground to wear out Golm.
Hill's Pick: Golm by second-round knockout
Fang's Pick: Golm by decision
Thiago Santos (16-5) vs. Anthony Smith (28-12)
Class: Middleweight
Line: Santos -275
Storyline: Both fighters have three straight knockout victories. Smith is 4-1 since signing with the UFC. He is coming off a win over Hector Lombard, whom he knocked out in the third round in September. Santos has won his past three fights after losses to Gegard Mousasi and Eric Spicely. While their striking stats are quite similar, Santos has a slight edge in accuracy and activity. The defense is where there is quite a bit of separation. Smith is way too hittable. That might be the difference in what promises to be an entertaining fight.
Hill's Pick: Santos by decision
Fang's Pick: Santos by third-round knockout
Douglas Silva de Andrade (24-2) vs. Marlon Vera (10-4-1)
Class: Bantamweight
Line: Vera -140
Storyline: This fight was moved to the main card Friday when a bantamweight bout between John Dodson and Pedro Munhoz was removed from the event because Munhoz had difficulty cutting weight. Silva de Andrade had won two straight fights before running into rising star Rob Font in July. Vera had a three-fight UFC winning streak snapped against contender John Lineker in October. Silva de Andrade has racked up 19 knockouts in 26 career fights and is constantly headhunting. Vera is more comfortable on the mat, though he did score a highlight-reel knockout of Brad Pickett in March.
Hill's Pick: Vera by third-round submission
Fang's Pick: Silva de Andrade by second-round submission
More MMA: Follow all of our MMA and UFC coverage online at CoveringTheCage.com and @CoveringTheCage on Twitter.