Rafael dos Anjos plans to silence Colby Covington at UFC 225
Updated June 8, 2018 - 7:13 pm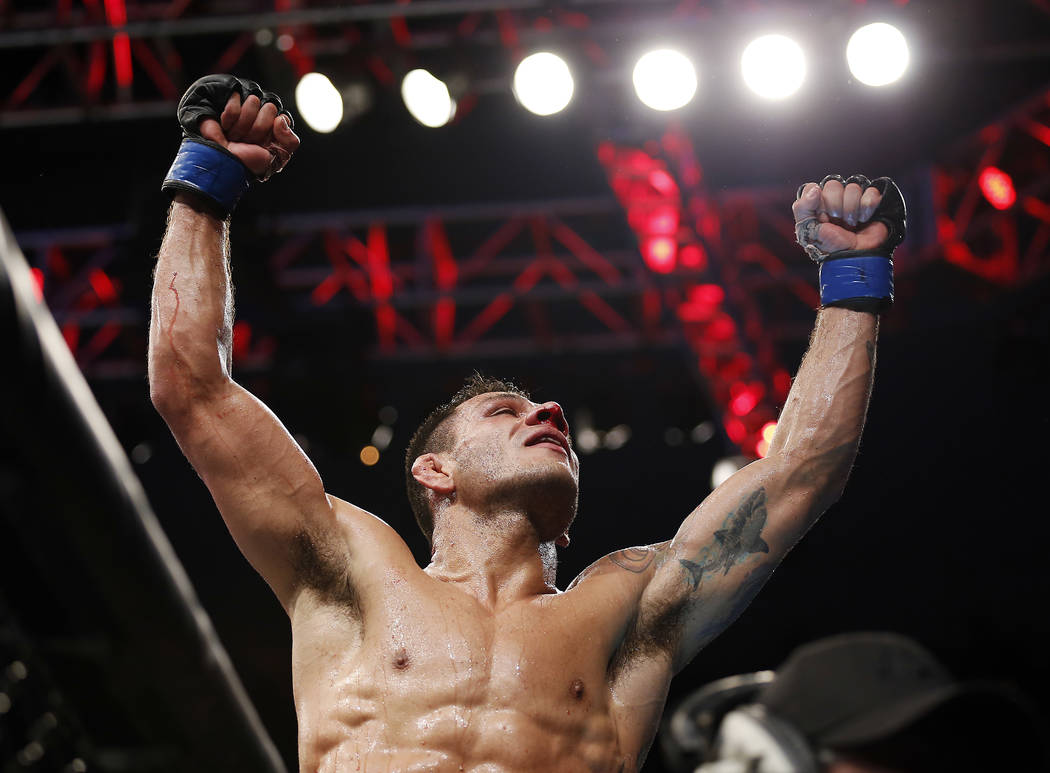 Former lightweight champion Rafael dos Anjos participated in several news conferences and promotional appearances with Conor McGregor for a fight that never happened in 2016.
Even though the fight was canceled when dos Anjos suffered a foot injury in training, the experience has helped him prepare for the rhetoric he has heard from polarizing character Colby Covington ahead of their interim welterweight title bout at UFC 225 on Saturday at the United Center in Chicago.
Well, that and his humble upbringings.
"Hey, man, I grew up in Brazil, in the favelas," dos Anjos said on a conference call. "For me, bullets, trash talk does not work with me, but I think Colby is just trying to (be) Conor. Conor does that well, and Conor is a rich man. He makes a lot of money. He's a businessman, and I can respect that. But Colby is just a worse version of Conor McGregor. He's trying to be like Conor, but when he loses to me, his career's done."
Covington has backed up most of the rhetoric he has let fly in a clear attempt to build his profile. The 30-year-old Californian has won five straight fights since his only career loss and is coming off a victory over top contender Demian Maia.
While the wins have helped him gain recognition, his immense notoriety mostly comes from the development of a brash public persona that often toes the lines of racism and sexism.
"I am the living embodiment of the First Amendment," he said. "All these critics are Cheerio-eating dorks. They've never been in a cage and fought in a steel cage, so I don't really care what their opinion is.
"I see all the nerds saying I'm an underdog again. You know who else is an underdog? The leader of the free nation, Donald Trump, and just like him I will rule by grabbing these (expletives) and putting them in their place."
Dos Anjos, who moved up to 170 pounds after losing the lightweight belt and one additional fight at 155, has ripped through three contenders since going to welterweight.
He said it's time for Covington to be taught a lesson and pay the price for his words, but insists he'll keep his anger in check when the bell rings.
"Cold is the blood of the fighter," dos Anjos said. "And now I have no emotions. Once we step in that cage, I'm just going to think about making that guy quit and hurting him. Nothing else. Cold blood always."
Covington was ready with one of his signature retorts to dos Anjos, who now lives in Southern California.
"Let's be honest, you ain't teaching me (expletive)," Covington said. "I've been to Brazil more than you've been. You live in America land of the free and home of the brave. Don't be trying to claim you're Brazilian."
It was a line of attack that began with McGregor. Covington is trying to keep it alive, but he'll have to win the title to truly continue in McGregor's footsteps.
Middleweight champion Robert Whittaker will fight Yoel Romero in the main event, but no belt will be at stake after Romero failed to make weight Friday by two-tenths of a pound.
The 7 p.m. pay-per-view card includes the second professional appearance of Phil Brooks, a former pro wrestler who fought under the name "CM Punk," who meets fellow 0-1 fighter Mike Jackson.
More MMA: Follow all of our MMA and UFC coverage online at CoveringTheCage.com and @CoveringTheCage on Twitter.
Contact Adam Hill at ahill@reviewjournal.com or 702-277-8028. Follow @AdamHillLVRJ on Twitter.
UFC 225
Main card bouts on Saturday's UFC 225 pay-per-view event at the United Center in Chicago:
— Robert Whittaker (20-4) vs. Yoel Romero (13-2), middleweights
— Rafael dos Anjos (28-9) vs. Colby Covington (13-1), for interim welterweight title
— Holly Holm (11-4) vs. Megan Anderson (8-2), women's featherweights
— Andrei Arlovski (27-15, 1 No Contest) vs. Tai Tuivasa (9-0), heavyweights
— Phil "CM Punk" Brooks (0-1) vs. Mike Jackson (0-1), welterweights