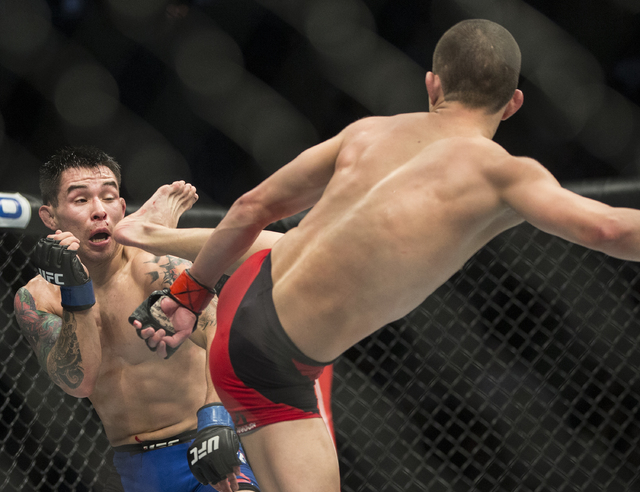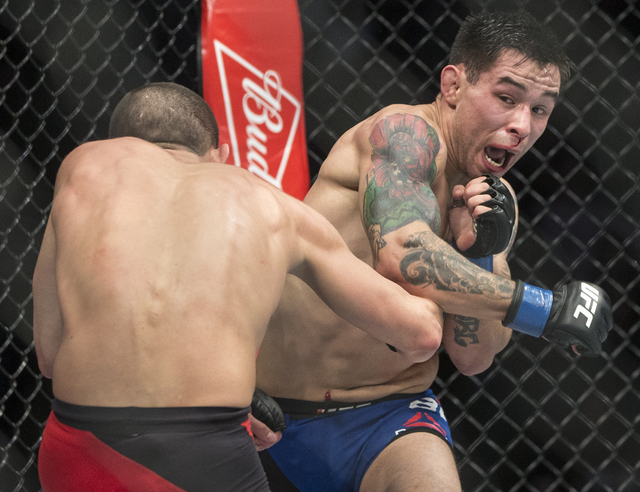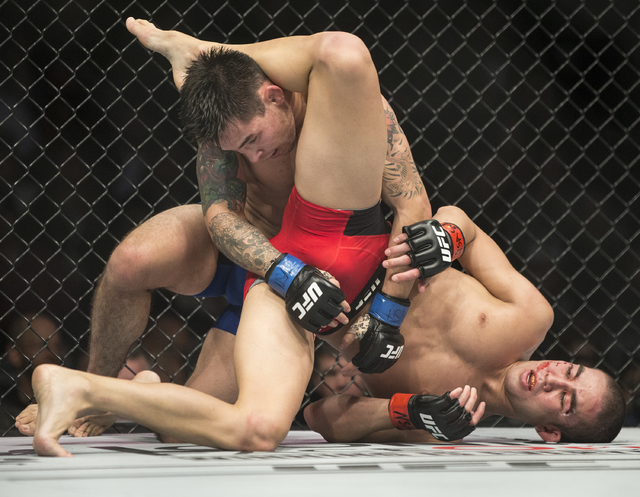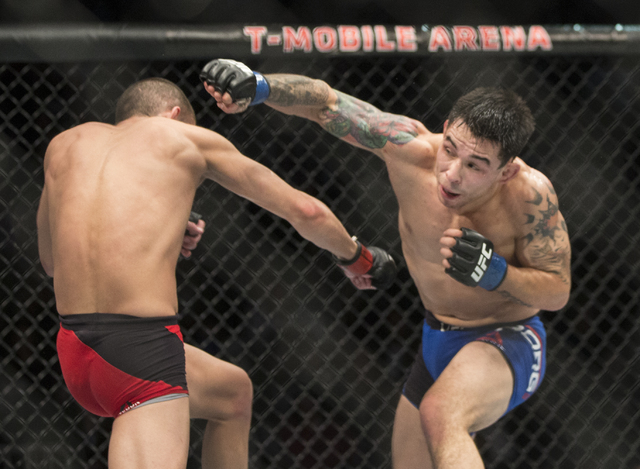 UFC flyweight contender Ray Borg didn't want to discuss the intricacies of what led to him hiring a nutritionist ahead of his UFC 215 title bout against Demetrious Johnson last month in Edmonton, Alberta.
He did make it clear the relationship is over ahead of the rescheduled title bout at UFC 216 on Saturday at T-Mobile Arena.
"I never had a problem making weight to begin with," Borg said on a conference call. "I tried to add on a nutritionist to help me out, because I'm getting a little older and the weight was getting tougher to cut. But I just went back to doing the same (expletive) that got me to the show."
Borg became sick two days before he was scheduled to challenge Johnson on Sept. 9 and withdrew from the fight on the advice of UFC doctors.
The 24-year-old continues to insist the weight cut had nothing to do with the sickness or withdrawal.
He said he had too many sick people around him and the odds were stacked in favor of coming down with something.
"Sometimes you can't put off the inevitable," Borg said. "Everyone at my camp was sick. My wife was sick. I was just banking on not catching it, but it happened. There's not a whole lot you can do. I've been taking my proper vitamins and taking care of myself."
Still, he acknowledges he has had weight-cutting problems in the past. He missed weight twice in the last four UFC fights before pulling out of UFC 215.
Borg has no intention of moving up to bantamweight anytime soon despite the issues even if he fails to become champion on Saturday.
"I can't say for the future, but for right now, it doesn't make sense (to move up to 135 pounds)," he said. "Most bantamweights walk around at 155 and above. Me not trying to cut weight and just getting in shape, my body just gets down to 136, 137 easy. And that's pretty small for a bantamweight, so, yeah, it makes sense for me to stay."
Provided everything goes according to plan on the weight cut, Borg will finally get the chance to challenge Johnson, who will attempt to break Anderson Silva's record for consecutive UFC title defenses.
Johnson and SIlva are tied with 10 straight.
Las Vegan Kevin Lee will fight Tony Ferguson for the interim lightweight title in the main event. The pay-per-view broadcast of the main card starts at 7 p.m.
Werdum apologizes
Former UFC heavyweight champion Fabricio Werdum has apologized for using a homophobic slur in Spanish several times during a public argument last week with lightweight contender Tony Ferguson.
Werdum also has agreed perform community outreach with the LGBTQ community in Las Vegas for violating the organization's Athlete Conduct Policy with the outburst.
"The UFC organization is disappointed with recent comments made by Fabricio Werdum at a promotional event in Los Angeles," a statement issued by the UFC read. "The nature and implication of his comments do not reflect UFC's views and will not be tolerated, no matter the manner in which they are used.
"We acknowledge and appreciate that Fabricio has since apologized to the organization and to anyone he may have offended with his words."
Werdum and Ferguson were appearing at a joint media lunch promoting their fights at UFC 216.
Tempers flared when Ferguson warned Werdum to not speak while he was doing an interview, and Werdum immediately stood up and launched into a tirade in Spanish. There is a history between the fighters, as they used to share a manager before Ferguson moved on to new representation.
"Of all the things I could call him, that's what I came up with at the moment," Werdum told MMA Junkie. "But I didn't want to offend homosexual people, nothing like that. It's an argument that happened, and that's it. At no point was I (attacking) the gay community.
"I'm not homophobic. And, like I said, everyone has the same rights, and we're all equals."
Werdum will fight Derrick Lewis on Saturday.
More MMA: Follow all of our MMA and UFC coverage online at CoveringTheCage.com and @CoveringTheCage on Twitter.
Contact Adam Hill at ahill@reviewjournal.com or 702-277-8028. Follow @adamhilllvrj on Twitter.
Calendar
Friday: Bellator 184 (Spike TV), Thackerville, Okla.
Saturday: UFC 216 (FS1/PPV), T-Mobile Arena
Oct. 20: Bellator 185 (Spike TV), Uncasville, Conn.
Oct. 21: UFC Fight Night 118 (Fight Pass), Gdansk, Poland
Oct. 28: UFC Fight Night 119 (FS1), Sao Paulo, Brazil