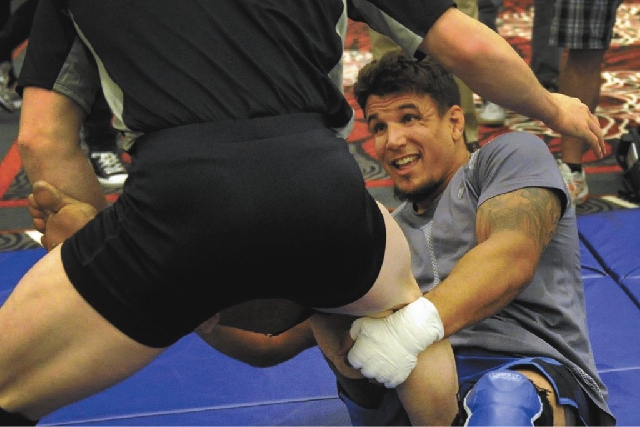 SAN JOSE, Calif. — A one-sided beating administered by then-heavyweight champion Junior dos Santos in May was the Ultimate Fighting Championship's way of telling Las Vegan Frank Mir to eat his vegetables.
Mir always has run his training camps in his hometown and admittedly cut corners at times during training, choosing to rely on his immense natural ability. But the second-round knockout forced Mir to face harsh realities.
The 33-year-old Bonanza High School alumnus said he discussed with his wife and father the possibility of training elsewhere if he was going to continue fighting.
Mir said it was only fair that he make that type of commitment if he was going to continue to put his family through the stress of his career.
So for his UFC on Fox 7 heavyweight fight against former Strikeforce star Daniel Cormier on Saturday at HP Pavilion, Mir spent the past nine weeks training with Greg Jackson's famed team in Albuquerque, N.M., alongside light heavyweight champion Jon Jones and other prominent fighters.
Mir would go home on weekends but said the time away from his family agitated him to the point of being solely focused on winning.
He said he always has known shipping off to training camp, particularly at an elite gym such as Jackson's, was the best move for his career. It just wasn't an easy one.
"We all know what we need to do," Mir said. "You always hear, 'Well, you should eat this or you should do this in order to be healthy.' Well, no (expletive), Sherlock. I've heard it a thousand times. It wasn't like some epiphany where someone said, 'You should go train at Jackson's.' I know I should, but I didn't want to.
"It's one of those things where I understand I shouldn't eat this whole pizza by myself, but I want to."
One of Mir's favorite things to do when he was training in Las Vegas was to take an occasional day off to spend time with his kids. Waking up sore often would be a good reason to find an alternative to the day's workouts.
Those temptations were gone in New Mexico, because the former heavyweight champion knew if he didn't go to the gym, there was nothing to do but sit in his hotel room.
All of that has led to a rejuvenated Mir, who will welcome Cormier to the UFC and attempt to put the first blemish on his mixed martial arts resume.
Despite being relatively unknown to many UFC fans, Cormier will enter the cage as a minus-400 favorite. There is reason for that; he is a two-time Olympic wrestler with an 11-0 MMA record.
It would seem to be a no-win situation for Mir.
Should he win, critics will note he was the more experienced fighter getting Cormier in his first UFC fight and denigrate Cormier's work in Strikeforce as illegitimate because it didn't translate to immediate success in the UFC.
Of course, a loss would drop Mir off the radar as far as title contention.
"I think it's a tough situation to be in, but I'm not going to add that to myself because I know the guys coming from Strikeforce are equally tough," Mir said. "The casual fan that thinks this is some sort of NFL against the CFL type of matchup or something. That's not the case. It was two separate organizations. These guys stood on their own as champions."
The 34-year-old Cormier, who has been supremely confident leading up to the fight, rejects the theory that the bout is some sort of referendum on the legitimacy of his former organization.
"I don't feel any added pressure to represent Strikeforce," he said. "We're all in the UFC now."
One of the reasons for Cormier's confidence is he believes he'll have a major edge in conditioning. Mir concedes it might have been an issue in the past but that his decision to train outside of Las Vegas has made it a moot point.
"My physical shape isn't even comparable to what it was the last time I fought," he said.
Mir went through a conditioning evaluation a week after arriving in Albuquerque and admits it did not go well.
"I thought I was in OK shape, but I found out I wasn't," he said. "It didn't seem that hard at first, but halfway through it I was dizzy. A couple exercises I couldn't even complete."
He said his improved endurance throughout camp, combined with his natural skills, will make him difficult to beat.
"Fatigue makes cowards out of the strongest of men," he said.
Contact reporter Adam Hill at ahill@reviewjournal.com or 702-224-5509. Follow him on Twitter: @adamhilllvrj.