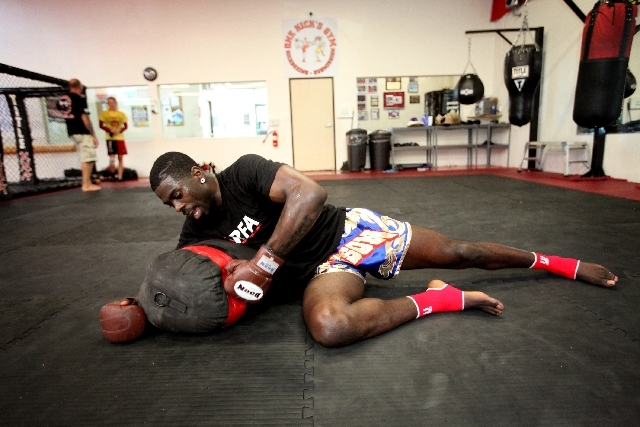 Mixed martial arts fighters who aspire for the major leagues of combat competition — Las Vegas-based Ultimate Fighting Championship — can choose among several minor league MMA organizations to develop their skills and build a résumé.
Brandon Thatch, a 27-year-old fighter from Denver, chose the Resurrection Fighting Alliance. Thatch said Nebraska-based RFA not only promoted fights, but also promoted fighters in their dreams of signing a deal with UFC.
"A lot of companies like to use us to help promote their own events. I liked that they promoted me as a fighter. They put a lot of energy into the fight and into me as a fighter," said Thatch, who signed a four-fight contract with UFC last month after winning an RFA fight in Denver in March.
The RFA is quickly carving out a business niche as the develop­mental feeder league for fighters trying to make the transition to the UFC. RFA is like the Triple A of MMA, where the organization's 20 signed fighters hone their fighting skills in hopes of making the big leagues of UFC. Or they are former UFC combatants trying to "resurrect" their fighting careers.
All RFA fighters are free to be released from their contracts if the UFC agrees to cut a deal with them. The UFC has only about 400 fighters under contract. Since its start in 2011, the RFA has seen four of its fighters get signed by the UFC.
To create exposure for its fighters, RFA has a broadcast deal with AXS TV, an entertainment network owned by Mark Cuban, billionaire owner of the National Basketball Association's Dallas Mavericks. AXS TV, which has broadcast mixed martial arts events since 2004, has 41 million subscribers and plans to cover about 40 combat fight events in 2013.
"With us, we'll give these guys national exposure," Resurrection Fighting Alliance President Ed Soares said. "There aren't too many organizations that have national TV deals in the United States and have a good working relationship with UFC."
RFA fighter Chidi Njokuani, a Dallas native based in Las Vegas, said he had options but signed with RFA because he liked the way the organization promoted its fighters.
"They're trying to get us TV time," Njokuani said. "They're looking out for us."
There is no formal business tie between the UFC and RFA. But UFC's former public relations director, Jen Wenk, now does PR work for RFA and helps RFA build its brand by using her former UFC media techniques.
"I run the fight week program same as the one I built at UFC, so they get to know that system and the stresses that go along with it," Wenk said. "Also, I teach them how to market themselves and build up their Facebook, Twitter, et cetera, so they have high metrics when they enter the UFC. I have that institutional knowledge."
Soares, who also manages powerhouse UFC fighters such as Anderson Silva, counsels RFA fighters on how to deal with issues outside the octagon, such as fight preparations.
Like any minor league, the RFA does not offer big money to its fighters. The top RFA fighters can earn about $30,000 a year with fight purses hitting $7,000. The RFA fighters also can get a cut of the ticket sales. Elite UFC fighters can make millions of dollars a year.
RFA staged its first event in December 2011 and hired Soares as president in September 2012.
The UFC declined to comment for this story.
RFA plans to hold seven fight events — or "shows," as Soares calls them — in 2013. Even more are slated for 2014, when RFA puts on 10 to 12 events, Soares said. The fights are held in Denver; Los Angeles; Kansas City, Mo.; and Kearney, Neb.
RFA's biggest source of revenue is ticket sales, while sponsorships also help, Soares said. Sponsors include Inca Kola, Let It Fly Energy drink and Miller Lite beer. Soares said he has lined up a major sports gear company as a sponsor and the deal will be completed soon.
Soares is also hunting for revenues overseas by packaging and selling TV content of RFA events to TV markets around the world.
"At the end of the day, we're a media company and building our content," Soares said.
Contact reporter Alan Snel at asnel@reviewjournal.com or 702-387-5273.