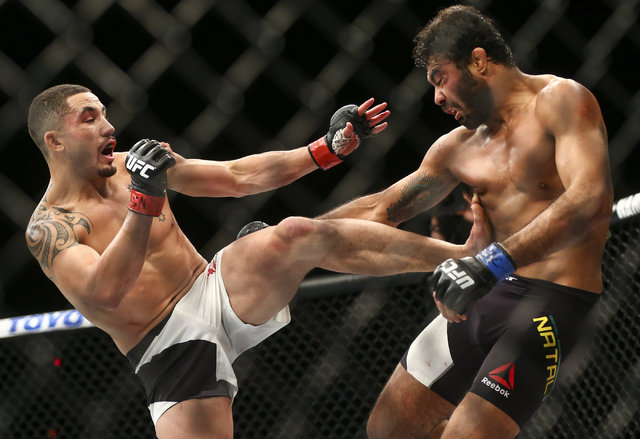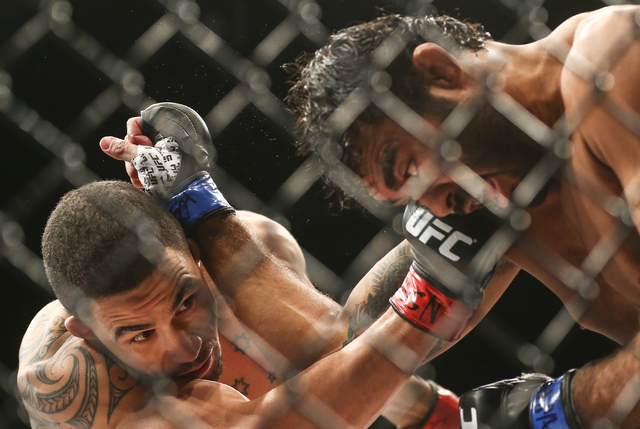 UFC middleweight Robert Whittaker has won seven straight fights to earn an interim title bout against Yoel Romero in the co-main event of UFC 213 on Saturday at T-Mobile Arena.
But Whittaker said back-to-back losses before the winning streak put him in this position.
"Those losses were vital not only as a fighter in my career but as a man outside the octagon," the 26-year-old said. "Those losses were the best thing that could have happened to me."
After losing a split decision to Court McGee in a 2013 welterweight bout, Whittaker was knocked out by Stephen Thompson in February 2014. He returned to the gym with a new sense of purpose and beat Mike Rhodes in June before realizing his body was outgrowing the division and would be better suited at middleweight.
He moved up to 185 pounds, and his career took off.
Everything started to click, and Whittaker started believing what others had been saying about him.
"I sat back after those losses and settled on a new training program and then had a couple wins and saw the progression I was making inside and outside the cage," he said. "People smarter than me told me that my potential was bigger than just winning a belt. Now I believe that, and that's what I'm striving for. The wins were in a fashion that left no debate that if I stick to the program, put the training in, do the right things and remain a good person, I'll get good results."
It's difficult to find any mistakes he has made in the past three years. Whittaker solidified himself as a contender with consecutive highlight-reel knockouts of Derek Brunson and Ronaldo "Jacare" Souza.
Still, a title shot appeared unlikely, as the middleweight division waited on a date for Michael Bisping to defend the belt against Georges St. Pierre, who was coming out of retirement and jumping the line of contenders. As time went on and the fight was not booked, Whittaker grew antsy.
He caught a break when Bisping and St. Pierre revealed injuries that would keep them sidelined until late 2017. Whittaker then jumped at the offer to fight Romero.
"When the division was log-jammed and there wasn't any movement, it was a tough time to be one of those top contenders," Whittaker said. "We weren't really working toward anything. Everyone needs an objective, and everyone needs a goal, and it was frustrating just kind of being at a standstill. Now it's a great time again."
Not that strapping a UFC belt around his waist will bring any sense of contentment. The New Zealander views every fight the same.
"I see all my hard fights as title fights. Every time I go in there, I'm fighting for my life," he said. "Just because it's for a belt it doesn't mean I'm going to all of a sudden give 110 percent. I'm giving that every fight. I've always been looking past the belt. That's always been my mentality. I want to be known as one of the best fighters ever. I don't just need a shiny medallion to tell me anything. I want to beat all the top-caliber dudes. I want to be undisputed for so long. I want that kind of legacy in this sport."
He can start to make his mark Saturday on a pay-per-view card that will be headlined by a women's bantamweight title bout between Valentina Shevchenko and Amanda Nunes.
Contact Adam Hill at ahill@reviewjournal.com or 702-277-8028. Follow @adamhilllvrj on Twitter.
International Fight Week schedule
Free and open to the public (unless otherwise noted)
Wednesday
Noon: Live taping of "UFC Tonight," Park Theater at Monte Carlo
1 p.m.: UFC 213 and "TUF 25" Finale open workouts, Park Theater
3:30 p.m.: Women of the UFC panel discussion, Park Theater
7:30 p.m: Live taping of "TUF Talk," Park Theater
Thursday
3 p.m.: UFC Legends panel, Park Theater
4 p.m.: "TUF 25" Finale weigh-ins, Park Theater
7:30 p.m.: UFC Hall of Fame Induction Ceremony, Park Theater
Friday
9 a.m.: UFC athlete autograph sessions, T-Mobile Arena lobby
11 a.m.: UFC Fan Experience, Toshiba Plaza
2 p.m.: UFC 213 weigh-ins, Park Theater
3 p.m.: "TUF 25" Finale live event (tickets required), T-Mobile Arena
Saturday
9 a.m.: UFC athlete autograph sessions, T-Mobile Arena lobby
Noon: UFC Fan Experience, Toshiba Plaza
3:30 p.m.: UFC 213 (tickets required), T-Mobile Arena