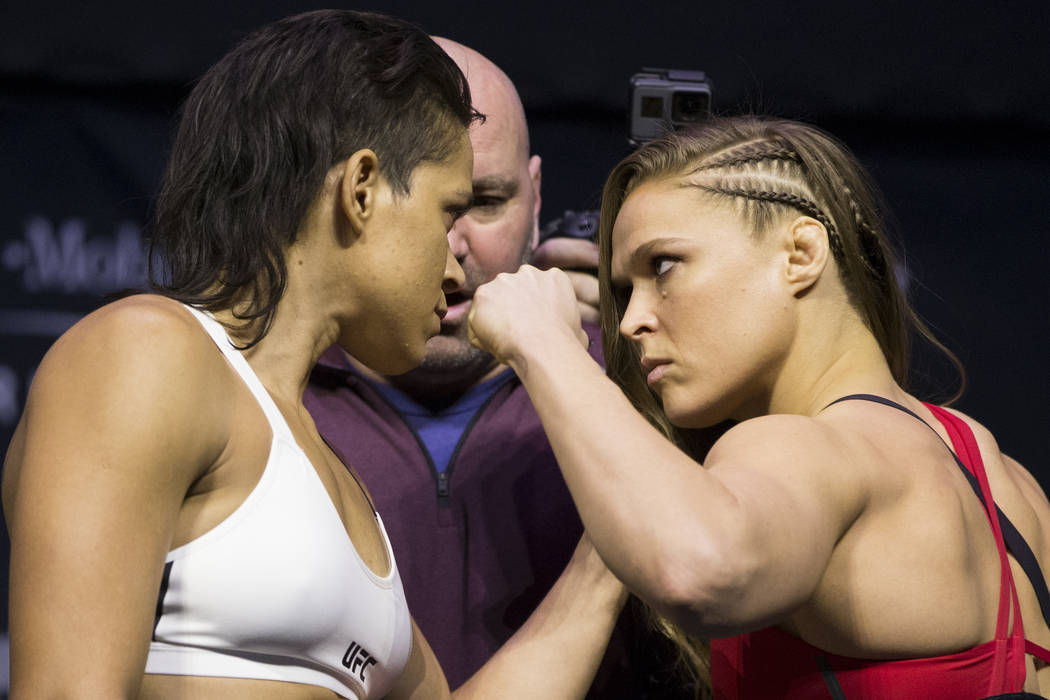 Former UFC women's bantamweight champion Ronda Rousey has rarely mentioned mixed martial arts or even acknowledged her career since suffering two devastating knockout losses to essentially end her days of real fighting.
The 31-year-old used the occasion of her induction into the UFC Hall of Fame at Palms on Thursday night to essentially read a thank you note to the many fans she accumulated during a dominant championship run that began when she was the first female ever signed to the organization.
"The only reason anything I did had any affect on the world is because you took the time and let it affect you," she read from a teleprompter in addressing her fans. "Words could never express how humbled I am that you allowed me to take this journey.
"I'm not the first person who had the ability to do it, but I am here because I'm the first person you took the time to watch, that you put the energy into supporting."
She was the first female inducted to the UFC Hall of Fame, an honor bestowed upon her just more than five years since she competed in the first women's bout in February 2013.
"May I be the first of many," she proclaimed. "Together, we have redefined what it means to be strong and to be sexy. We changed what it means to fight like a girl."
UFC president Dana White, who once famously told TMZ cameras he would never allow women into the UFC, introduced Rousey.
"I've learned many valuable lessons in my 18 years as president of the UFC, I've learned a lot of lessons," White said Thursday night. "The one that comes to mind tonight is, 'Never say never.'
"In fairness, when I said women would never fight in the UFC, I had never met Ronda Rousey."
Rousey, a bronze medalist in judo at the Olympics in 2008, tore through the amateur circuit and quickly racked up dominant submission wins when she first transitioned to mixed martial arts.
She then found White cageside at an event and demanded a meeting where she insisted she would change his mind about female fighting.
White eventually relented and Rousey not only destroyed all comers in the cage, but exploded into the pop culture mainstream.
She was on television shows, movies and magazine covers not long after her debut.
"She started by changing my mind and she ended up changing the world," White said. "She broke barriers, smashed records and put together the most dominant run anyone had ever seen in combat sports at the time. Ronda put women's fighting on the map and blazed a trail for the next generation to follow. Outside the octagon, everywhere I went in the world, the only thing anybody wanted to talk about was Ronda Rousey. She was the 'it girl' of the sports world. But she was so much more than that. She inspired millions of girls to believe they could do whatever they wanted."
There are now four weight classes for women in the UFC even though Rousey has moved on to acting and professional wrestling.
"There are 90 women currently on the UFC roster, largely because Ronda Rousey broke that barrier," host Jon Anik said in introducing White.
While Rousey now rarely discusses any aspect of her fighting career, and never even formally retired after her last loss in December 2016, she does hope her legacy lives on.
"When someone tells you something can not be done, I want you to prove them wrong," she said. "Every time I walked into that cage, I was hoping to make you proud. We have had this incredible journey and it really was an honor to be able to live it with you."
Rousey, the Modern Era inductee, was the only honoree to mostly stick to a script in a fun and often bizarre two-hour ceremony in front of fans and dignitaries.
Late producer Bruce Connal was honored by his family, who spoke as much about his warmth as they did his immense accomplishments.
UFC co-founder Art Davie wove a meandering tale about the bizarre circumstances of UFC 1 and some of the early characters that made the venture successful.
Pioneer Era fighter Matt Serra, one of the more colorful personalities in the sport, alternated between cursing at his friends in the audience, pouring his heart out about his wife and rubbing his enshrinement in the face of a doubting high school guidance counselor.
The 2011 fight between Dan Henderson and Mauricio "Shogun" Rua was inducted to the Fight Wing.
More MMA: Follow all of our MMA and UFC coverage online at CoveringTheCage.com and @CoveringTheCage on Twitter.
Contact Adam Hill at ahill@reviewjournal.com or 702-277-8028. Follow @AdamHillLVRJ on Twitter.