Rory MacDonald makes case for title shot
October 6, 2014 - 5:47 pm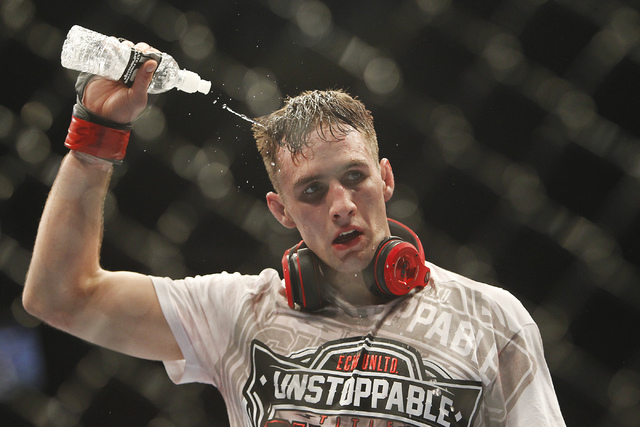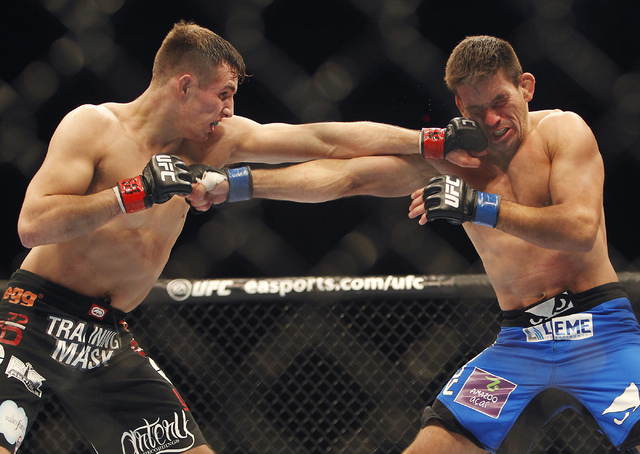 Ultimate Fighting Championship welterweight contender Rory MacDonald made his case to finally earn a shot at the 170-pound title with a great performance in a third-round knockout of former Strikeforce champ Tarec Saffiedine in the main event of Fight Night 54 on Saturday night.
The 25-year-old Canadian also made a pretty good argument during the post-fight news conference in Halifax, Nova Scotia.
"I really don't see anyone else," MacDonald said. "I beat some really good guys this year and I think beating a guy like Tarec, I've said in many interviews, he's one of the best in the world in the welterweight division."
The victory over Saffiedine was the third straight in 2014 for MacDonald, who spent a great deal of time as the top contender when his good friend and training partner Georges St. Pierre was the champion.
MacDonald likely would have finally received a shot at the title when St. Pierre vacated the belt to take a leave of absence from the sport, but he suffered a split decision loss to Robbie Lawler at UFC 167, the same night St. Pierre competed for the final time.
The crowded field of contenders has finally started to clear out after Lawler lost a close decision to Johny Hendricks for the vacant belt in March.
Hendricks has not defended the belt due to injury, but will return in a rematch against Lawler on Dec. 6.
Lawler knocked off contenders Jake Ellenberger and Matt Brown as he has awaited Hendricks' return. MacDonald took care of Demian Maia, Tyron Woodley and then Saffiedine.
It seems pretty clear he is now the last contender standing.
"I feel like I had a good fight against (on Saturday, and hopefully the UFC takes notice and puts me in for that title shot so I can bring it back here to Canada."
That is almost certainly the plan except for one possible snag.
With the timing of the fight between Hendricks and Lawler, the winner would likely fight MacDonald in March or April. Rumors are beginning to surface that St. Pierre, who is currently recovering from knee surgery, might like to return to the UFC around that time.
He would almost certainly get an immediate opportunity to reclaim the belt, setting back MacDonald's title hopes yet again.
OTHER RESULTS — MacDonald's win over Saffiedine headlined one of two international UFC events on Saturday.
Also on the Nova Scotia card, Raphael Assuncao won all three rounds of a unanimous decision over Bryan Caraway in a clash of bantamweight contenders.
Las Vegan Anthony Njokuani dropped his second consecutive fight with a unanimous decision loss to Daron Cruickshank in a lightweight bout.
Saturday's other event took place in Stockholm and proved to be a tough night for the local fighters.
Three of the four main card bouts featured Swedish fighters and all three were knocked out in the first round.
Niklas Backstrom was stopped by Mike Wilkinson in a featherweight bout, light heavyweight Ilir Latifi lost to Jan Blachowicz, and Akira Corassani got knocked out by featherweight Max Holloway.
The biggest story of the card, however, happened in the main event as Icelandic super prospect Gunnar Nelson suffered the first loss of his career against veteran welterweight Rick Story in a split decision that had the judges in major disagreement.
One judge gave had Story winning four of the five rounds while another gave him all five, including a 10-8 score for dominance in one of the frames.
The third judge somewhat bizarrely awarded three of the rounds to Nelson.
Story was just happy to get the victory.
"At this point, every performance is going to be one of the most important for my career," he said. "Trying to get up to the title shot, you can't take any bumps in the road. I can't take any more losses. I've lost too many times, and it's hard every single time, so it's just easier to win."
GRICE BACK TO WORK — Matt Grice will likely never again compete in the UFC, but he has returned to his day job more than a year after a life-threatening car accident.
The 33-year-old Oklahoma City police was rear-ended while he was stopped at a light in Shawnee, Okla., on Sept. 8, 2013, sustaining a severe brain injury.
He will be eased back into work with desk shifts until a more permanent assignment is figured out.
BURKMAN RETURNS TO UFC — Josh Burkman, a Season 2 contestant on "The Ultimate Fighter" and 10-fight veteran of the organization, has returned to the UFC to fight welterweight contender Hector Lombard at the MGM Grand Garden on the UFC 182 card on Jan. 3.
Burkman went 5-5 during his time in the UFC, which lasted from 2005 to 2008. He was released following three straight losses, but has gone 9-2 outside the organization. Burkman has been under contract with World Series of Fighting since 2012 and was released from his contract to sign with the UFC.
Contact reporter Adam Hill at ahill@reviewjournal.com or 702-224-5509. Follow him on Twitter: @adamhilllvrj.