Rory MacDonald returns to cage for UFC Fight Night 89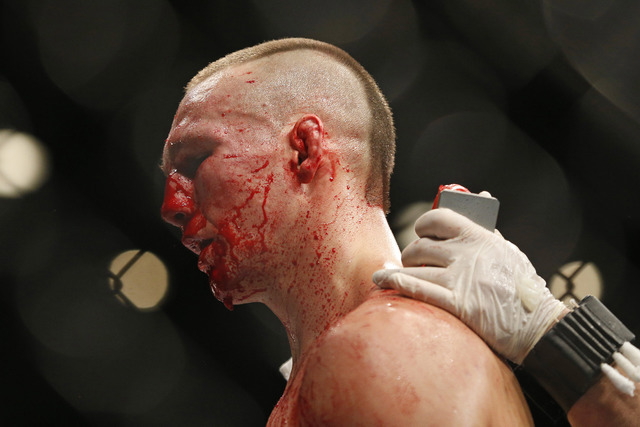 Rory MacDonald will return to the cage Saturday for the first time since losing an epic fight to welterweight champion Robbie Lawler in July in a bout that saw MacDonald's nose pulverized and his championship dreams shattered.
MacDonald will put his immense talent to the test against fellow contender Stephen Thompson in the main event of UFC Fight Night 89, the organization's first card in Ottawa, Ontario.
Fans can only hope it's as exciting as MacDonald's last fight.
When an exhausted, frustrated and blood-covered MacDonald left the cage that July night after the fight of the year and perhaps one of the best in UFC history, it appeared he would need a lot of time to recover.
And though MacDonald has been out of action for more than 11 months, the layoff didn't have much to do with his physical recovery.
"I was back to normal in five days besides my nose being broken for a while," he told UFC Tonight this week. "I was training the next week. It was a very hard and emotional fight with ups and downs in it. It affected my personality a little, but everything was for the best.
"That fight made me a stronger fighter and stronger person."
It also strengthened his resolve to become the world's best fighter. He'll get to see where he's at in that regard against Thompson, who represents a huge challenge in MacDonald's final fight on his UFC contract.
The 26-year-old has spoken openly about his desire to get the best deal possible, whether that's in the UFC or elsewhere.
A victory becomes important in the UFC's 170-pound rankings and for MacDonald's market value. While he is unquestionably one of the best talents in the welterweight division, there's usually not much leverage for fighters with two consecutive losses.
MacDonald insists he has not allowed his contract status to become a distraction.
"I don't think I've felt this focused in a long time," he said. "I feel happy doing it. Those factors will make me shine on Saturday night."
That won't be easy. Thompson, one of the sport's flashiest and most effective strikers, is on a tear. He has won six straight fights since his only career loss in 2012, with four of them by knockout.
Thompson, 33, was 57-0 as a professional kickboxer. He is coming off a first-round knockout of former champ Johny Hendricks in February.
MacDonald knows a win over such a worthy adversary could put him in the mix for another chance at a title, provided he stays in the organization
"If I end up staying with the UFC and I have a successful fight, (I'll ask for a title shot)," he said. "I'll definitely have something to say about that."
Much of MacDonald's success has come by using one of the sport's most effective jabs to keep opponents off balance and on the outside. That might be a problem against Thompson, who loves to attack when he has space.
MacDonald knows he might need a different strategy.
"If I can clinch up at all, that's in my favor," he said.
Should MacDonald's strategy be effective, he'll be well on his way to an opportunity to test his plan at the bargaining table.
Also on the main card, which airs on Fox Sports 1 at 7:30 p.m., Donald Cerrone will take on welterweight Patrick Cote.
Four fights from the preliminary card will air on Fox Sports 2 at 5:30, with the remaining four fights streaming live on Fight Pass at 3:30.
Contact reporter Adam Hill at ahill@reviewjournal.com or 702-224-5509. Follow him on Twitter: @adamhilllvrj