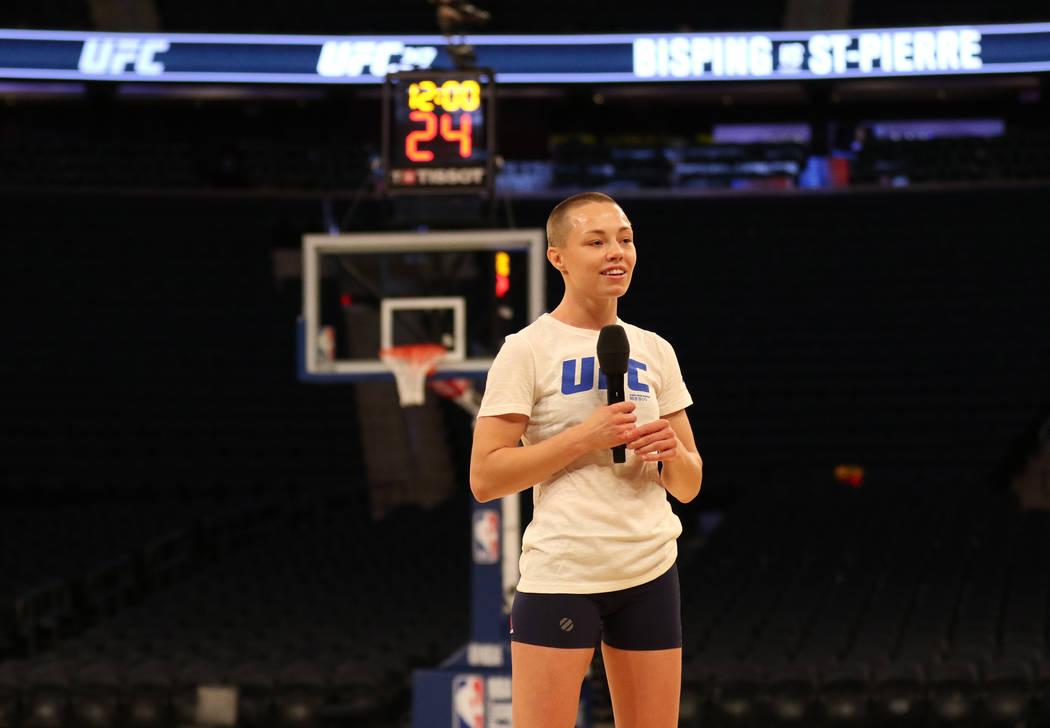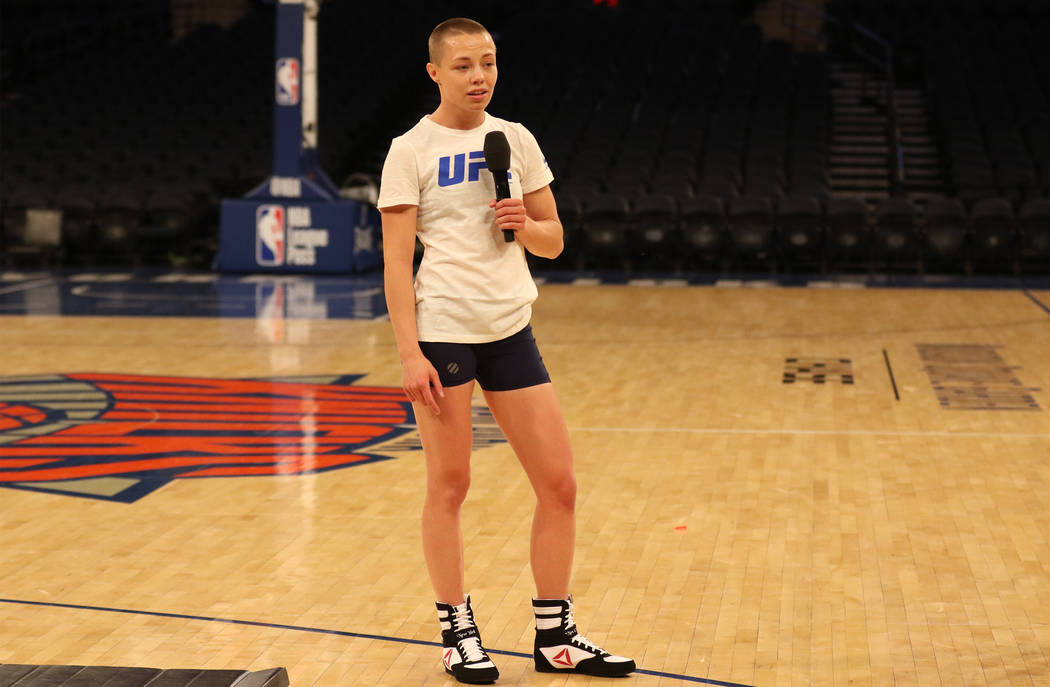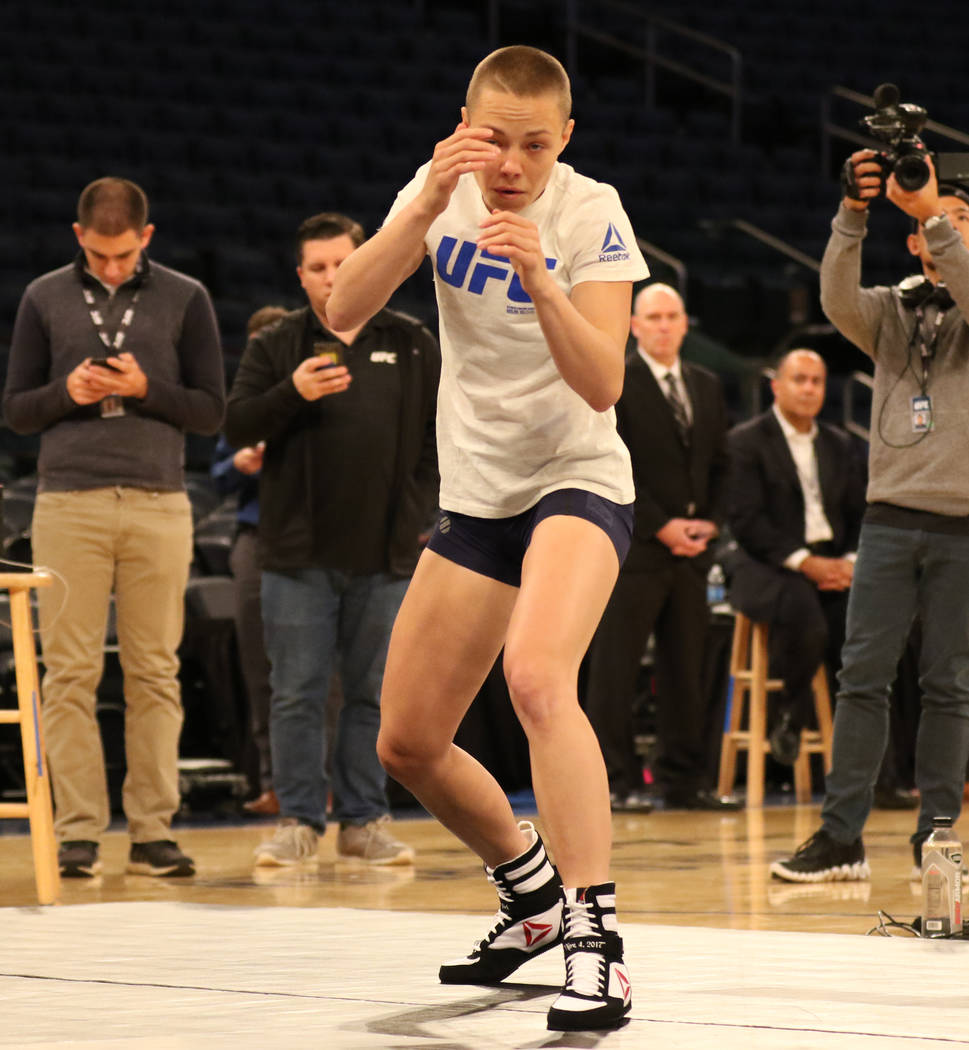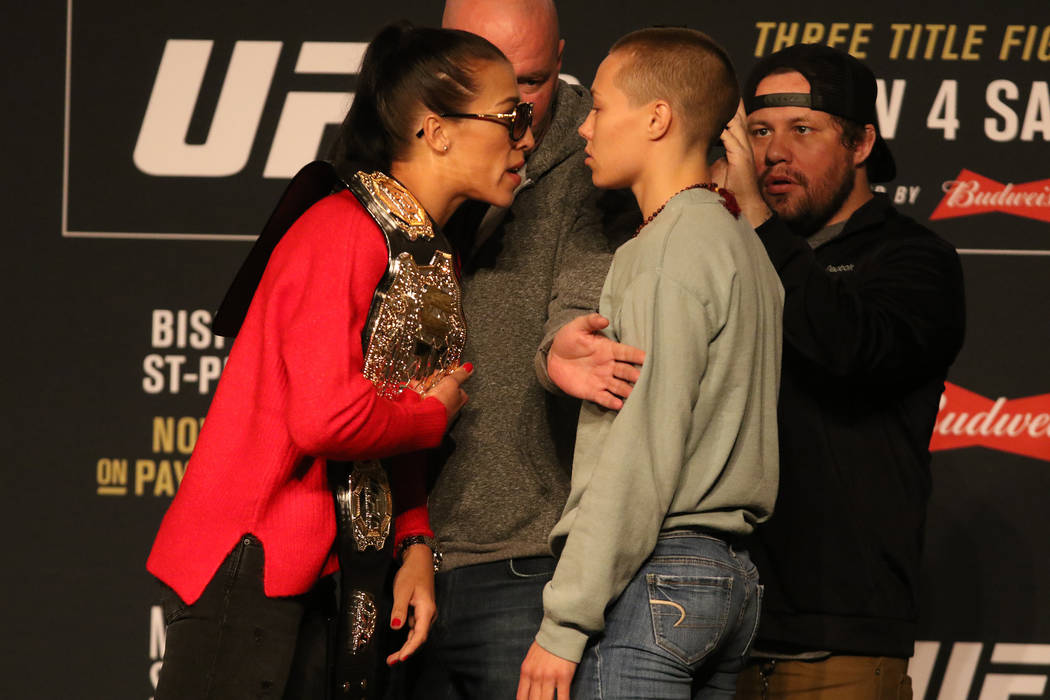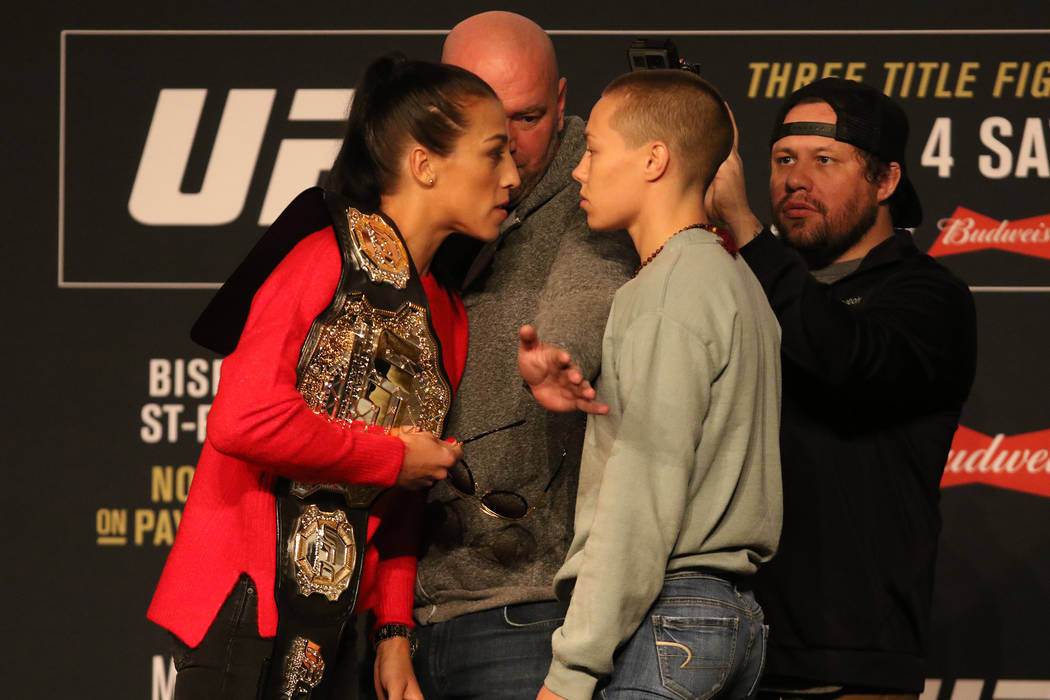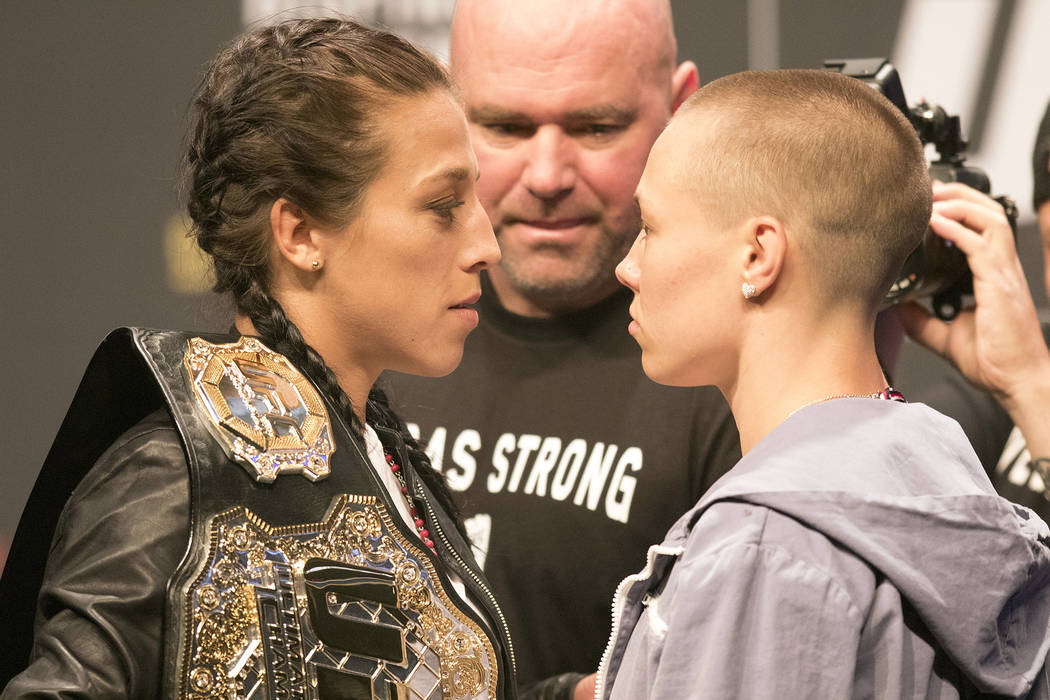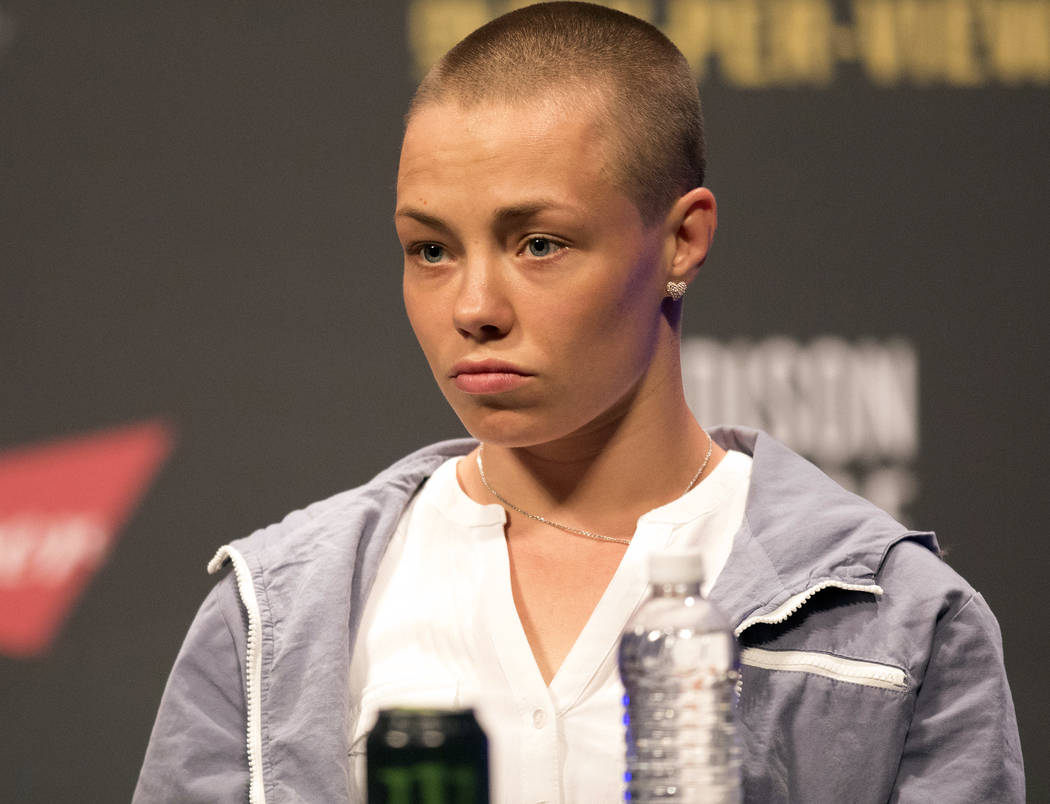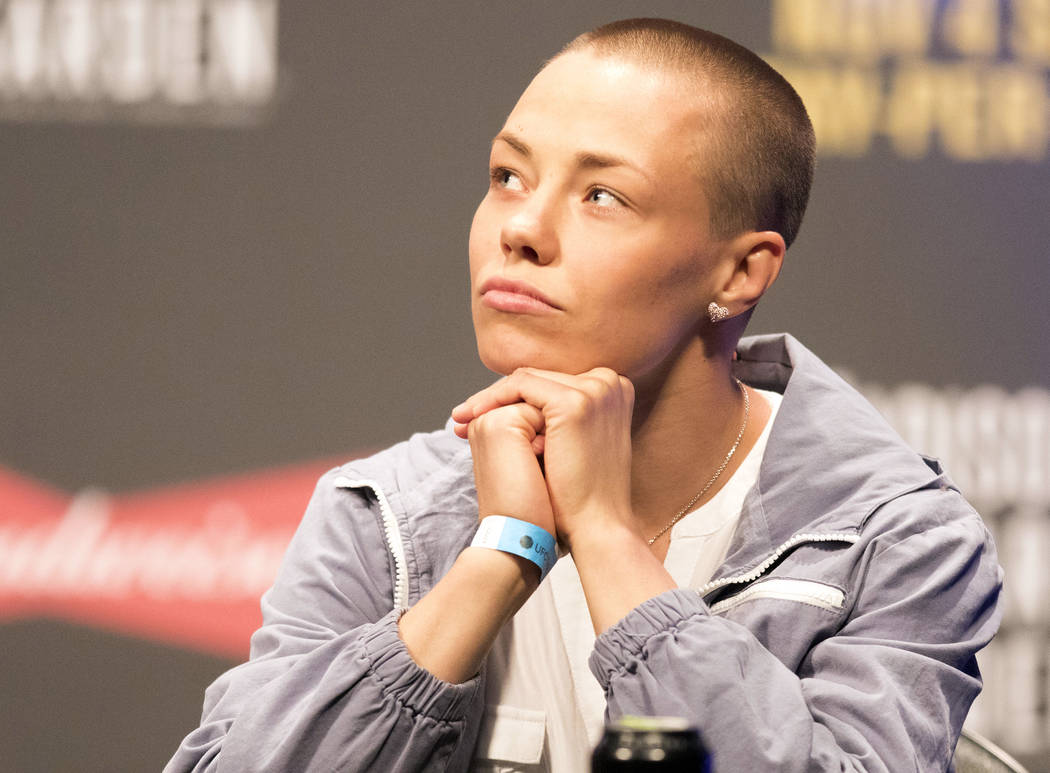 NEW YORK — Rose Namajunas will be just fine whether or not she upsets Joanna Jedrzejczyk to win the women's strawweight title Saturday.
But it hasn't always been that way for the rising 25-year-old star who has struggled with her mental health and become an outspoken advocate on the issue.
Namajunas said she thinks it's important to not attach her well-being to how she performs.
"I'm successful every day because I look in the mirror and I'm happy with who I am," she said in a locker room at Madison Square Garden ahead of her UFC 217 bout. "It has nothing to do with my record or whatever. I don't even know what my (expletive) record is. Really, to me, fighting is special because that's what I enjoy, and every fight is a memory. For me, it's just a personal journey."
The early part of that journey traversed some brutal terrain. Namajunas endured a violent and sexually abusive childhood. She also saw her schizophrenic father separated from her family and eventually die as a result of his mental struggle.
She eventually found a passion in martial arts and discovered a natural talent. Namajunas landed a spot on "The Ultimate Fighter" at age 22 and advanced to the finals to fight for the inaugural strawweight belt.
The Milwaukee native lost, but she took away valuable lessons that might help her as she prepares for her second title shot.
"I've overcome some demons in my path, and every day I wake up and I'm a (expletive) champion, so that's just my mindset all the time," Namajunas said. "I think this fight could be a great PSA announcement for mental health awareness. I think I'm a champion for that and just overcoming a lot of demons in my past. I'm a lot stronger from it."
Jedrzejczyk, a dominant champion who can tie Ronda Rousey's record with a sixth consecutive title defense, has provided a reminder of why it can be so difficult for people to speak publicly about their struggles.
During a faceoff at a promotional appearance for the fight, the champion called Namajunas "mentally unstable," a line of attack she recycled on a conference call last week.
"I think you have some personal problems, and I will show you what's your problem, OK?" Jedrzejczyk said. "You're never going to be a champion.
"You are not stronger mentally. You are mentally unstable, and you are broken already, and I will break you in the fight."
Namajunas said she wasn't surprised by Jedrzejczyk's comments. But she added it was personal.
"For me, it's not something that's taken lightly," Namajunas said. "My family has been torn apart by this. My dad died, and he wasn't in my life because of it, so it's been something that my entire family has been fighting against since I can remember. So this fight means a lot to me, and it's not just about the belt. It's more than that, and I just want to inspire other people to (expletive) do whatever the (expletive) you want to do, and do what makes you happy, and be a good person and you can overcome anything."
Namajunas wouldn't say whether Jedrzejczyk's comments went too far.
"To me, it doesn't matter," she said. "I think being mean in general is over the line, but that's just my own personal opinion. At the same time, I'm going in there to punch her in the face, so that may be crossing a line as well. I'm not here to judge anybody.
"I'm great at this (expletive). This is what I've been born to do. I might be crazy, but I'm dangerous, too."
The bout is part of a pay-per-view card headlined by the return of former welterweight champion Georges St. Pierre. He will fight middleweight champion Michael Bisping.
More MMA: Follow all of our MMA and UFC coverage online at CoveringTheCage.com and @CoveringTheCage on Twitter.
Contact Adam Hill at ahill@reviewjournal.com or 702-277-8028. Follow @adamhilllvrj on Twitter.
UFC 217
Saturday's main card bouts at Madison Square Garden:
— Michael Bisping (31-7) vs. Georges St. Pierre (25-2), for Bisping's middleweight title
— Cody Garbrandt (11-0) vs. T.J. Dillashaw (15-3), for Garbrandt's bantamweight title
— Joanna Jedrzejczyk (14-0) vs. Rose Namajunas (7-3), for Jedrzejczyk's women's strawweight title
— Stephen Thompson (13-1-1) vs. Jorge Masvidal (32-12), welterweights
— Johny Hendricks (18-7) vs. Paulo Borrachinha (10-0), middleweights