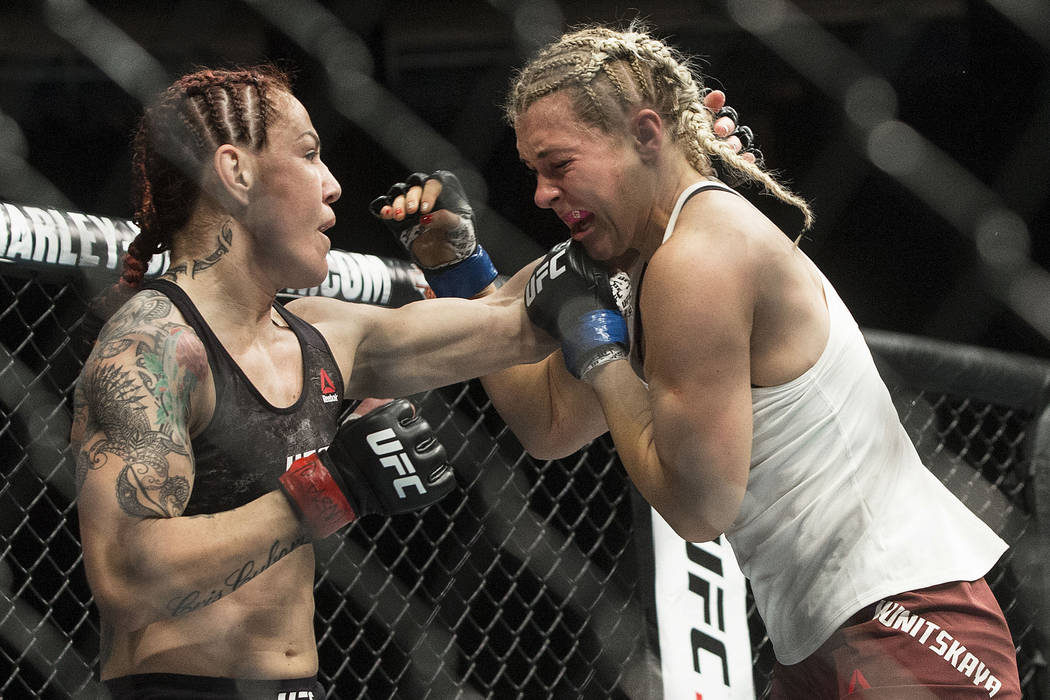 A new wave of young stars emerged with impressive performances on the UFC 222 card at T-Mobile Arena on Saturday night.
An established champion also delivered another dominant performance to solidify her grip on the title.
Cris "Cyborg" Justino recorded her 20th straight win, finishing her 19th opponent during that span, with a first-round knockout of newcomer Yana Kunitskaya.
It was enough to chase another contender back to 135 pounds as Kunitskaya said she was "nervous" facing someone with the size and power of Justino.
Justino is now likely to face bantamweight champion Amanda Nunes in a battle of titleholders.
While Justino was once again making the spectacular look routine, several new stars made the most of their moment in the spotlight of a pay-per-view card in Las Vegas.
Brian Ortega wasn't about to let the opportunity go to waste.
The 27-year-old Southern Californian became the first fighter to finish Frankie Edgar when he knocked out the former champion in the first round.
Ortega's spectacular performance earned him the next shot at Max Holloway's featherweight title. It also drew the praise of his boss.
"That was amazing," UFC president Dana White said. "He's so well-rounded. You thought going in that if he was going to beat Frankie, it would be by submission and he goes out there and knocks him out in the first round. He's super talented and has an incredible personality. I'm excited about that title fight."
It could very well happen on the July card in Las Vegas. Ortega said he would be ready.
"As much as I dream, I have the same amount of nightmares when I go in there fight week," Ortega acknowledged. "I'm like, 'Maybe I'm going to be that guy on all the highlight reels getting knocked out. Maybe I'm going to get submitted. What if something bad happens? How am I going to react?' Then the other half of the time, I'm dreaming about all the good things."
So far, the methodology has worked. Ortega improved to 14-0 overall, finishing all six opponents since he signed with the UFC in 2014.
Sean O'Malley, 23, may be further away from a title shot, but he continued to win over fans with another dynamic win — followed by conducting a post-fight interview as he lay flat on his back in the cage receiving medical attention.
After showing off his flashy striking in the first two rounds, the bantamweight found a way to get to the final bell and win the decision over Andre Soukmanthath despite a foot injury suffered early in the third round.
O'Malley has now proven he belongs with a pair of quality wins in the UFC after he was discovered on "Dana White's Tuesday Night Contender Series" with Snoop Dogg famously screaming his name over and over after a spectacular knockout.
"That kid is fun to watch," White said. "He's so exciting and the crowd really gets into his fights."
Mackenzie Dern and Alexander Hernandez entered their UFC debuts on Saturday with varying degrees of hype, with Dern garnering far more headlines.
Both scored solid wins, but it was Hernandez who truly raised eyebrows with a 42-second knockout of fringe lightweight contender Beneil Dariush.
Dern, one of the most accomplished jiu-jitsu practitioners to compete in the UFC, clinched a split-decision win in the third round over strawweight Ashley Yoder with some solid grappling.
"I feel great," the 24-year-old said. "I'm happy to win. I put a lot of pressure on myself, so of course I wanted to get the cherry on top with the submission, but I'm always trying to show I'm an all-around fighter.
"I don't want the fast-track. I want to take my time to work my way up, but I do want to fight soon with someone who will present me a different challenge and that's what I want to help me become the type of fighter I want to be."
It was a comforting night for those worried about the future of the organization with Ronda Rousey and Brock Lesnar now pro wrestlers and Conor McGregor pondering his future.
"One of the things we've always been good at is cultivating young talent and I think we've done even better at that over the last couple years," White said.
That was on display Saturday night.
More MMA: Follow all of our MMA and UFC coverage online at CoveringTheCage.com and @CoveringTheCage on Twitter.
Contact Adam Hill at ahill@reviewjournal.com or 702-277-8028. Follow @AdamHillLVRJ on Twitter.
UFC 222 Facts and Figures
Attendance: 12,041
Gate: $1,367,672
Fight of the Night Bonus: Sean O'Malley vs. Andre Soukhamthath
Performances of the Night Bonus: Brian Ortega, Alexander Hernandez