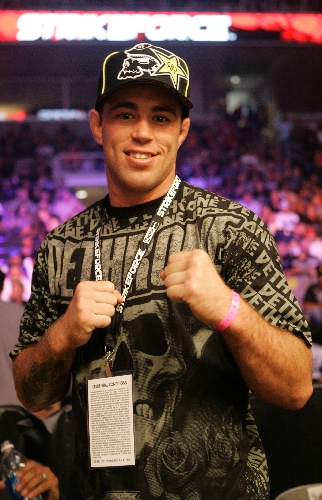 ANAHEIM, Calif. — Jake Shields has earned 14 straight wins and multiple titles in two weight classes, but his success in mixed martial arts has been like a tree falling in a forest with no one around to hear it.
Shields, 31, dominated opponents for nearly five years in EliteXC and Strikeforce, organizations that have challenged the Ultimate Fighting Championship's stranglehold on the MMA market. The welterweight is set to leave behind his anonymity in his UFC debut against Las Vegan Martin Kampmann at UFC 121 on Saturday at the Honda Center.
"I've been in this sport forever and never really got the recognition I felt I deserved. It's nice to finally be out here fighting in the premier organization," Shields said. "It's been a long time coming. Of course, there's some negatives that go along with the fame, but I've worked hard and I think it's my time."
Shields became the most prized free agent in MMA when his Strikeforce contract ran out this summer. UFC president Dana White swooped in to sign him.
White has said a victory Saturday would vault Shields to the No. 1 welterweight contender, setting up a fight against the winner of the Georges St. Pierre-Josh Koscheck title bout.
In fact, White thinks Shields has already done enough to warrant a title shot because of his winning streak and a dominant decision over former UFC star Dan Henderson. But the championship bout had already been set between St. Pierre and Koscheck, the current coaches on "The Ultimate Fighter" reality TV show.
Kampmann isn't exactly a walkover opponent.
"I think they definitely picked the wrong opponent if that's the plan," said Kampmann, 4-1 in his last five bouts. "They should have picked somebody else. I'm not a steppingstone. I'm here to achieve my goals, and that's to get as far as possible in the UFC."
Shields, who abandoned the Strikeforce middleweight title, said his biggest issue with his former employer was a lack of challenging fights. He had floated between welterweight and middleweight to seek quality opponents.
His move to the UFC means he can settle in at his natural 170-pound class, though he didn't rule out the possibly of taking fights at 185.
"I've had a good career, but I want to be the No. 1-ranked fighter in the world," he said. "I know several polls have me ranked 2 or 3 in two different weights, but I'm looking for the No. 1 spot."
Like many MMA fighters, including Saturday's main-event heavyweight title combatants Brock Lesnar and Cain Velasquez, Shields was a collegiate wrestler.
The lifelong Californian, who grew up in a rural Sierra Nevada town, developed his style by blending his wrestling skills with the Brazilian jiu-jitsu techniques he learned training with Cesar Gracie Fight Team in San Francisco
He calls the style "American jiu-jitsu." Others call it boring.
Shields hopes appearing on the big stage will be an opportunity to introduce himself to a wider fan base.
"I want to show them the heart I have," he said. "A lot of people will be watching me for the first time, and I want to go out there and have my best fight ever."
Contact reporter Adam Hill at ahill@reviewjournal.com or 702-224-5509.