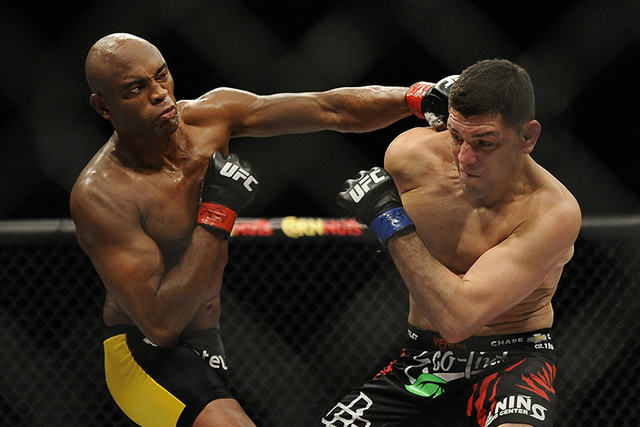 Former UFC middleweight champion Anderson Silva triumphantly returned from a 13-month layoff due to a horrific leg injury to earn a unanimous decision victory over Nick Diaz in the main event of UFC 183 at MGM Grand on Saturday.
The feel-good comeback story took a dramatic turn Tuesday afternoon.
Silva tested positive for a steroid during an out-of-competition test before the fight.
The Ultimate Fighting Championship released a statement about the results:
"On (Tuesday) the UFC organization was notified by the (Nevada Athletic Commission) that Anderson Silva tested positive for Drostanolone metabolites on his Jan. 9 out-of-competition drug test. UFC's understanding is that further testing will be conducted by the Commission to confirm these preliminary results. … UFC is disappointed to learn of these initial results.
"The UFC has a strict, consistent policy against the use of any illegal and/or performance enhancing drugs, stimulants or masking agents by its athletes."
The Review-Journal obtained a copy of the lab results, which also indicated Silva tested positive for androstane. NAC officials confirmed the results.
Silva's opponent also failed his drug test, though that development was far less surprising.
Diaz's post-fight drug screening indicated the presence of marijuana metabolites. He is an admitted marijuana user with a prescription to use the drug in his native California.
He was suspended for failed marijuana tests by the NAC in 2007 and 2012.
Contact reporter Adam Hill at ahill@reviewjournal.com or at 702-224-5509.