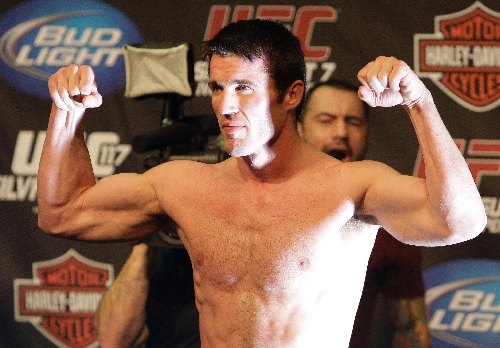 Ultimate Fighting Championship middleweight contender Chael Sonnen failed a drug test conducted last month before his loss to champion Anderson Silva at UFC 117 in Oakland, Calif.
The story, first reported by sherdog.com on Sunday, has been confirmed by several media outlets. An official statement from the California State Athletic Commission is expected today.
SportsIllustrated.com quoted CSAC executive director George Dodd as saying the test indicated "well above normal levels of testosterone."
Sonnen probably will be fined $2,500 and suspended until Sept. 2, 2011, pending an appeal. He will have 30 days from the date he received notice of the positive test, reportedly Sept. 17, to file an appeal.
The next commission meeting, which would be Sonnen's first chance to appeal, is scheduled for Dec. 2 in Sacramento.
On Aug. 7 Sonnen controlled Silva for 4½ rounds before being submitted by a triangle choke late in the fifth and final round. Due to his strong performance, he was awarded a rematch, which was expected to occur in early 2011.
The positive test casts obvious doubt on that potential fight.
Sonnen competed in Las Vegas at UFC 109 in February. Keith Kizer, executive director of the Nevada Athletic Commission, said Monday that Sonnen was tested after that bout and was clean.
The 33-year-old Oregonian made waves for his trash talk leading up to the Silva fight. Ironically, one of Sonnen's major talking points was criticizing Lance Armstrong, saying the cyclist caused his testicular cancer by using performance-enhancing drugs.
Sonnen and UFC president Dana White could not be reached for comment.
■ ESCUDERO CUT — "The Ultimate Fighter" Season 8 champion Efrain Escudero was released by the UFC on Monday. The lightweight confirmed the news on Twitter and mentioned he is seeking employment elsewhere.
"I was released by the UFC today," Escudero post read. "Speaking to strikeforce and bellator. Taking a week off and make my way back!!!!!"
Escudero lost to Charles Oliveira on a card in Austin, Texas, last week. He also failed to make weight. It was the second loss in three fights for the 24-year-old.
■ WEC 52 OFFICIAL — World Extreme Cagefighting star Urijah Faber will fight in Las Vegas for the first time since December 2007 when he takes on Takeya Mizugaki in the main event of WEC 52 at The Palms on Nov. 11.
Faber, the former featherweight champion, will make his debut at bantamweight. The bout was slated for WEC 50 last month, but was postponed due to an injury to Faber.
Another former champion, Brian Bowles, will appear on the card against Wagnney Fabiano. Also, Chad Mendes will meet Javier Vazquez and Josh Grispi will take on Erik Koch.
■ DALEY SIGNS — Former UFC welterweight contender Paul Daley has signed a multifight deal with Strikeforce.
Daley has won two fights on the minor league circuit since being released from the UFC in May for punching Josh Koscheck well after the bell of a bout won by Koscheck by unanimous decision.
Contact reporter Adam Hill at ahill@reviewjournal.com or 702-224-5509.