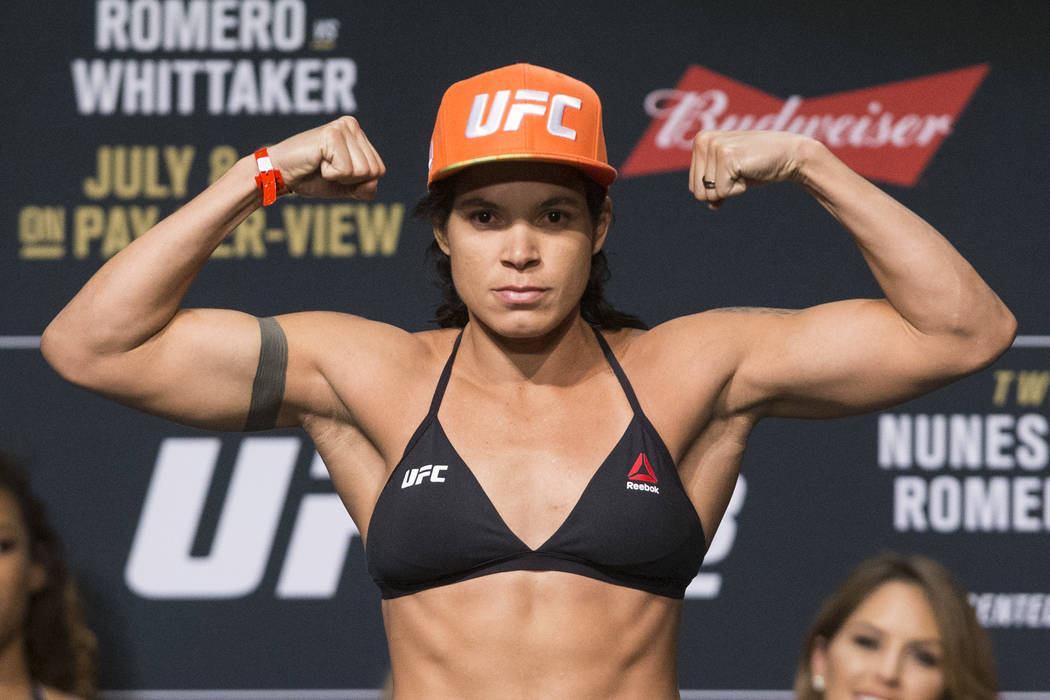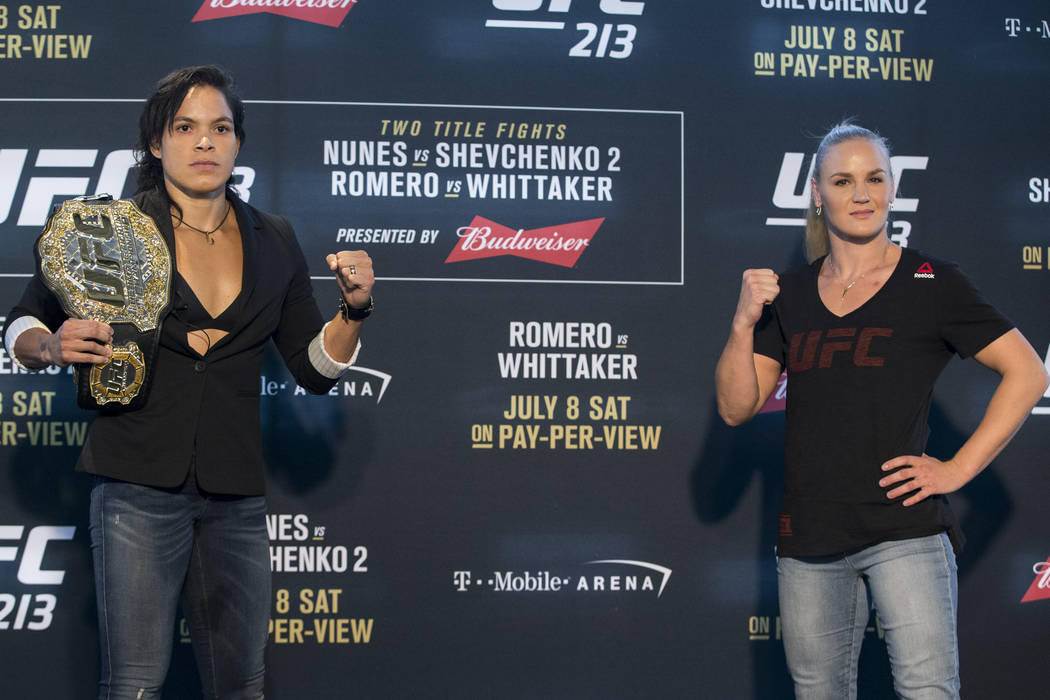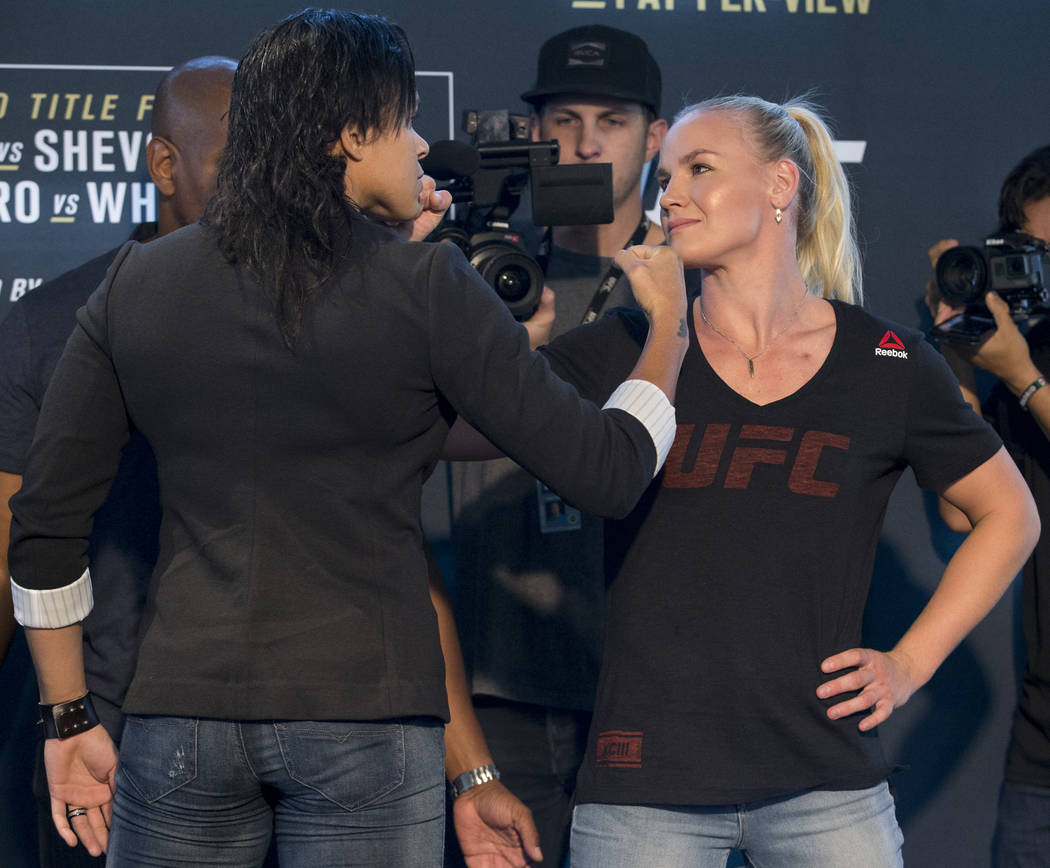 While Saturday will mark the third time Amanda Nunes has fought in a main event at T-Mobile Arena in about a year, UFC 213 is the first time that she's the true headliner of a card.
She's ready for the opportunity when she puts her women's bantamweight title on the line against Valentina Shevchenko.
"I feel like it's supposed to be this way," Nunes said Thursday. "I'm the champion. I'm supposed to have attention. Everybody in the UFC that has the belt is supposed to get that kind of attention. That's one of the reasons everybody wants the belt."
Nunes won the belt in the main event of UFC 200 in July 2016 with a first-round submission of Miesha Tate.
But the bout was the emergency main event after Jon Jones was pulled from his fight against Daniel Cormier three days before the card.
Her first defense came against former champ Ronda Rousey in December. But Nunes was little more than a footnote to Rousey's return from her first career loss.
Nunes then spoiled the storybook ending with a brutal 48-second pummeling to knock out Rousey for the second straight time and solidify her grip on the title.
"I've proven myself," Nunes said. "I've dominated in the best division, and I will keep proving it until people understand I'm here to stay. Valentina is the next step. I will keep it going."
There's little reason to doubt her. The 29-year-old has won five straight fights. The only one to get out of the first round was a top contender bout against Shevchenko in March 2016.
After winning the first two rounds, Nunes fatigued and almost allowed Shevchenko to steal a late win. That might be why Shevchenko will be a slight favorite in the rematch.
Nunes cautions those who believe the third round of the first fight is an indication of what could happen Saturday.
"If you look back, I beat her by unanimous decision," Nunes said. "There's nothing to talk about with that fight. Now I'm done with that fight, and I'm moving forward. After that fight, I became a champion, and I will make Valentina understand I'm the best in the world now.
"My (last two) fights have made me stronger mentally and ready for anything. UFC 200 was huge, and UFC 207 was even bigger. I'm ready for anything after that."
That means securing her legacy in the sport.
"I'm the kind of fighter that has to keep improving even now that I'm champion," she said. "It's very important to me to keep this belt. It's a dream come true, and I have to make sure to keep it because I want to make history and maybe one day break records. That's what I'm trying to do now."
That starts with putting the questions about the first fight against Shevchenko behind her. Nunes believes a convincing victory will do that.
"I will walk away with the belt," she said. "This is such a huge moment for me. If I have to, I'll leave my blood behind in the octagon. But I won't leave my belt."
The bout headlines a pay-per-view card that includes a middleweight title bout between Yoel Romero and Whittaker.
The pay-per-view portion of the card begins at 7 p.m. The first bout begins at 3:30 p.m., with Fox Sports 1 airing four fights from the preliminary card at 5.
Contact Adam Hill at ahill@reviewjournal.com or 702-277-8028. Follow @adamhilllvrj on Twitter.
UFC 213
Main card bouts Saturday at T-Mobile Arena, with the telecast at 7 p.m. on pay-per-view.
— Amanda Nunes (14-4) vs. Valentina Shevchenko (14-2), for Nunes' women's bantamweight title
— Yoel Romero (12-1) vs. Robert Whittaker (19-4), for interim middleweight title
— Daniel Omielanczuk (19-7-1, 1 No Contest) vs. Curtis Blaydes (7-1), heavyweights
— Fabricio Werdum (21-6-1) vs. Alistair Overeem (42-15, 1 No Contest), heavyweights
— Anthony Pettis (19-6) vs. Jim Miller (28-9, 1 No Contest), lightweights
International Fight Week schedule
Free and open to the public (unless otherwise noted)
Saturday
9 a.m.: UFC athlete autograph sessions, T-Mobile Arena lobby
Noon: UFC Fan Experience, Toshiba Plaza
3:30 p.m.: UFC 213 (tickets required), T-Mobile Arena