St. Pierre yearns to be best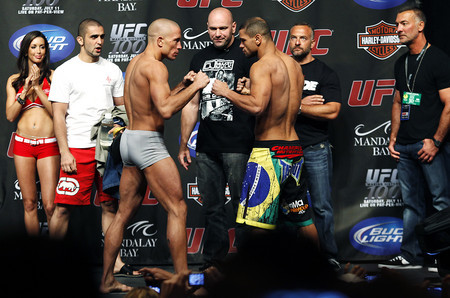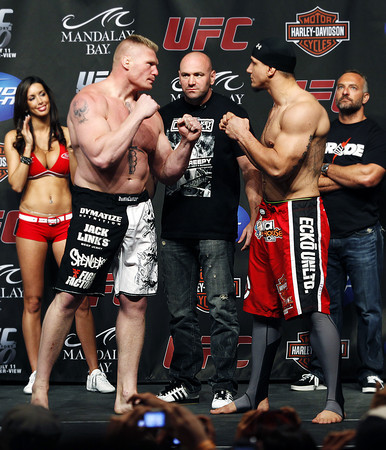 One by one, Georges St. Pierre has knocked off each goal he has set for himself in his mixed martial arts career.
His final achievement might take some time, but St. Pierre can take a step in the right direction tonight by successfully defending his Ultimate Fighting Championship welterweight title against Thiago Alves at UFC 100 at Mandalay Bay.
"Before I started doing MMA, I wanted to be a professional, and everybody told me I couldn't do it, and I did it," St. Pierre said. "Then I wanted to (make it to) the UFC. Everybody told me I couldn't do it, and I did it. I wanted to become UFC world champion. Everybody told me it's impossible. Matt Hughes is going to be there forever. I beat him. I was the champion."
The next goal was his most rewarding on a personal level.
"Then I wanted to make sure I had security — enough money to take care of me and my family. I wanted to pay off my parents' house. After the Jon Fitch fight (August 2008), I did," he said. "It was the most beautiful day of my life."
There's only one item left on the 28-year-old's checklist.
"My goal is to be known as the best MMA fighter in history. That's what I'm fighting for," St. Pierre said.
It would be difficult to argue his potential to reach that plateau based on his performance in his last five fights.
Since being stunned by Matt Serra in one of the biggest upsets in UFC history, St. Pierre (18-2) has rolled through all of the top contenders in the 170-pound class. He reclaimed the belt against Serra in April 2008 and has successfully defended it twice.
Alves, however, represents a new challenge. At 25, the Brazilian has won seven straight fights. A feared striker, Alves (16-3) also has knocked off one contender after another in his last three fights.
St. Pierre said Alves will be his toughest test to date.
"Look at what he's done to Matt Hughes, Karo Parisyan and (Josh) Koscheck," St. Pierre said. "There's no doubt in my mind he's going to be my toughest challenge, but that's what I want. I want to be known as the greatest, and to be the greatest, you have to fight the best guys."
UFC president Dana White is not ready to anoint St. Pierre the best fighter today, much less ever. But that doesn't mean he can't reach that level.
"I'm always talking about (UFC middleweight champion) Anderson Silva being the best pound-for-pound fighter in the world, and there's no doubt about it," White said. "But I think if Georges St. Pierre wins this fight, he's in the running to possibly take over that spot."
White thinks the matchup between the welterweight division's top fighters has not gotten the attention it merits.
"This is a fight that I believe has been not talked enough, a little overshadowed, I don't know what to call it," White said. "If this was a headline fight on any other card, people would be losing their minds over it."
But it is on the UFC 100 card that features the heavyweight title unification bout between Brock Lesnar and Frank Mir.
Lesnar, the champion, will try to avenge his only professional loss, to Mir, the interim champion, more than a year ago.
The two title fights top a deep card.
Dan Henderson and Michael Bisping, the coaches from the last season of "The Ultimate Fighter," will meet, with the winner probably getting the next chance at Silva.
Fitch will take on unbeaten Paulo Thiago in a welterweight bout. Fitch is 16-1 in his last 17 fights, with the loss by decision to St. Pierre in August.
Also, middleweights Alan Belcher and Yoshihiro Akiyama will square off.
A UFC Hall of Famer will be in action, but his fight is not guaranteed to make the broadcast. Mark Coleman, a 44-year-old who returned to the UFC from a 10-year absence and lost to Mauricio "Shogun" Rua in January, will look to get back on track against Stephan Bonnar.
Wrestling specialist Jake O'Brien will meet rising star Jon Jones, highlighting the rest of the undercard.
The first of 11 fights at the Mandalay Bay Events Center will begin at 4:35 p.m., with the five-fight main card airing live on pay per view at 7.
Contact reporter Adam Hill at ahill@ reviewjournal.com or 702-224-5509.
FIGHT NIGHT
UFC 100
WHEN: 4:35 p.m. today; TV coverage begins at 7
WHERE: Mandalay Bay Events Center
TV: Cox Pay Per View (Channel 501)
MAIN EVENT: Brock Lesnar vs. Frank Mir, heavyweights