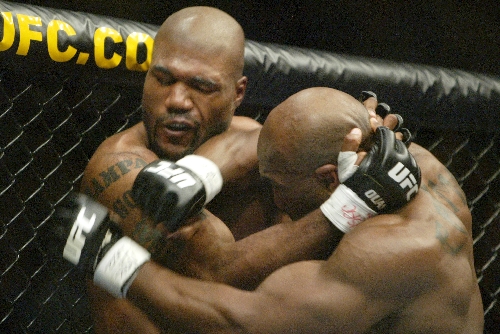 So much of the hype surrounding Saturday night's Strikeforce women's bantamweight title fight has been about two attractive women trash-talking each other. It's easy to forget the fight involves two highly skilled athletes.
Champion Miesha Tate wrestled in high school and has won six straight fights entering her first title defense, against Olympic judo bronze medalist Ronda Rousey in the main event of the Strikeforce card in Columbus, Ohio.
Rousey has won all seven of her mixed martial arts fights — the last four as a professional — through submission by armbar in less than a minute.
Tate says she isn't overly concerned with defending the maneuver.
"Absolutely not," Tate said. "I think the biggest mistake I could make is to focus only on what Ronda's going to do or what Ronda can do, versus focusing on what I am going to do and what I can do.
"I think it would be a big rookie mistake on my part to be training armbar defense every single day, and I'm not training to be in that position. I'm training to impose my will, my game plan, which absolutely does not involve ever being in an armbar."
Tate has had 14 fights since turning pro in 2007. She feels her experience will carry her to victory over Rousey, who made her amateur debut in Las Vegas in August 2010. Tate said while Rousey's judo skills are world class, her previous MMA opponents have not challenged her to expand her repertoire.
"As a mixed martial artist, I've been trying to perfect the sport of mixed martial arts six times as long as she has," Tate said. "I feel like (I'm going to) turn this into a fight, not a judo match, because Ronda is not a fighter.
"She hasn't fought a single fight yet. She's gone out there, she's judo-thrown people and she's armbarred them, but she's maybe thrown five punches in her whole entire fight career. So it's going to be a game changer when she finally eats some punches this time, and she's not able to just go out there and throw me around like she has with the girls that she's fought previously."
The fight headlines the Strikeforce card, which will air tape-delayed on Showtime at 10 p.m. Saturday.
■ JACKSON NOT SURPRISED BY LOSS — Former Ultimate Fighting Championship light heavyweight titleholder Quinton "Rampage" Jackson said doctors advised him to pull out of his UFC 144 fight against Ryan Bader at Saitama, Japan, on Saturday because of a knee injury that hampered his camp, eventually causing him to miss weight by 6 pounds.
"If I'm going to be critically honest, I'm not surprised that I lost the fight," said Jackson, who dropped a unanimous decision. "I injured my knee pretty bad, and my doctor told me not to fight. It wasn't real serious. I didn't need surgery, but he just told me it wasn't a good idea to fight. I decided to fight anyway, and I reinjured my knee when Bader slammed me."
Jackson said he didn't want to disappoint the Japanese fans by pulling out. He also said he has no plans to retire, batting down rumors.
■ SUDDEN VICTORY ROUND FOR TOURNEY — The UFC will employ a "sudden victory" round in the unlikely event of a draw during one of the two flyweight tournament semifinal bouts on Friday's UFC on FX 2 card at Sydney, Australia.
Should the judges rule the fight a draw after three rounds, one more round will be contested for the semifinal bouts only. The yet-to-be-scheduled championship bout this year will be a standard five-round fight.
"It's a tournament, and we need to have a winner," said Marc Ratner, UFC vice president of regulatory affairs.
The tournament will determine the first-ever UFC flyweight champion.
Joseph Benavidez will meet Yasuhiro Urushitani in one semifinal, and Demetrious Johnson will take on Ian McCall in the other on the card that will air live at 6 p.m. PST Friday.
Thiago Alves fights Las Vegan Martin Kampmann in the welterweight main event.
Contact reporter Adam Hill at ahill@reviewjournal.com or 702-224-5509. Follow him on Twitter: @adamhilllvrj.