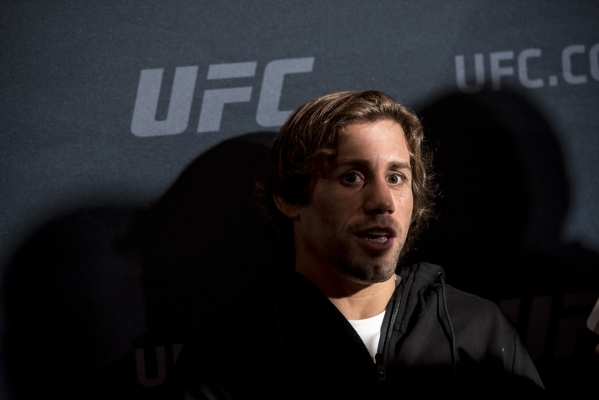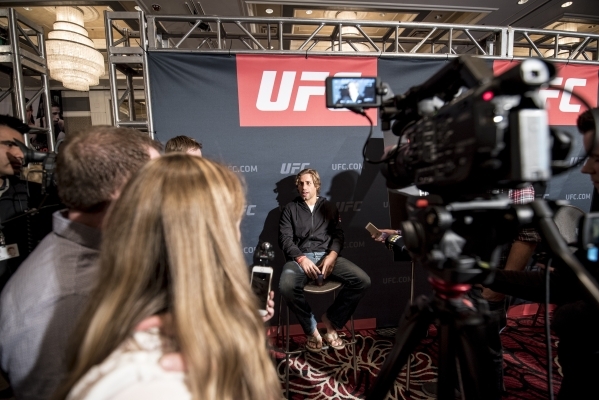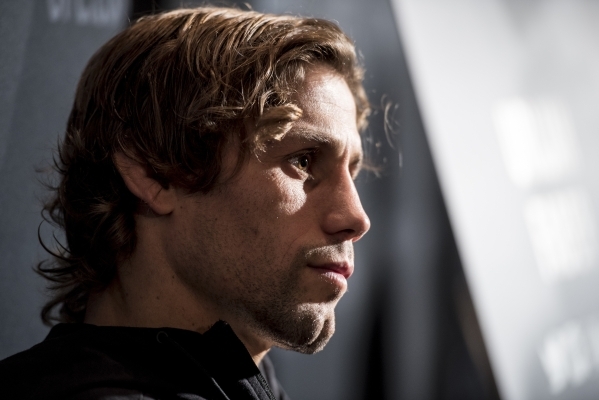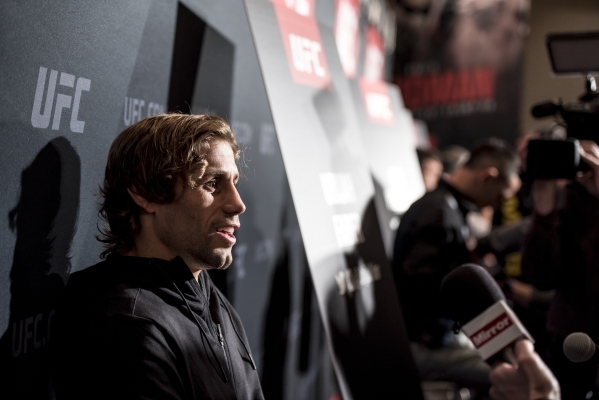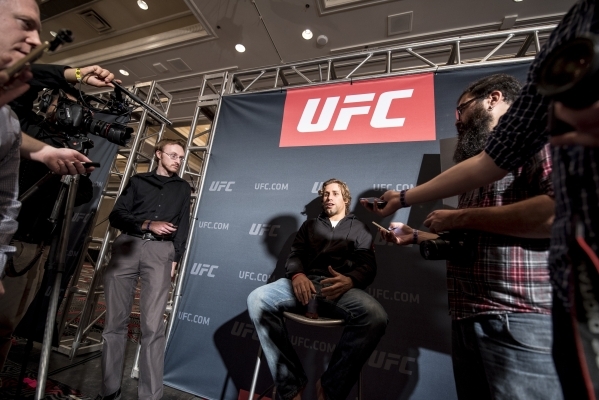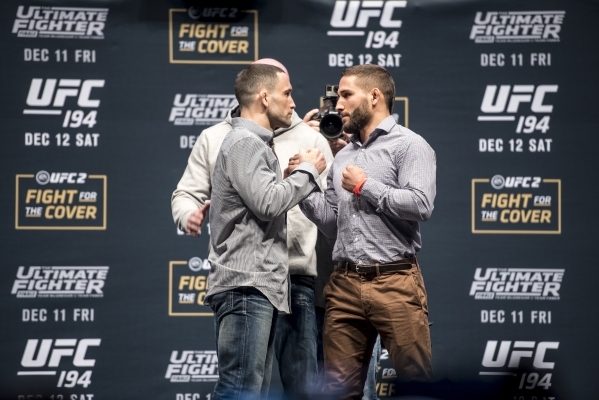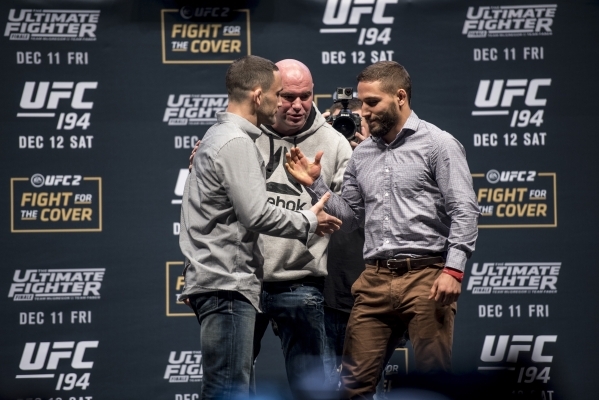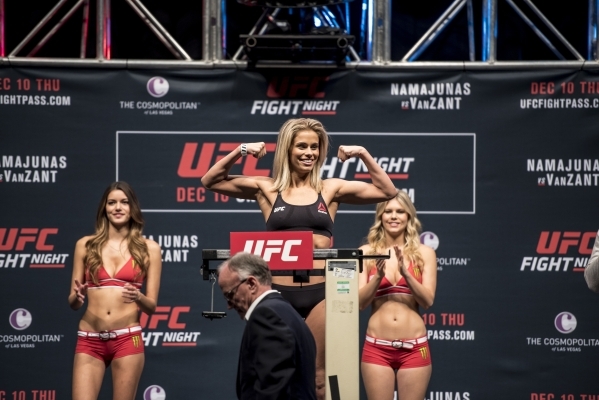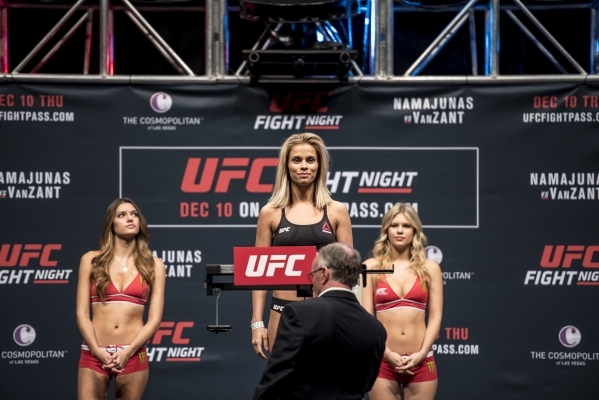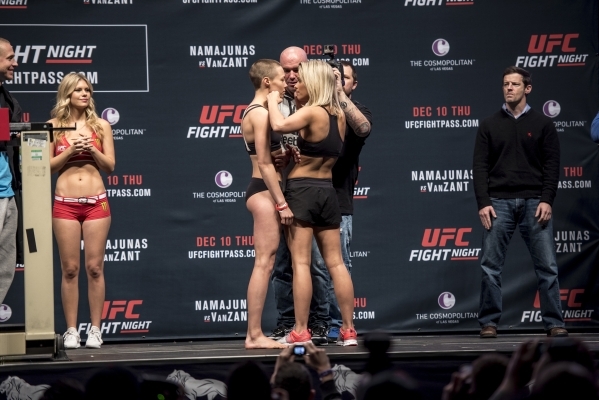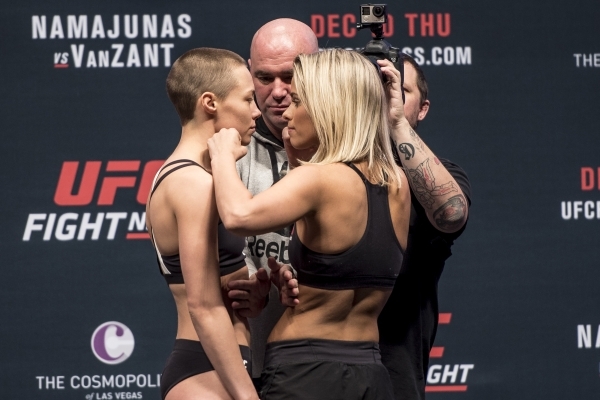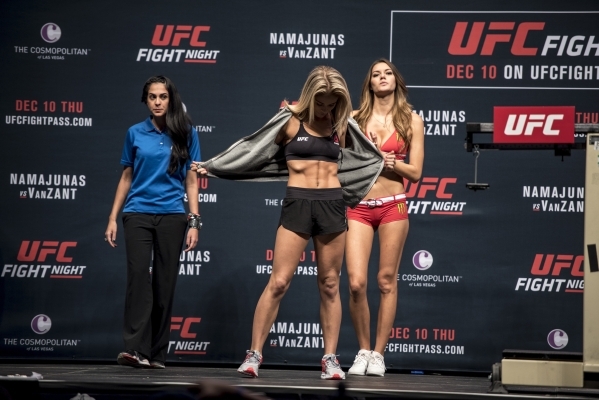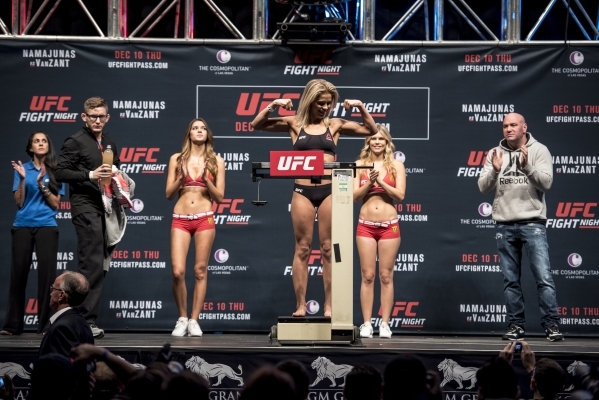 Urijah Faber remembers a time when it felt like the Ultimate Fighting Championship hosted only three events a year.
This week, he is one of 62 athletes who will compete in 31 fights in three UFC cards on two properties in Las Vegas.
"When I first started, they had to take weight classes out because there wasn't enough opportunities for guys to get fights," said Faber, who will fight Frankie Saenz at UFC 194 on Saturday at the MGM Grand Garden.
Faber, who fights at 135 pounds, could be in line to fight for the bantamweight title with a win. When his career began, the smallest weight class in the UFC was 170 pounds.
"I don't know what I was thinking seeing there was this bright future when there wasn't even a place for me," he said. "To see everything now and how it's all progressed is pretty amazing. But I always believed in it."
The UFC hosted five events in 2003, the year Faber turned pro. The organization has come a long way since then. So far, in fact, UFC president Dana White downplayed the craziness of hosting three shows in one week.
"This thing has really come together perfectly," White said. "It's been a much easier week than I would have anticipated so far. This is what we do every week anyway. Sometimes we do two in a week, this time we did three back-to-back-to-back. It's much easier because we're in Vegas, but this thing's going pretty smooth so far.
"I don't want to jinx us, but everything's been awesome."
All three shows, starting with tonight's UFC Fight Night 80 card at The Cosmopolitan of Las Vegas, are sold out. The Cosmopolitan is also the site for "The Ultimate Fighter 22 Finale" card Friday.
UFC 194, headlined by a mega-fight between featherweight champion Jose Aldo and interim champ Conor McGregor, closes out the schedule Saturday at the MGM Grand Garden.
"This is the first time we've ever done anything on this type of scale," Dave Sholler, UFC senior director of public relations, said. "So first and foremost, when you have 30-plus fights in three nights, 60-plus fighters and their camps in town, working across two different properties, it's just coordination making sure the experience for our fans, the athletes and the media is on point.
"So far, through Wednesday, I'm pretty happy to say we haven't missed a beat. But it's just managing all the little details that go into putting on one show and now multiplying it by three."
The UFC has done back-to-back events four times and hosted two international shows on the same day in different countries twice, but nothing close to the scale of this week's shows.
The true test of fatigue could come Saturday on the third consecutive day of fights, but UFC officials have learned from mistakes when "TUF Finale" cards took place the day after major pay-per-view events.
Now, everything will build to the two title fights Saturday.
Still, White said it will be a bit different from anything else the UFC has tried.
"Not just for me and my staff, but for the media and the fans and everyone," he said. "When you go to a live event, it's like a roller coaster, and by the end of the night, you're exhausted. Then to think about getting up the next day and doing it again?
"Well, we're going to find out now."
Faber also will be in an unfamiliar position. Not only is he a veteran fighter, but he also is the founder of one of the most successful fight teams in the sport, Team Alpha Male.
While he will be in action Saturday, several of his teammates have fights on the other cards, including the main event of tonight's and Friday's shows, as Paige VanZant takes on Rose Namajunas, followed by Chad Mendes fighting Frankie Edgar.
Faber is accustomed to having several teammates fighting on the same night when everyone is going through the same stages of final preparations together.
But this week, he'll be finishing his weight cut Friday as Mendes prepares to go into the cage.
"It's a little awkward with three fights in three nights because everybody's making weight at different times and having their meals at different times and doing all these different things," Faber said. "I'm going to be hurting when Chad's fighting Frankie. I'll be trying to get food in my body, and I'm not sure if I'll even feel like moving much. I'm also doing commentary for Paige's fight on Fox leading up to it. There's a lot of things that make it different, but that's great.
"It's a testament to where the sport is and where it's going."
Sholler said it's a sign of how strong the organization has grown.
"First and foremost, we have a collection of the best in sports and entertainment as far as production, marketing, etc.," he said. "To be able to pull off an event of this scale has also meant we've brought in employees from all of our regions. This isn't just a Las Vegas effort, this is a global effort for our organization. It also shows that there may have been some whispers when we hit that injury patch that we were going through some rough times, but the truth is the brand has never been stronger.
"The organization has never been stronger, and this new group of stars are the ones that will carry us into the next wave."
White said one of the things that makes him proud is that the UFC can help contribute to the Las Vegas economy at a time when the National Finals Rodeo is also in town.
"A lot of these hotels are at capacity," he said. "It's going to be a good weekend for the UFC, the fans, the sport and for Vegas."
It starts tonight at The Cosmopolitan for a card that will exclusively stream online on the UFC's subscription service, Fight Pass. The first bout is scheduled for 3:45 p.m.
Contact reporter Adam Hill at ahill@reviewjournal.com or 702-224-5509. Follow him on Twitter: @adamhilllvrj